One of Hillary Clinton's biggest donors owns CNN. How's that fair?
---
---
UPDATE (9/16/16): So it looks like this piece – published on October 16th of 2015 – has recently been adopted and shared by a lot of Trump supporters who apparently don't read past the first couple of paragraphs. To them, I suggest clicking here.
***
When the second GOP debate took place all the way back on September 16th, Donald Trump was singularly perched high atop the polls, much to the chagrin of the Republican Party, which is why no one was surprised when the night's moderators from Fox News — all of whom had a conflicted past with Trump — let the other candidates tear into him for the better part of three hours.
That embittered feud between Trump and Fox News eventually led to statements like this one from the network: "When coverage doesn't go his way, he engages in personal attacks on our anchors and hosts, which has grown stale and tiresome." And tweets like this from Donald Trump:

.@FoxNews has been treating me very unfairly & I have therefore decided that I won't be doing any more Fox shows for the foreseeable future.

— Donald J. Trump (@realDonaldTrump) September 23, 2015
And to be honest, it's been kind of fun watching all this go down; like when the two douchebags at a bar end up getting in a fight in the street after last call. A guy with a large, Fox News-viewing audience has taken some great potshots at Roger Ailes' propaganda machine, while Trump has seen his viselike grip on the polls finally loosen.
But if we gave even the littlest of shits about the biggest of shits that is Donald Trump, wouldn't it seem a little unfair that a television network is able to manipulate a political election so badly? Especially when you consider the unprecedented influence Fox News has over the conservative base.
As Chris Hayes once said:
With an assist from conservative websites and talk radio, Fox News successfully managed to convince a huge portion of the country that no network — hardly any other outlets can be trusted. And the network tells that story over and over again because as Rupert Murdoch and Roger Ailes know, it's very good for business.
And maybe it wouldn't be such a big deal, as it is Donald Trump we're talking about, but this kind of thing is happening in the Democratic primary too.
Stay with me…
This is a list of Hillary Clinton's top donors: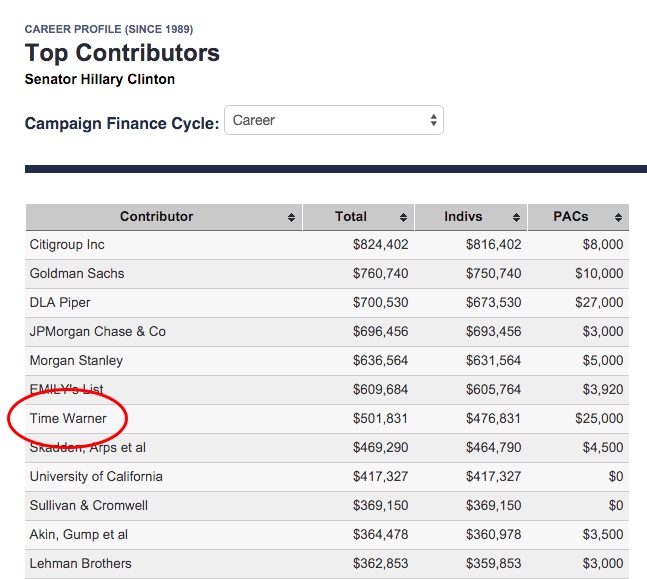 Coming in at #7 — after a few big Wall Streeters but still four spots above Lehman Brothers — is Time Warner, the multinational media corporation whose revenue is only dwarfed by Comcast and The Walt Disney Corporation.
Time Warner also happens to own CNN, which operates the most news bureaus around the world and domestically, and is second only behind Fox News in terms of popularity. Not to mention, CNN is the network that hosted and moderated the first Democratic debate that just took place earlier this week.
How is that fair to the other candidates?
I mean I know there are going to be more debates and different moderators and that this non-breaking news is 'just how the system works,' but we're talking about the largest cable news network for non-conservatives being very closely tied to hundreds of thousands of dollars in campaign donations directed towards one particular candidate. While there's no doubt Anderson Cooper did a great job as master of ceremonies the other night at the debate#, anyone that follows sports (or gambling) knows there's a certain home field advantage that any smart analyst takes into account. And it's not like Bernie Sanders hasn't already been painted by CNN as the away team before.
To be honest, the whole situation makes me, the television-viewing liberal, a little wary of how the mainstream media is covering the Democratic primary.
In fact, Adam Johnson — one of my favorite far-left journalists — recently brought notice to the fact that there's a pretty big discrepancy between how mainstream media pundits are discussing the recent Democratic debate and how the public says they viewed it.
As Gawker's Hamitlon Nolan put it
…to the extent those online polls have any value, Bernie Sanders won 68% in the MSNBC.com poll; Bernie Sanders won 55% in the Daily Kos poll; Bernie Sanders won 54% in the Time.com poll; and Bernie Sanders overwhelmingly won CNN's own Facebook poll, not that you would know it from what the pundits were saying on CNN itself. CNN's own focus group also said that Bernie Sanders won, and Fusion's focus group said that Bernie Sanders won, and Fox News' focus group said that Bernie Sanders won.
Since the debate, the Sanders' campaign has raised $1.4 million from over 44,000 individual contributors, gained the largest amount of Twitter and Facebook followers, and (according to Facebook's data) he also scored the debate's biggest 'social moment' when he defended Clinton against criticism of her private email server.
Yet some major outlets disagree about who won the debate…
News outlets like the New York Times, CNN, Slate, Politico, and New York Magazine all declared Clinton the hands-down debate winner; Politico's article even led off with the singular line of "Hillary Clinton won — by a landslide." When Clinton supporters received a fundraising email from Bill Clinton right after the debate ended, the subject line simply said "She won."
But now, as more and more 'conspiracy' charges are levied against those major outlets from Bernie Sanders supporters who think their guy won (CNN is apparently deleting comments on their Facebook page from outraged Berners), a lot of these pundits are having to go back and explain where they were coming from.
Slate's Josh Voorhes defended that once everything was put in context, Hillary was the obvious 'winner':
As I wrote then and still believe now, Hillary was confident, poised, and unexpectedly aggressive. That, I concede, is a subjective opinion—as is any that calls a "winner" in a contest where there is no agreed-on metric to actually score the participants. But it's also an informed one. She entered the night up nearly 20 points on Sanders when pollsters included Joe Biden in the race, and by even more when they didn't. In other words, she didn't need to win converts, only to preach to her choir—and from where I was sitting, she did just that.
and Salon's Amanda Marcotte highlighted the problem with relying on online polls and focus groups:
Online polls are the worst possible measure of public opinion, except when it comes to focus groups. As Nate Silver explained in 2012, 'the central challenge that Internet polls face is in collecting a random sample, which is the sine qua non of a scientific survey.'
And if you're looking at the long-game, big picture election stuff, this debate probably was more of a win for Hillary than for Bernie. Before the debate, Hillary was the front-runner who was also somehow one bad debate away from having her entire campaign fall off a cliff; the fact that she came away still looking like the front-runner, even if not a universally beloved one, is a major victory for her campaign. To quote John Cassidy of the New Yorker, "just because Sanders did well doesn't mean he did best of all."
But even then, a majority of that pro-Hillary analysis definitely glossed over Sanders' big post-debate fundraising win and his unarguable dominance of social media, leaving Bernie Sanders fans left to wonder why the media they trust to give them objective analysis hasn't celebrated his victories too, or at the very least contextualized them.
I mean, you've got to love the answer to the Hillary email question…
For my second 1984 allusion in as many weeks…
Because we're not able to experience all things past and present (e.g. only a small percentage of the voting public watched the Democratic debate), we're left to rely on secondhand accounts of events in order to understand what happened in our absence. However, if those recounting an event (e.g. journalists, pundits) aren't being as wholly objective as we might be led to believe when giving those secondhand accounts, that event is essentially retroactively manipulated to have occurred as they see fit#. Basically, this is the whole 'History is written by the victors' concept.
Fortunately, there is one very easy solution to all this:
Watch the debate for yourself and come up with your own individual opinion, you unique political snowflake.
Submitted To Bernie Sanders, Ca$h Money, Television, The 2016 Election
Like what you read? Share it.
(That helps us.)
Love what you read? Patronize Bryce Rudow.
That helps us and the writer.
What is Patronizing? Learn more here.
---