A Grimes Halloween costume guide, for your inner Claire Boucher
---
---
Grimes, the eclectic and fearlessly individual electronic musician, is an unlikely style icon.
Her looks seem to be pulled from an infinite dress-up closet of sci-fi costumes, forgotten 90s fashion, dance clothes, and period garb; and while none of Grimes' outfits should work, she pulls them off through sheer force of personality: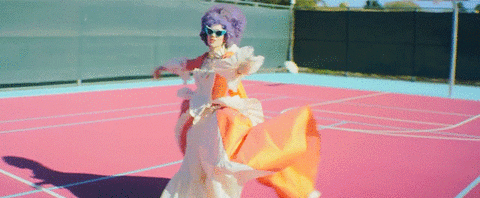 But for those of us who don't have the luxury or swagger to rock a comically-large head bow, wings, two-tone green hair, or platform boots on a daily basis, there is always Halloween.
So, to celebrate the perfect occasion to embrace one's inner Claire Boucher, I paired up with illustrator Erik Sleight to break down 6 of Grimes' most classic looks and prepare a buffet of costume ideas perfect for a weekend's worth of Halloween festivities (or your next high-stakes music-centric costume party). 

Happy Halloween, you aspiring Art Angels…
"Vanessa" (2011)
Skill Level: Easy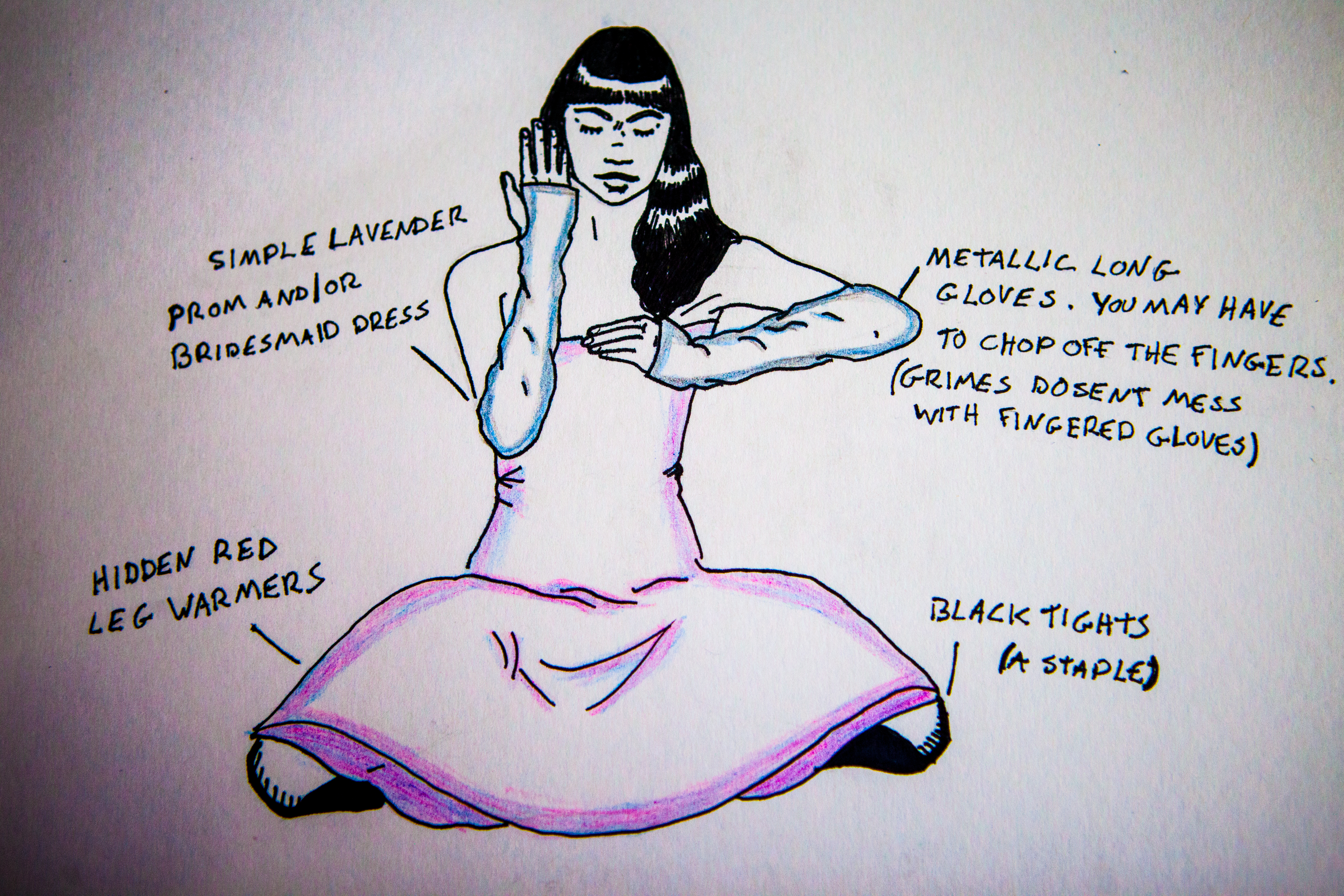 Over the course of her career, Grimes' music videos have been a central showcase of her idiosyncratic and playfully fierce sense of style. It's clear that greater success led to more elaborate videos and more intense outfits, but even her DIY, low-budget videos had a sense of style that combined outdated fashion with mismatched looks to make a point about the objectivity of fashion.
In the video for "Vanessa," Boucher pairs the classic youthful elegance of a lavender prom dress and silver elbow length gloves with shots of women smearing excessive amounts of make-up on their faces.
Necessary Items:
* BONUS ITEM: Female friends with lots of disposable make-up
"Oblivion" (2012)
Skill level: Medium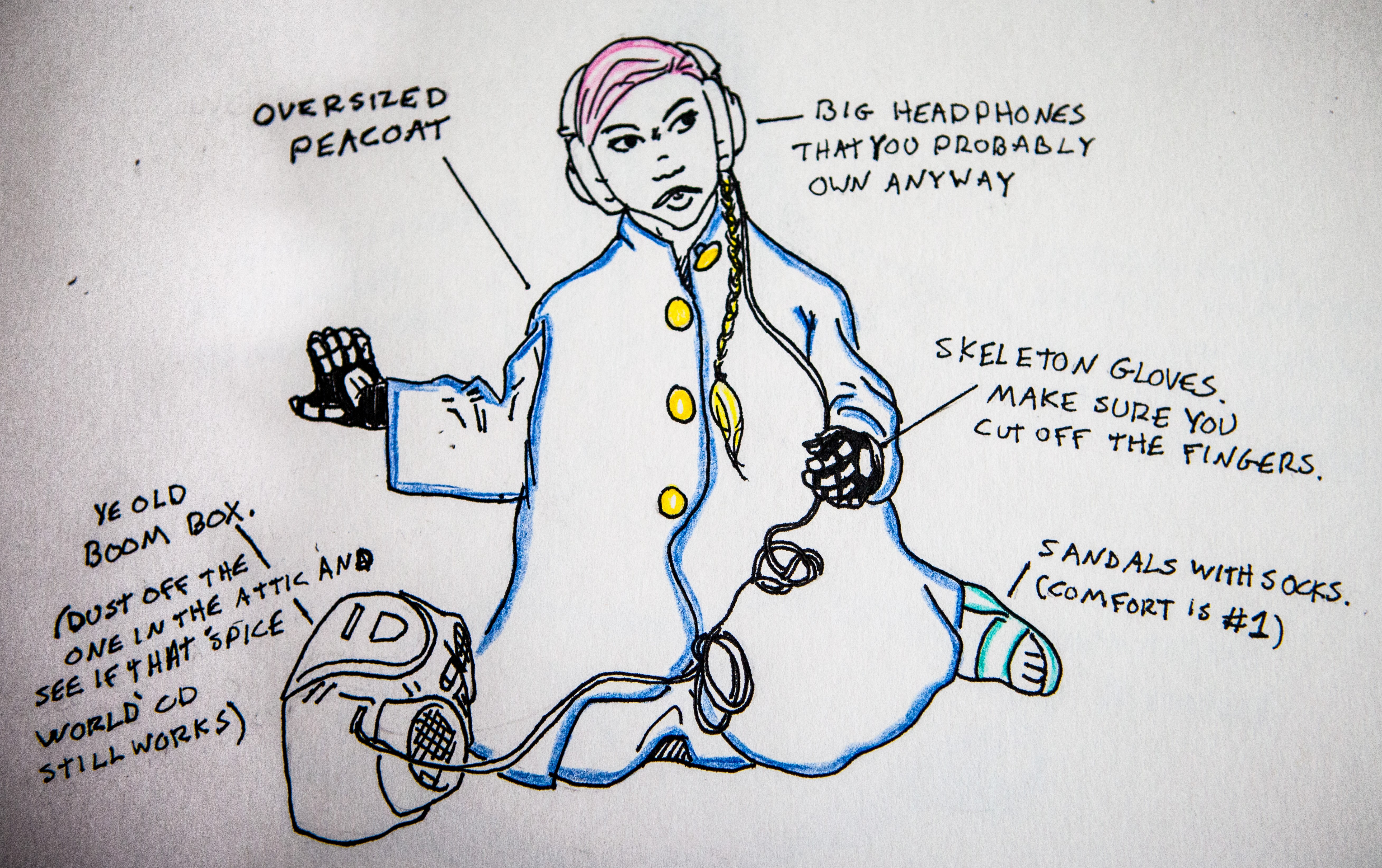 After signing with 4AD records in 2012, Grimes' released her breakout album, Visions. "Oblivion" was the first video off that record and though it reflects a higher production quality, it was still filmed on a minuscule budget.
From a fashion and content standpoint, Grimes' is still playing with mismatched reality as opposed to fantasy: her pea coat is purposely oversized, but classically stylist; a contrast to the cut-off skeleton gloves, pink hair, and chunky headphones. And the mismatch of styles in her outfit is just a micro example of the many juxtapositions throughout the video that sees her wearing more classically off-beat looks at a monster truck rally, the bleachers of a high school football game, and a sweaty men's locker room.
Necessary Items:
* BONUS ITEM: Tickets to Monster Jam truck rally
"Genesis" (2012)
Skill Level: Easy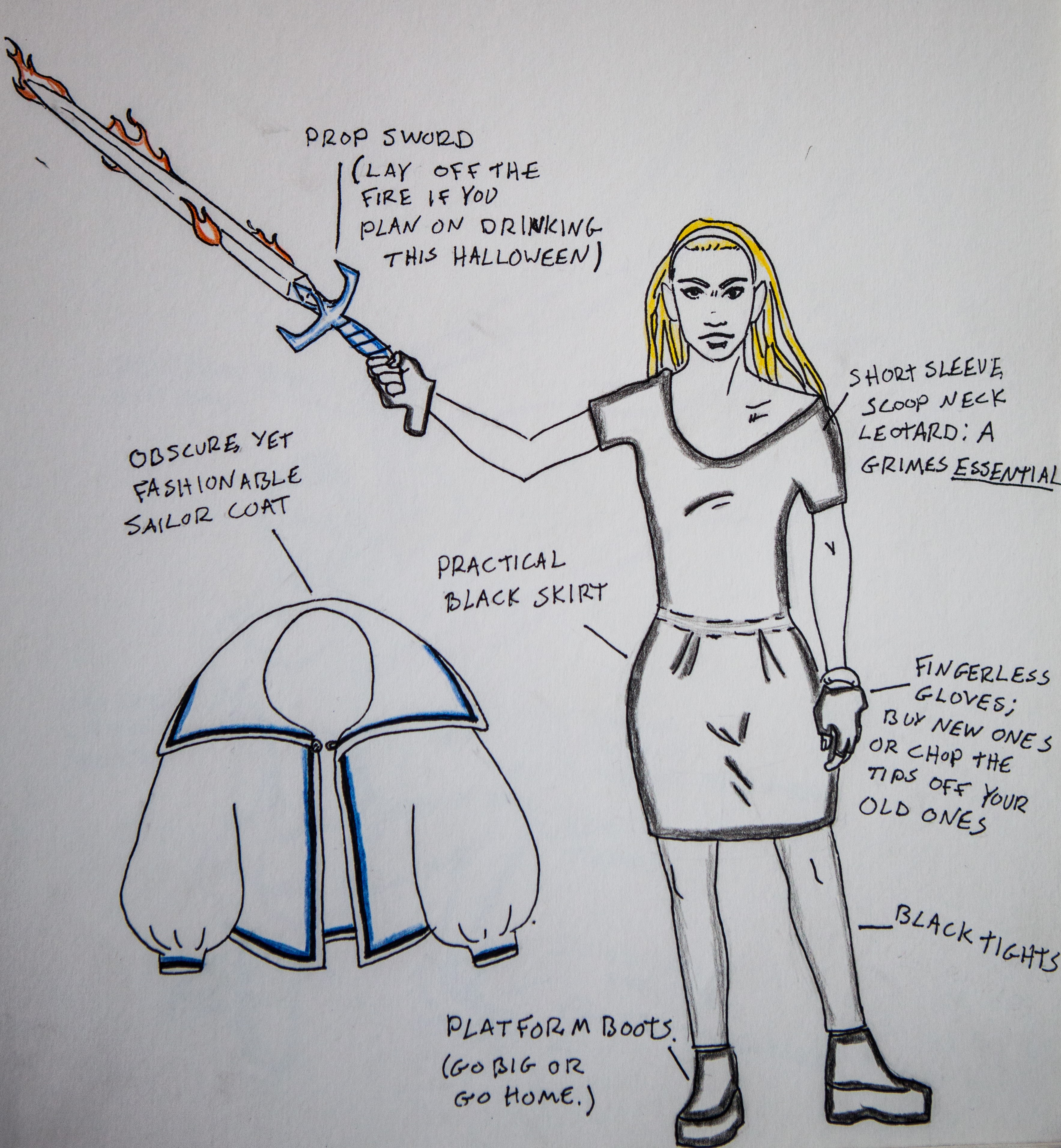 "Genesis" is the beginning of Grimes' ascent into disjointed, anachronistic fantasy.
While "Genesis" lacks some of the nuance of her earlier videos, it succeeds in creating a visually fascinating companion to the wispy track. Grimes' outfit is relatively tame compared to her armored and dreaded posse, but it highlights some of the foundational aspects of her look: a simple scoop-neck leotard (to better showcase her dancing) and subtle future-punk elements, like the platform shoes and cut-off gloves.
Necessary Items:
* BONUS ITEM: Vintage sailor jacket: Option 1, Option 2, Option 3
"Go" (2014)
Skill level: Easy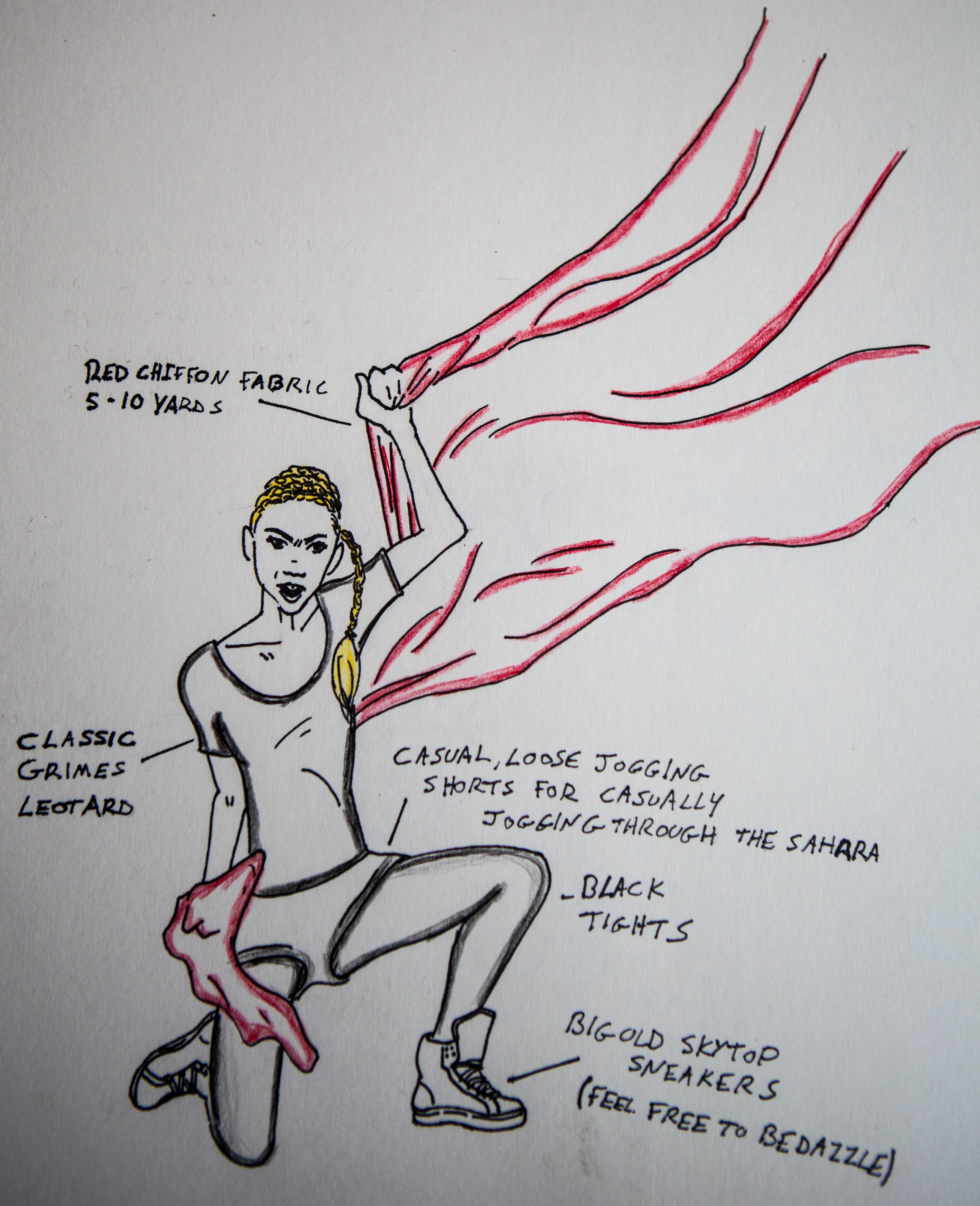 "Go" follows the lead of "Genesis'" futurist anti-narrative, and, like "Genesis," the landscape and cinematography are some of the most stunning elements. Again, Grimes goes with a scooped-neck leotard and chunky shoes so as to feature her choreography, though the key stylistic detail in this video is the red fabric that she uses both as an accessory and a dance partner. But the big difference with "Go" is the style of music, not the outfit.
This EDM-leaning club banger was received with shock after the delicacy of Visions. From a visual standpoint, however, Grimes' crazy, future-punk style fits right in. Still, as wild and beautiful as this video is, it forgoes the intrigue of "Genesis," where the "Burning Man-meets-Anime" look was such a foil to the lullaby qualities of the track.
Necessary Items:
* BONUS ITEM: Large house fan, for synthetic desert wind
"Flesh Without Blood/Life in the Vivid Dream" (2015)
Skill level: Expert.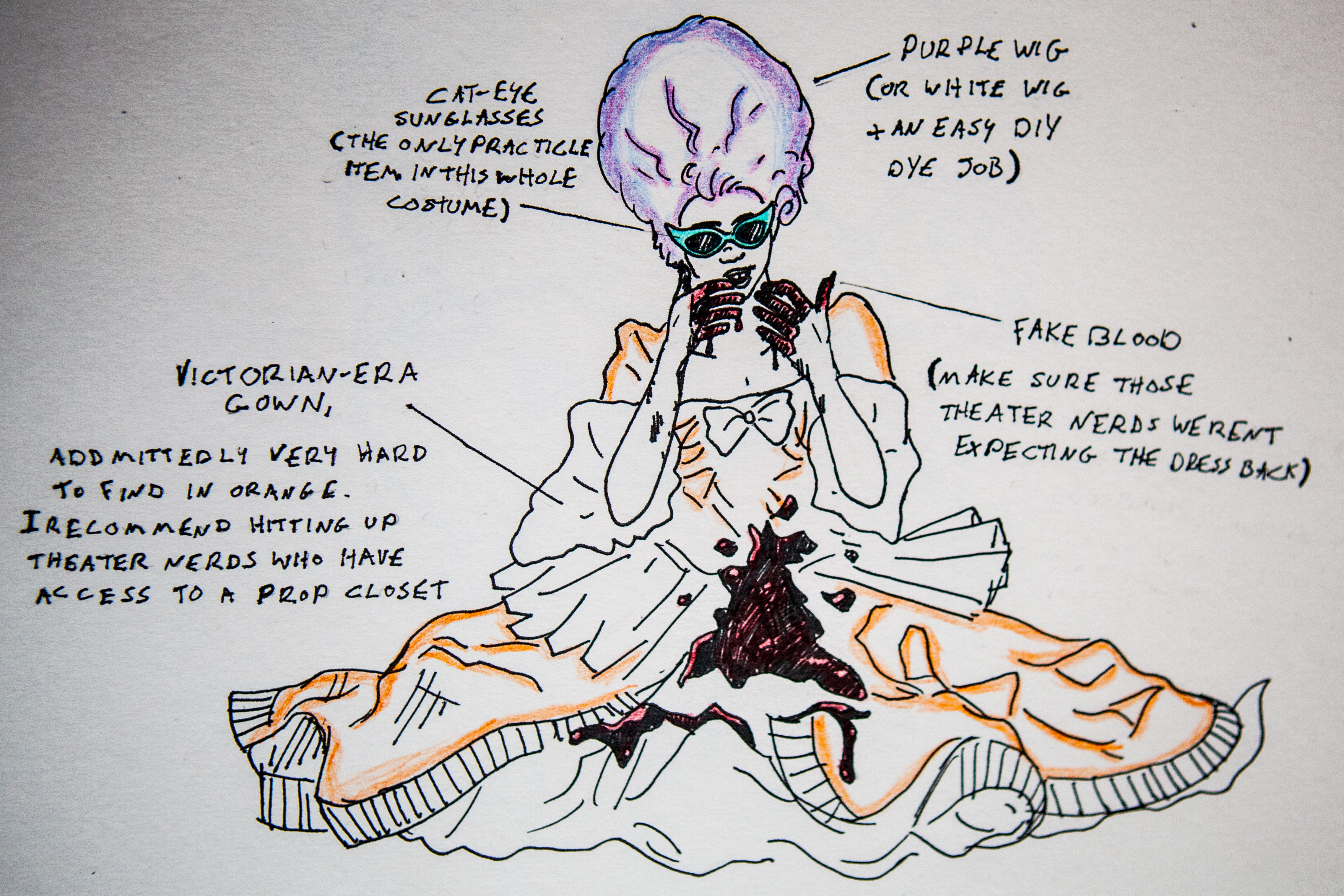 "Flesh Without Blood/Life in the Vivid Dream" doubles down on Grimes' love for saturated fantasy vignettes. The album Art Angles is a genre-pushing, avant-pop record, but one that doesn't hold back on the high-energy, sugary elements that make pop so seductive, and Boucher uses the video for this song to introduce the idea of the "Art Angels" as different representations of the ideas in her music (she describes them "more like super heroes, more like villains. They are the performers and I am the producer/writer.") As such, the videos for this album feature one crazy, fantastic look after the other.
The most iconic of these, in my opinion, is the over-saturated Marie Antoinette; complete with cat eye sunglass seen romping around a (historically referential?) tennis court. In this image, Grimes is tackling the pop intensity of her album – the overdone aristocrat at play reminiscent of today's glitzy pop stars – and makes a clear point to differentiate herself, most pointedly by drenching her gown in blood.
Is this not the greatest Halloween costume on both a pop-culture and political level?
Necessary Items:
* BONUS ITEM: Tennis court membership
Kill V. Maim (2016)
Skill level: Expert.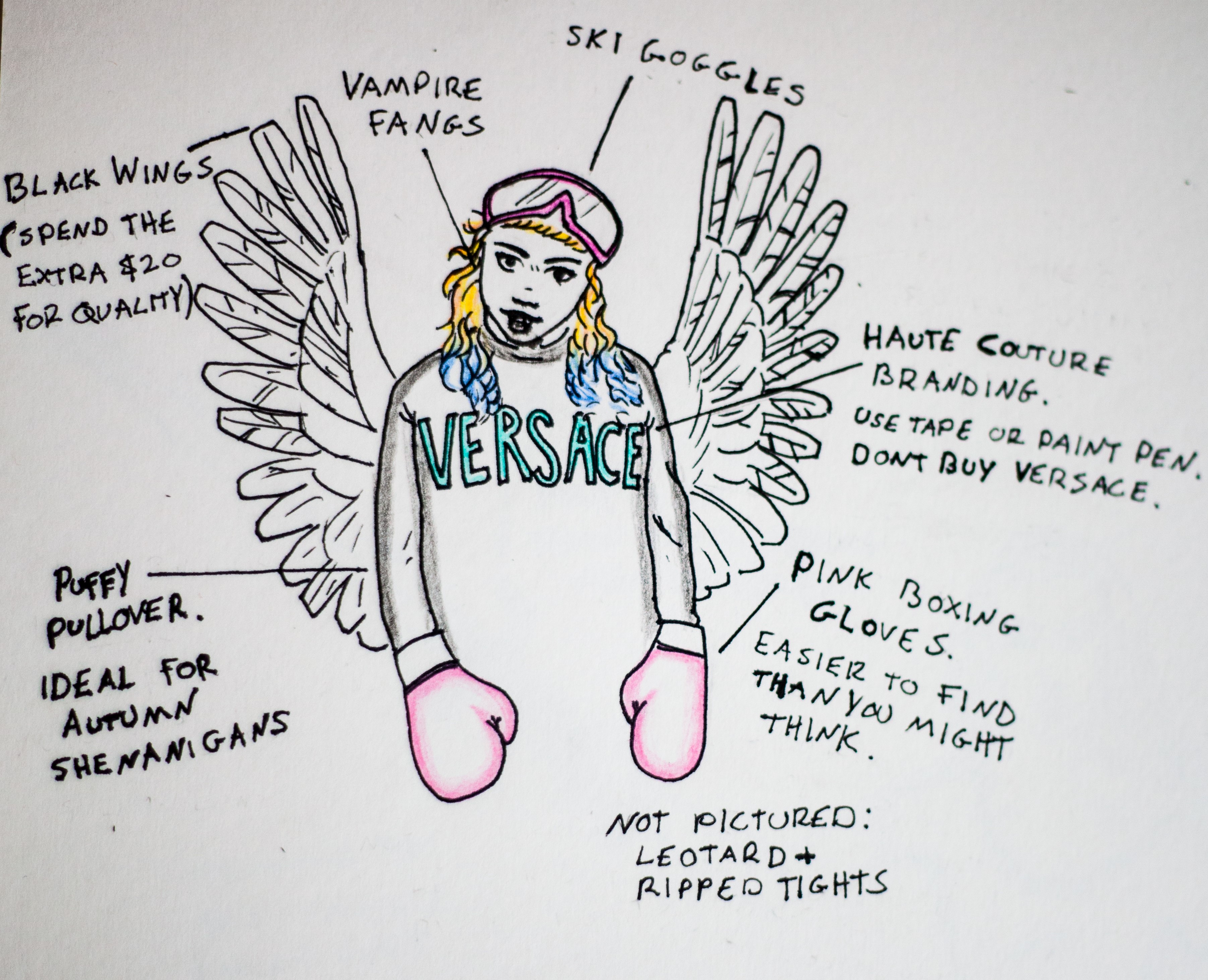 Grimes uses "Kill V. Maim" to showcase more of the Art Angels, but the key character trait of the angels in this video is "aggressive." Here (and in most of the album) Grimes seems determined to tear down the delicate feminine label of her early career.
While she began visually picking away at that delicacy back in "Genesis," "Kill V. Maim" is the purest realization of her fury. This is future-punk, K-Pop Grimes hosting an underground rave of urban vampires (and the guitar-tinged electronica of the track somehow manages to keep up.) The black angel wings and colorfully curled hair juxtapose the goggles and boxing gloves, and the Versace label cleverly apposes the gritty, underground aesthetic of the whole video.
It's classic Grimes, just sped up 10x.
Necessary Items:
* BONUS ITEM: Pinstripe leotard/bathing suit
***
It's hard to deny that Grimes' visual history is a sharp trajectory from off-beat delicacy to off-beat excess. As a fan, I've enjoyed the ride, though it does make me wonder when Grimes' passion for extreme mismatching will jump the shark (that being said, the first Grimes video to feature her in blue jeans and a shiny top will be a heartbreaking disappointment).
Regardless, despite the volatility of her aesthetic choices, Halloween will always be a time to celebrate them. So go on and walk about after dark this weekend, like the Art Angel you were born to be.
Submitted To Fashion, Halloween, Music
Like what you read? Share it.
(That helps us.)
Love what you read? Patronize Lindsay Hogan.
That helps us and the writer.
What is Patronizing? Learn more here.
---