Amazon's Bosch, an airport crime thriller turned unpretentious crime drama
---
---
Welcome to TV Minus the TV, a column full of thoughts about TV shows watched on laptops published on the internet for you to read on your phone.
***
Paperback crime novels once had a unique job: propel the weary traveler through an otherwise interminable flight. Give us a damaged hero, a whiff of sex, a brawl, a shoot-out, a few quips, well-drawn stock characters, heaps of local color, and a conspiracy that goes "all the way to the top." They provided the satisfying, bite-sized, and disposable diversion that your flight from Dallas to Charlotte demanded.
However, while the post-gold-whatever-age of TV in which we find ourselves has done a remarkable job at transforming the old literary genres of the past – Mad Men and Transparent are upper-middle-brow belletristic novels transformed for screen; The Wire unfolds like an urgent mosaic of reportage and oral history once reserved for, well, magazines and newspapers; High Maintenance feels like a sequence of trim, warm short stories that you might find in literary quarterlies, albeit ones with a sense of humor – it takes a little digging into your Prime account to find one of the best adaptations of those "airport crime thrillers" of the 90's and early millennium:
Amazon Studio's Bosch, whose second season was released last month:
Based off of the protagonist of nearly twenty Michael Connelly novels, war veteran (Vietnam in the novels; the first Gulf War in the Amazon series) and LAPD superstar Hieronymus Bosch, Bosch aims for comprehension over dazzle, craft over symbol, and the quotidian over the epic. Languid, gorgeous shots of LA wash over the expositional dialogue. Episodes end on meditative anticlimaxes. You've encountered all these character types before, from the retired porn star femme fatale to the young undercover cop in too deep.
In an era of shock and awe TV (Walking Dead, Game of Thrones), Bosch's temperature runs cool, ferrying the viewer to the next set piece, the next interrogation in a shabbily paneled room, the next contemplative shot of Titus Welliver's Bosch sipping bourbon in his hillside home while listening to Wayne Shorter.
It offers the same easy-drinking graciousness as those dependable crime novels – which feels like the point…
All that ease stems from its pedigree.
Aside from the machine-worked excellence of Connelly's source material (each of the two seasons has blended the plots of a handful of Connelly's Bosch novels), the show was developed by Eric Overmyer, veteran of The Wire, Homicide: Life on the Street and Treme. Welliver has been an excellent supporting player in everything from The Good Wife to Deadwood, and though making him the anchor of a show might seem like building an NBA team around Detlef Schrempf#, Welliver's thousand-yard stare reflects both Bosch's moral core and his palpable grief (the cold case murder of Bosch's mother is a narrative undercurrent in both seasons).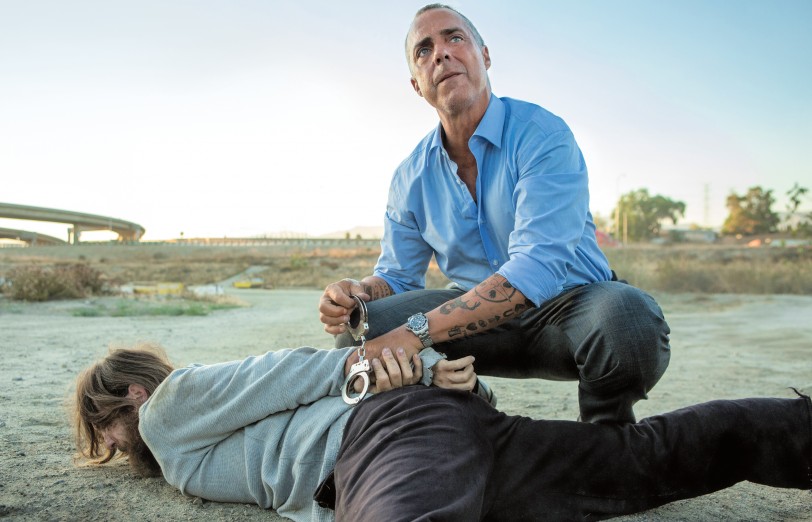 The supporting cast fits the show's pace and verisimilitude well. Jamie Hector — terrifying as Marlo Stanfield on The Wire — walks the line between assured and inscrutable as Bosch's partner. Sarah Clarke, best known from 24, is Bosch's poker pro ex-wife. Another Wire alum, Lance Reddick, brings his iron-ore voice and preternatural intensity as one of Bosch's many exasperated bosses. Erika Alexander, Steven Culp, Amy Aquino … the show is stuffed with the best possible iterations of "that woman/guy!" recognition.
Season 2 added Jeri Ryan, widow of the porn producer whose murder drives the season, along with Matthew Lillard as a strip-club owner and yet another Wire favorite, James Ransone, as a crooked cop. Ryan is alluringly sinister, while Ransone and Lillard each use the season to craft their respective highlight reels in their two-man competition to be this generation's Eric Roberts:
Critically, Bosch's cast looks and sounds like the real deal.
Middle-aged, filled with non-white and LGBT characters, Bosch's collection of cops actually resembles that of a big city police force. The show has no precocious 22-year-old hackers with vegetal extensions nor Hemsworth dopplegangers to be found. Crime fiction has the luxury of description to define a character through a motif; Bosch's cast pulls us in through weary looks and rumpled dress shirts. Their voices crack from a hangover or from a long shift, and unlike cop shows that overarch for epic or the pat procedurals that buff out the everyday, Bosch lets life emanate through a seasoned actor's face.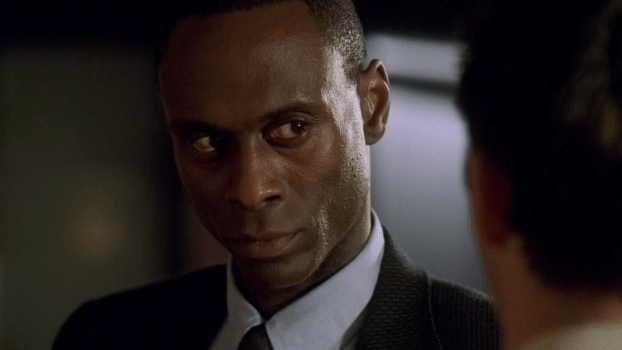 Additionally, where the first season was weighed down by a bland, chatty serial killer, the second season goes straight to the treasure trove of LA crime tropes: dead porn producer, the Armenian mob, dirty cops robbing drug lords, Vegas interludes, local election graft, the works.
Its visuals burst with richness to match:
The camera captures Los Angeles's harmony of haze and electric light, the vessels of roads that snake out in all directions, the neighborhoods that slip from rich to working to poor in a quarter-mile. And like the omniscient narrative eye of a detective novel, Bosch's visual language honors details, but refuses to linger.
When Bosch and Reddick's Deputy Chief Irving brainstorm in a nice, not opulent, LA hotel room, the camera sizes up the curtains and the couch for a moment, swiftly transmitting all the tonal information we need. Where other shows and films fetishize Mulholland Drive, the Mount Sinai of America film noir, and the site of this season's instigating murder, Bosch imbues the street with range – on the night of the murder, the opening scene of the season, the road is the serpentine, classically sinister locale of a shared American cinematic memory; a few days later, as Bosch and other cops hunt for clues, Mulholland resembles just another shabby LA crime scene.
By committing to its source material, Bosch simultaneously takes its place alongside its predecessors Southland and The Shield in the upper echelons of dust-caked LA realism.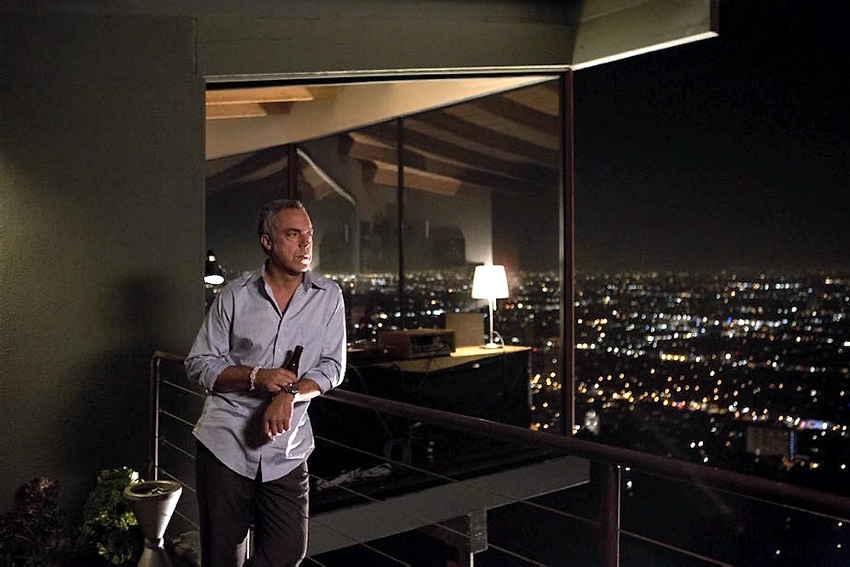 I won't claim that Bosch is appointment TV, dead as that concept may be. Instead, think of Bosch as a steady, pleasurable modern cop yarn ready for when you need it. It doesn't talk down to you, doesn't feel the need to gussy up a solid crime story with bad undergrad philosophy, and doesn't take up too much of your time.
Think of it as a snug, evocative narrative that pairs well with a bag of pretzels and a window seat, smoothing out the rough edges of a flight home.
Submitted To Amazon, Television, TV Minus the TV
Like what you read? Share it.
(That helps us.)
Love what you read? Patronize Evan McGarvey.
That helps us and the writer.
What is Patronizing? Learn more here.
---