Apple Service outage impacts Apple Music, App Store, and 10 other services
---
---
This morning, as I was writing my very important piece about golf video games, I found myself unable to stream the movie Insurgent directly from Apple via my Apple TV (I stream bad movies to keep me focused on writing). Assuming all was well with Apple I power cycled my router, which didn't help, so I assumed it was a glitch with my ISP and gave up.
Turns out Apple was suffering one of the most wide spread outages in recent memory.
According to Apple Insider, the Apple service outage began a little before 10am ET and was fixed as of 1:30pm ET. Apple services' status page acknowledges the outage showing more than 10 services being effected: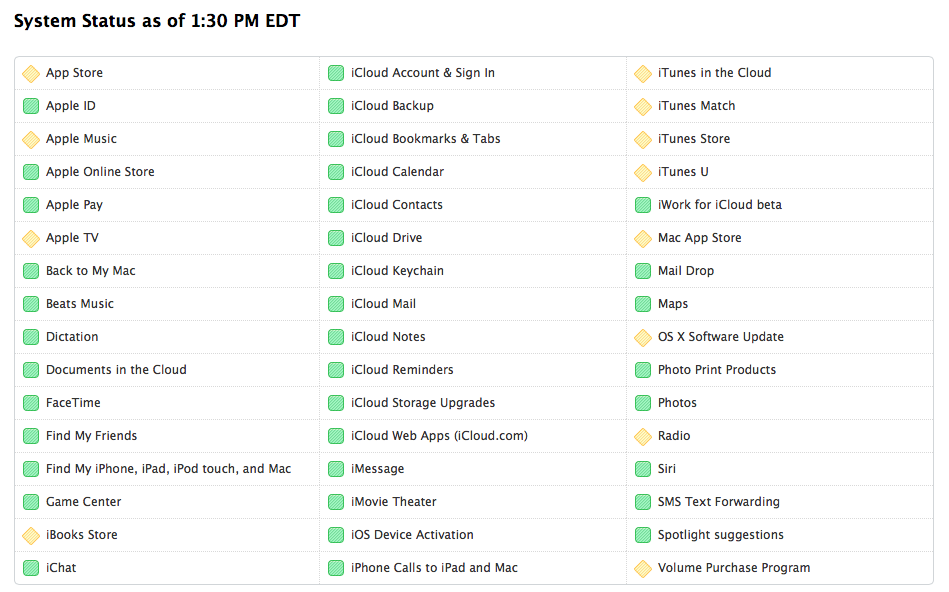 Apple Insider hypothesized that the reason behind this outage is due to the MTV VMA announcement that took place earlier today via the Beats1 radio station, which is part of Apple Music. If that's the case, then Apple seems like it is less than prepared to be the go-to streaming service for both video and music, and it begs asking the question of how Apple will scale its services moving forward.
This outage is yet another bit of bad publicity surrounding Apple's entry into the streaming music space and another example of the worlds largest tech company struggling to keep up with demand.
Like what you read? Share it.
(That helps us.)
Love what you read? Patronize Joe Corbett.
That helps us and the writer.
What is Patronizing? Learn more here.
---