Beyoncé, and some "Daddy Lessons" for the country music industry
---
---
Shortly before the election of an authoritarian racist, the Country Music Awards hosted a celebration of integrated musical awesomeness, during which Beyoncé — wearing a translucent white gown and donning blonde locks sleekly straightened and styled down her back — performed a bluesy, jazzy version of her song "Daddy Lessons" alongside the Dixie Chicks.
"Texas!" Beyoncé declared at the beginning of the song, Chicks' lead singer Natalie Mains affirming "Texas!" in reply; an assertion of regional solidarity, and musical roots transcending black and white:
https://www.youtube.com/watch?v=60aCpaG2S6E
The performance, too, was gloriously unified by eclecticism, complete with a fiery harmonica solo, a horn section composed of black women and white men, and Beyoncé twisting her lower half in demonstration of the short distance from hoedown to twerking#. The Dixie Chicks — after being blacklisted from mainstream country a decade ago for expressing opposition to the Iraq War — made their triumphant return to the stage, finally eclipsing the politics of red and blue, along with black and white.
We may be divided in politics, but music unifies us.
And that unity will be confirmed when Beyoncé wins the Grammy award for "Best Country" song, cheered on by all of Nashville.
Right?
Ha ha. No, of course not.
Beyoncé is nominated for a bunch of awards at the Grammys, but not for 'Best Country Song.' And if she had been nominated, there's every reason to believe that Nashville wouldn't have been very happy.
For musical integration is oft celebrated — just within limits.
There were, certainly, many delighted fans in the CMA audience when Beyoncé performed; country star Miranda Lambert has spoken often about her obsession with Beyoncé's music. But there were also many social media users who felt, strongly, that Beyoncé didn't belong on a country stage. "As a country artist I'm insulted that the CMA thinks we have to have a pop artist on our show to appeal to big crowds," Travis Tritt, purveyor of slick country pop#, whined on Twitter.
He then made jokes about how ridiculous it would be for him to play "All the Single Ladies" for his country audiences — because country musicians have never covered R&B songs.#
Ever.#
Not once…
Country today is generally conceived, packaged, and presented# as being by and for white rural people; but that's a result of marketing and myth, not a reflection of the genre's past. The tradition of blues, fiddle, and banjo music from which country originates wasn't divided into black and white, at least originally. Those lines were drawn by record executives, who segregated their catalogs into race records and hillbilly records as a way to cater to racism and micro-target audiences.
As far as actual music went though, black and white performers were often indistinguishable.
The Allen Brothers, for example, were an early white blues and ragtimey band who accidentally had some of their records classified as "race" and marketed to blacks:
Jimmie Rodgers, the most important and popular early country star, cheerfully embraced his debt to black blues performers. In fact, one of his greatest sides is a collaboration with Louis Armstrong in which he sings about being hassled by the police — an experience that, the song implicitly suggests, is common to poor people of every color:
Howlin' Wolf's patented wolf howl was an adaptation of Rodgers' signature yodel…
For that matter, Armstrong and jazz were a powerful influence on country as well, especially through Western swing bands such as those fronted by Bob Wills (who was himself a favorite of Charlie Parker). Etta James sang the country ballad "Almost Persuaded"#, just as Willie Nelson covered the Duke Ellington tune "Don't Get Around Much Anymore"#. You could multiply examples infinitely if you wanted: Hank Williams learned guitar, famously, from a black man; Rufus Payne, and then Al Green, covered Hank Williams #.
Black performers like Beyoncé have always sung "white music," just as white performers like the Dixie Chicks have always sung "black music" — which is why designations like "white music' and "black music" are arbitrary; they don't tell you much about the skin color or the influences of the folks performing.
They do tell you something about racism, though.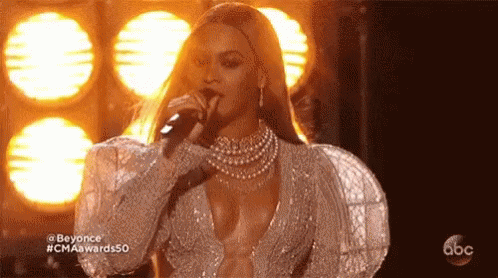 Tritt frames his objection in terms of genre — Beyoncé is an interloper, in his view, because she's a pop star — yet from country's beginnings, genre labels have been used as a euphemism for race. There was no similar outcry when Justin Timberlake performed a duet with Chris Stapleton in 2015, because while Timberlake may have released pop albums, he looks like what Travis Tritt thinks a country singer looks like. Beyoncé, meanwhile, is a southern girl from Texas with an audible accent and a lot more roots music in her sound than Tritt's; yet the only thing Tritt can see, or hear, is the color of her skin.
Black performers have always belonged in country, in the sense that they've always sung music recognizable as country music, and always influenced, and been influenced by, country performers and country performance. They've been appearing in country music settings since the time DeFord Bailey's harmonica opened the Grand Ole Opry#. But black performers have historically been excluded from country, too, even when they're right there on the stage. Etta James, Al Green, and Howlin' Wolf may have sung country music, though they're not seen as part of the tradition (Tritt certainly wasn't thinking of them when he objected to Beyoncé's performance). Instead, black country performances are seen in terms of a couple of token exceptions — Charley Pride, perhaps now Rhiannon Giddens — rather than as a central part of the tradition.
The truth is, black people have always loved and produced country music. However, it's also true that country music, from its inception, was a genre designed to separate people. Beyoncé, the Dixie Chicks, and the CMAs may have provided a brief look at a better, and arguably more accurate, America. Nevertheless, a few days later a statistical majority of our white rural countrymen voted resoundingly for Trump's America — a place where, while music may not be segregated, awards for music remain divided along racial lines.
Submitted To Civil Rights, Music
Like what you read? Share it.
(That helps us.)
Love what you read? Patronize Noah Berlatsky.
That helps us and the writer.
What is Patronizing? Learn more here.
---