Bonnaroo, You're Perfect, Oh Please Don't Change a Thing
---
---
Welcome to Some Songs Considered, a column that recognizes they can't all be zingers and truly appreciates the ones that are.
***
'Twas the last night of Bonnaroo —
— and we had just begun our final trek from the Some Songs Considered campsite in the distant-yet-proud Pod 10 towards the incandescent arch that beacons Centeroo. The liquescent existentialism of Father John Misty and the timelessly endearing fuzz of Death Cab For Cutie had conspired with an oppressive late-afternoon heat to bake their respective devotees, forcing us to retreat one last time to the canopied F-150 space-shuttle we called home# to indulge in quick, well-deserved showers before Dead & Co's festival-closing set. But now, physically and spiritually exfoliated, we were ready to drift through the cool, balmy stasis the evening had settled into.
$10 for unlimited, low-pressure hot water: the part where you get all you ever wanted…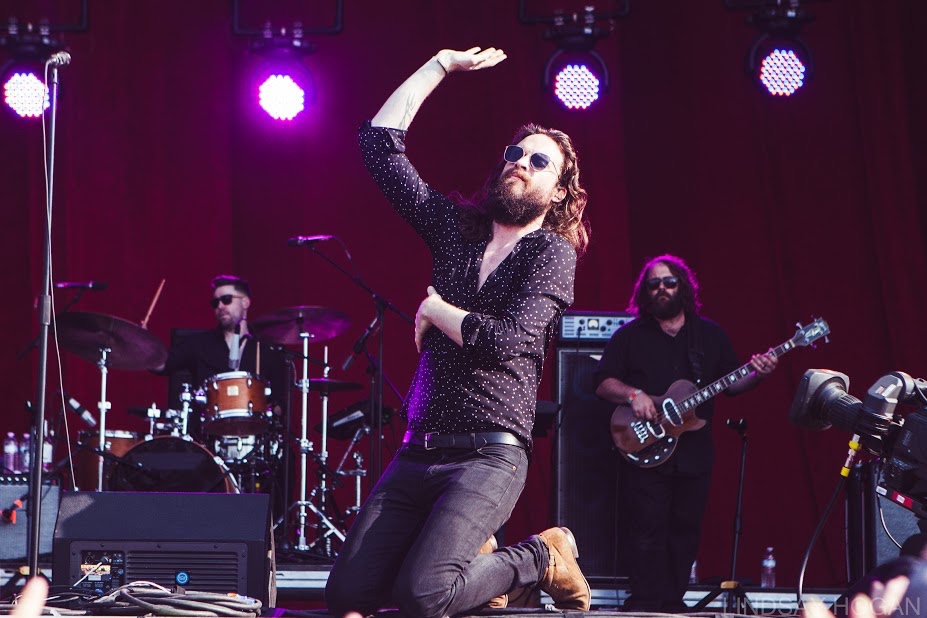 Passing by the various unofficial landmarks that act as breadcrumbs for those in far-off campgrounds, the Some Songs team kept to ourselves for the most part. Later, during Dead & Co.'s intermission, we would take a private moment of gratitude for this four-day pilgrimage we got to experience together, but at the moment we were content to eavesdrop on the chatter and cheers of the frenzied masses around us — the shared reflections, the personal commitments, the renewed resolves. Some of our fellow attendees had already been forced home by unbreakable Monday morning obligations, whittling down a small crowd even further, though it was immediately apparent the nipping knowledge that "this was it!" was simply fuel for a whetted audience's determination to enjoy the fleeting transcendence while they still could.
Finally approaching the effulgent arch#, we too reignited under its pretense-shedding glow. Snaking through the line to chants of "Last Night of Camp!" and "Make This One Count!", we began to embrace even quasi-familiar faces — "the girl from the impromptu drum circle at the bongo vendor!", "the rookies from Arizona!", "the hot guy from morning yoga!" — and gave so many high-fives our palms stung.
Following the hive-mind of neon through the gates, we eventually found ourselves thrown directly into the middle of a sprawling sea of radiating humanity; egoless kindness reigning supreme as far as the eye could see…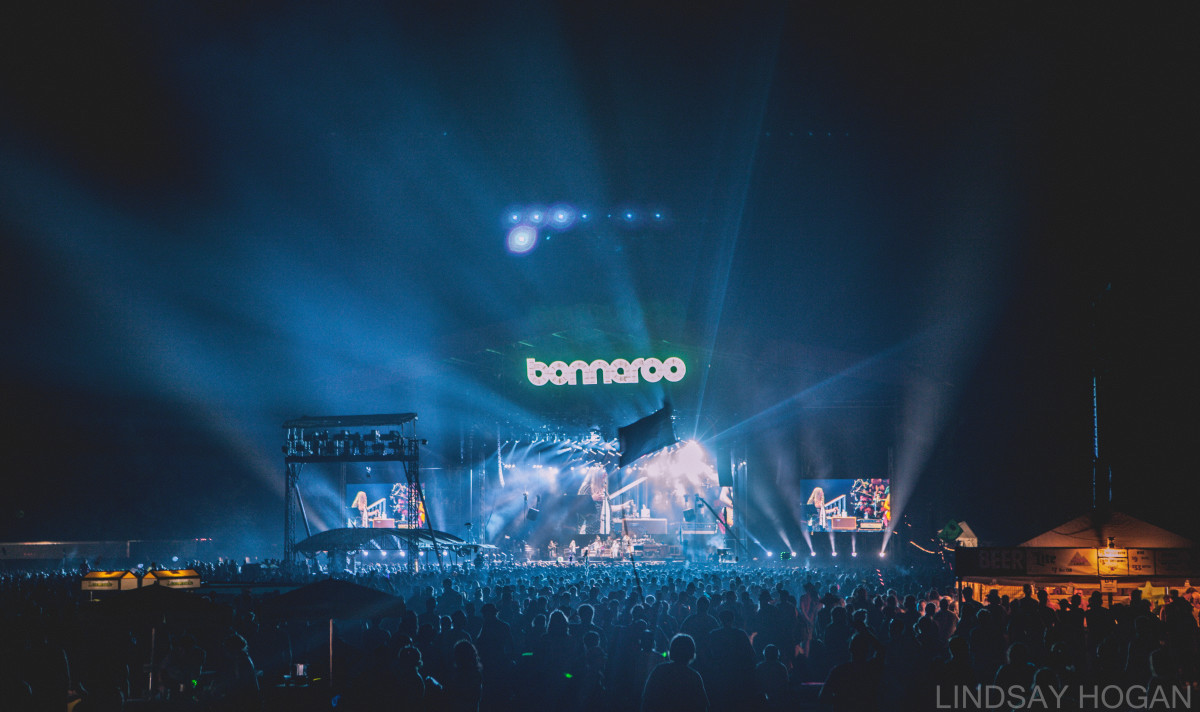 We set up our blanket in a prime spot to the right of the sound tower. However, it wasn't long before I was off exploring the infinite tie-dyed abyss in search of adventure and friendship. With three Bonnaroos now under my belt, I knew even this current rapture was only a few hours from becoming an ever-more-distant memory, so I wanted to soak in as many beautiful moments and souls as I could. The night before I had ended up sitting next to two hula-hoopers who had completely changed how I view what I now see is a true art, and I told myself that at the very least those Children of the Forest had to be around here somewhere.
Four minutes later, I found myself fighting back tears next to Santa…
I had just finished spilling my guts to him about how much I needed this weekend, how much it seemed like everyone I met needed it too. I had told him about the group who had given out medals during LCD Soundsystem, and the guy with the light-up basketball hoop totem who singlehandedly made a few aspirational hoopers' dreams come true. To his receptive nodding, I brought up the woman who helped my friend get through the worst parts of an acid trip when the sky temporarily threatened a nigh-apocalyptic storm, and our campsite neighbors who we were already making plans to visit down in Richmond.
"Ya know, I've been to Bonnaroo 14 times now…" he told me, surveying the sea of like-minded music lovers, weirdos, hippies, and heads sprawled out before us and pulling hard on the now-canoeing joint protruding deftly from his coarse, white beard.
"…and I'm afraid it's gonna change."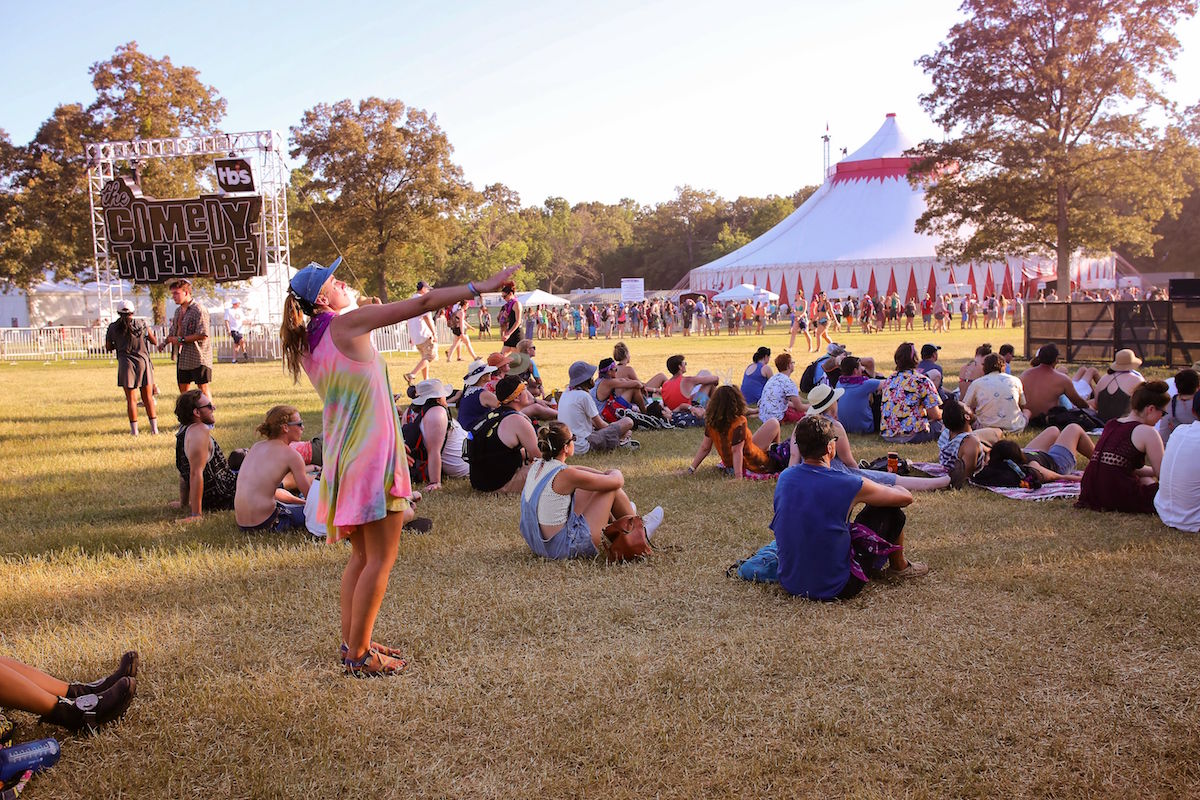 Bonnaroo, an event that started as essentially a grassroots affair focusing on jam bands and folk rock, has seen its star elevated to the highest echelon of annual music festivals. While usually accompanied with the reductive tag of "the hippie one," Bonnaroo, having just celebrated its 15th festival, is now mentioned in the same breath as industry behemoths like Coachella and Lollapalooza.
However, with Live Nation acquiring a controlling interest in not just the festival but the grounds itself back in 2015, there's a new set of spiraled expectations – financial and otherwise – that will now roll over Manchester, Tennessee each June as well.
And, in that respect, Bonnaroo 2016 may have been a failure.
Past Bonnaroo attendance numbers have hovered around 80,000, closer to 100k in recent years, but this year's noticeably smaller crowd has best guesses around 48,000 attendees. Even when one includes the drastic rise in ticket prices ($375 in 2015 to $460 this year) and the blatant catering to high-paying VIPs whose ticket packages reached the lofty $1,800 mark, that's not a good look on the ole accounting spreadsheet — especially when Coachella can pull off throwing the same ludicrously-sponsored festival back-to-back weekends and Governor's Island is now home to two competing NYC-based megafests.
Still, for those ~48,000 attendees who did choose to journey to the remote mecca of Manchester, Tennessee and brave record-level heat indexes for Bonnaroo 2016, as much for the soul-cleansing culture and community as for the music, that lackluster turnout actually helped foster an intimacy that Bonnaroo would be wise to consciously latch onto if it's ever going to simultaneously compete with the other C3 productions and do its best to, as they say, "Keep Bonna Roo."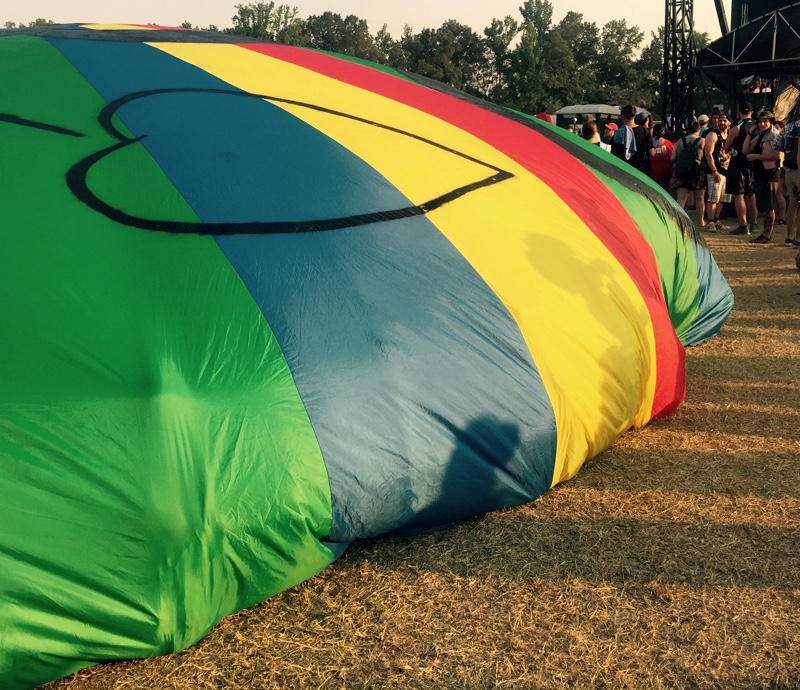 To quote our own Lindsay Hogan's mini-recap for DCMD:
"Here's the catch; to have the time of your life at Bonnaroo, you have to work for it.

You can't just sit around and let the experience come to you. You have to camp. This weekend may have seen three consecutive days over 93 degrees, but sharing a massive, miles-long campground in those conditions leads to some unusual camaraderie. In my designated campground three-quarters of a mile from the main festival grounds, Bonnaroovians shared water, beers, sun-reflecting blankets, cooked food, glitter, you name it.

Hidden corners of the campgrounds featured dance parties, art installations, spontaneous shows, and an endless amount of creative camp set-ups – all filled with people waiting for you to invite yourself in."
Bonnaroo, almost unfairly, gets labeled as a "music festival," when really it is much more of a social experiment in kindness. The necessities for survival may help spur an original sense of reliance and community, but the "Bonnaroo Code," as it is formally called, is an unfeigned guiding principal that's adhered to with dogged respect and practiced with an unimpeachable devoutness.
Scroll through the "Missed Connections" thread on r/Bonnaroo and you might be able to catch a voyeuristic glimpse at the kind of bonds formed over the course of the long weekend (hell, sometimes just one life-changing midnight set), but it's only while walking aimlessly through Centeroo that you can find yourself stumbling across a casual, music-less rendition of the Electric Slide composed exclusively of once-former strangers, or two groups of people sharing a picnic table who end up locking arms and skipping to the same stage once their meals are done. Or, if you're really lucky, you'll get to witness that beautiful epiphany when a Bonnarookie realizes this humanitarian magic, if cherished enough, can be harnessed and transported back across state lines to wherever it is they came from and shared with those loved ones who should have been here all along.
The performers recognize it, too.
Eddie Vedder, who the Some Songs team was fortunate enough to catch for Judd Apatow's surprise Garry Shandling tribute in the Comedy Tent #, preached the gospel to a rapt Saturday night crowd midway through their headlining set:
"Bonnaroo was one of the first fests like this to take hold in the States. And it's not just the people who put it on, but the people who come here – you – who [create] the positivity it takes to take care of each other when it's too hot, when lightning comes…"
At Bonnaroo, Father John Misty will jam with Dean Ween backstage while Kurt Vile looks on in the corner, an admittedly hungover James Murphy will sheepishly confess to exuberant believers, "We're really happy to play for you; you seem to be in a good mood,"# and Adam Devine from Workaholics will send your wife a life-saving video message# because it turns out he's camping three tents over from you.
Chance the Rapper, the self-proclaimed Mayor of Bonnaroo – who wasn't even slated to perform this year! – will pop up on four different artist's sets, only to end up taking over the Silent Disco for one of the more emotionally powerful sing-alongs it has ever seen:


I'm playing Coloring Book front to back in 30 mins at Silent Disco. Just realized if we all know the words we'll sound like a choir.

— Lil Chano From 79th (@chancetherapper) June 12, 2016
Thanks for being patient guys. Everyone should thank @bonnaroo for accommodating on such short notice (I thought of this this morning)

— Lil Chano From 79th (@chancetherapper) June 12, 2016
Nevertheless, after 15 beautiful years, Bonnaroo finds itself at a precipice.
Bonnaroo 2016 is going to be remembered for two things: the high temperatures and the low attendance numbers. Now, Live Nation can't do much about the sun#, but how it responds to this year is going to determine, in a lot of invested veterans' minds, whether the Bonnaroo we know and love will survive. We're all aware that in a hip but tasteful conference room somewhere far away from Manchester, Live Nation employees spent most of last week talking about the poorly-received lineup and the response to the rise in ticket in prices (not to mention the camping fees), the competing CMA Fest taking place in Nashville that same weekend, and the concept of 'festival fatigue,' as well as all the other points that have already been spouted across the comment sections of Reddit and Inforoo.
The hope, though, is that they're also talking about how to better engage those very same Reddaroo-ers for 2017…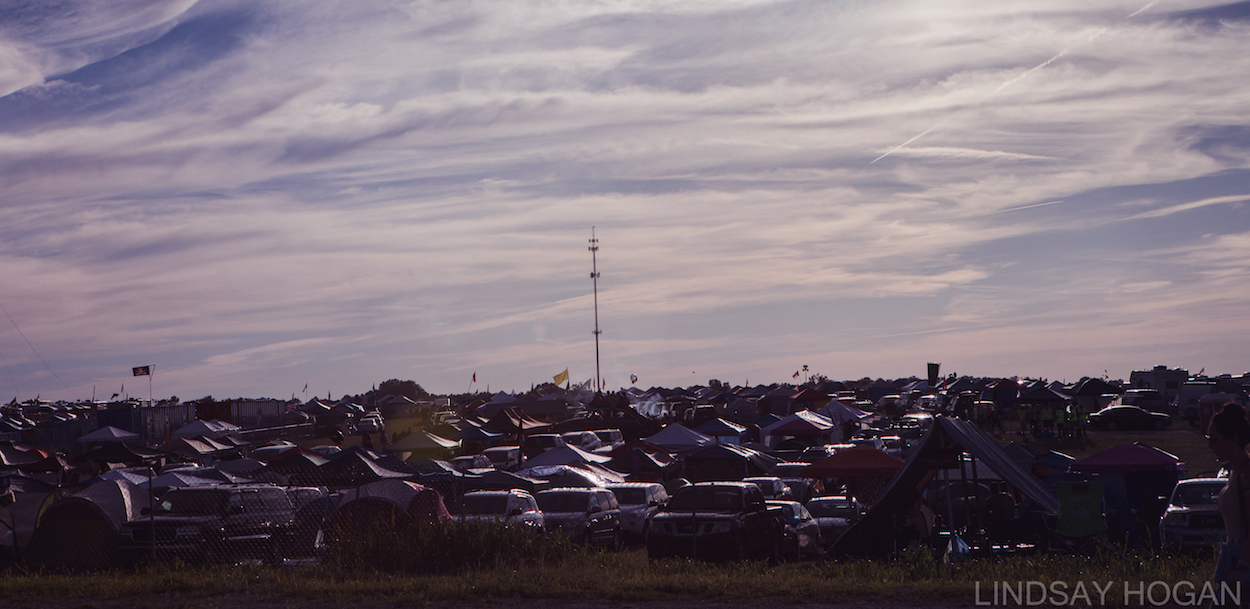 Those organic, hoi polloi platforms are already tapped as a vital resource during clue-hunting season, and, whether Live Nation likes it or not, r/Bonnaroo is where Bonnaroo lives in the off-season. Not only is it where star-crossed Bonnaroovians look to reunite after being thrust back into their respective "real" worlds, it's where the most indoctrinated attendees go to vicariously relive the festival via other's parallel memories. It's where rumors and speculations are first birthed and swirled. And, most importantly for Live Nation, it's where plans for next year's festival are concocted.
To "save" Bonnaroo, these are the people Live Nation needs to trust with its 'evolution.'
There are so many good deeds being done throughout the four days of Bonnaroo, why isn't there an official "King and Queen of Bonnaroo" thread where attendees can nominate and upvote their choice for the two people who best represented the ideals of Bonnaroo that year? Why not give the moderators of the Bonnaroo subreddit the same kind of cheap gold medals our friends in the LCD Soundsystem crowd passed out so that they can reward anyone they see performing a "random act of Roo" with a then-priceless treasure? Why not take a page from Wet Hot American Summer's yearbook# and have an AM radio station that lionizes all the quirky, beautiful moments of Bonnaroo and interviews the gems of human beings who seem to only exist there (as opposed to the bland, self-promotional banter they have streaming through the Media Tent at all hours)?
Speaking of summer camp, anyone who's been to one knows about the jingoistic enthusiasm one has for their randomly-assigned cabin, so why not take better advantage of the Pod system to help foster the inter-camp camaraderie most veterans say is tragically fading with each passing year? Make them more color-coordinated and encourage attendees to don their House Pod colors proudly and creatively, take a "family photo" under each Pod balloon at noon on Sundays, give each Pod HQ table some piece of a puzzle that requires meeting someone from every other Pod to complete.
Like Bonnaroo 2014 alums Bouncing Souls once put it#, give us a reason to care and we'll sing along forever.
The current agreement between Bonnaroo and Coffee County expires after the 2017 festival, and it will be no big surprise when the new one includes Live Nation being allowed to overhaul the infrastructure of the grounds in order to cater to multiple annual events – what they are calling "Great Stage Park" vision. It's the right business decision for a city that receives a majority of its financial income from the only-once-a-year event, and it's the right business decision for an entertainment company that understands the only real money in music these days is in the live shows, specifically the festivals.
Regardless, the millions-of-dollars question still remains: what does this mean for the marketably singular Bonnaroo going forward?
If it means a few more permanent bathrooms and sharing our beloved Farm with some country festival, then good vibes, more power to you. If, however, this means Live Nation continuing to price-out the very same people who have built the culture it paid millions to own and doing "that guy/girl" things like arresting the angelic Bunk Police for bringing in drug-testing kits so that dumb kids don't take bath salts, then maybe the eternal Bonnaroo flame that keeps us alit during the coldest of winters really might be at risk of going out for good.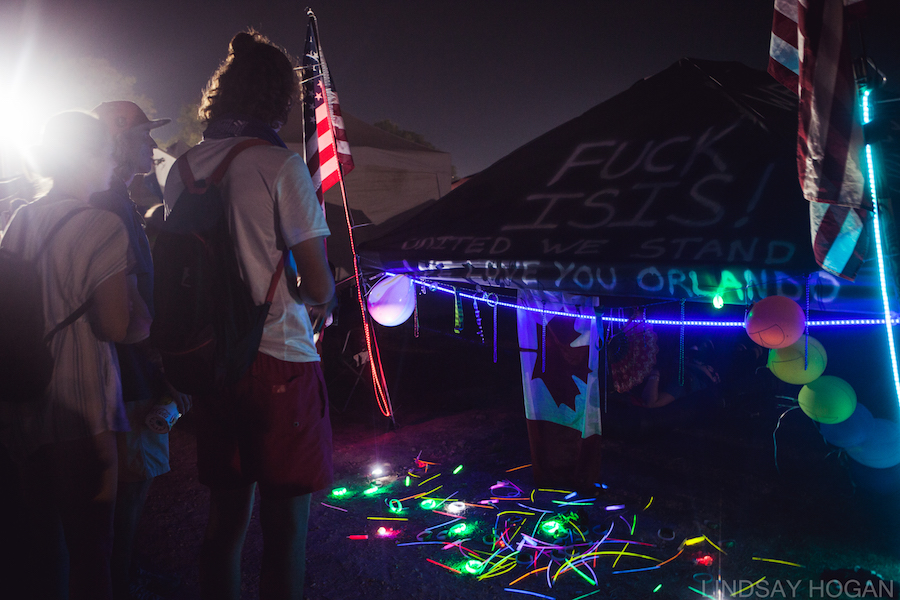 "But that's exactly why we have to keep coming back!" I implored my new friend, clasping his gloved hand as he exhaled a cloud of smoke as white as snow.
Letting out a deep, staccato chuckle, he took the index finger of his free hand and placed it gently on the side of his nose before winking at me over a jolly grin.
"I'm still here," he replied with a playful shrug, passing the still-lit joint back to me before taking a moment to bask in the unified sway of the lambent crowd stretched out before us.
" — I guess that's why I'll always be."
Submitted To Bonnaroo, Festivals!, Music, Reddit, Some Songs Considered
Like what you read? Share it.
(That helps us.)
Love what you read? Patronize Bryce Rudow.
That helps us and the writer.
What is Patronizing? Learn more here.
---