Chris Rock Hosted The Oscars, But #DoSiDoDiplomacy Reigned Supreme
---
---
If you were unaware of black history, #blacktwitter, or well, black people, the job that Chris Rock did as host of the 88th Annual Academy Awards was a great way to get you out of a #OscarsSoWhite mindset and reflect on the number of talented people of color who aren't getting (or aren't even being considered for) the top-tier roles in Hollywood that they deserve.
If you were aware of black history, #blacktwitter and black people before last night, consider Chris Rock's performance at LA's Dolby Theater a celebration of everything right about the progressive edge of where black society should ideally be headed.
https://vimeo.com/157256719
When Richard Pryor was tabbed as the host of an episode of Saturday Night Live in the program's inaugural season of 1975, America was turning the same blind eye to the inherent talent, entertainment value, and excellence of black performers that the Academy of Motion Picture Arts and Sciences was taken to the woodshed for with their list of Oscar nominees for 2016.
Tasked with showcasing to the the world what was being missed, Pryor used the opportunity to make poignant social statements in his sketches, as well as share the spotlight with other up-and-coming black stars.
The genius of what Chris Rock did as the host of the Oscars is that he finally focused the conversation regarding black people in the world from an almost singular focus on "Woe is us whose lives don't matter" to "Here's a one-night referendum on our lives not mattering…but fuck that; our lives do matter, you will respect us moving forward, and here's the people who will define a future where our lives will matter most."
Nevertheless, before his daughter could peddle Thin Mints and Tagalongs to Ben Affleck# and earn nearly $66,000 pushing #DoSiDoDiplomacy, there was a whole past of black history and black angst that Chris Rock had to unpack during the ceremony…
Rock's opening monologue kicked off with him walking out to the strains of "Fight The Power," Public Enemy's 1990 hit and the theme from Spike Lee's film Do The Right Thing – whose Best Original Score (or any other Oscar) snub in 1990 sparked its own open dialogue on the show about race. The power Rock was fighting literally surrounded him in the largely-Caucasian crowd, yet armed with one of the most empowering black rap anthems in history, he looked to re-frame race's relationship to culture in a manner recalling Kendrick Lamar's "Fight The Power"-esque anthem To Pimp A Butterfly.
But the truly funny and critically biting part of the future where Rock's #DoSiDoDiplomacy-pushing daughter's black lives start to matter begins with Chris Rock standing up to Will Smith, his wife Jada Pinkett Smith, and all of the black stars who boycotted the Oscars.
He humorously taught all of us that though black lives need to matter, in the future, black people can't throw stones while living in glass houses. He coined the term "sorority racist" to describe Hollywood, given that sororities across America are oftentimes the greatest purveyors of subtle racism and sexism that oftentimes veers into the most hurtful of negative territories, and noted that this revolution wasn't the same as prior revolutions in that racism wasn't the same as it was for 70 years.
We're not dealing with "grandmothers hanging from trees" anymore.
Still, what may have been the most amazing part of Rock's monologue is that he convinced Clueless co-star-turned-Fox News correspondent, BET hater, and believed black sellout Stacey Dash to show that she's cashing checks from a network not perceived to be on the side of Black Power because she may actually be re-defining what it means to be both black and intellectually liberated…
A dangerous comedic gambit done exclusively for the culturally aware black people watching at home, Rock jokingly named Dash the Academy's "Director of Diversity Outreach," only for Dash to sashay on the stage and say "happy Black History Month" in the most trolling manner possible. But this was necessary to push black culture ahead.
Rock needed to open black eyes to the fact that Dash collects paychecks from white people to portray a stereotype of blackness that's meant to intentionally antagonize black people. It's dangerous comedy, but in the same way that Richard Pryor and Chevy Chase exchanged racial slurs back and forth on SNL in 1975, it's a precedent that's proven to be both jarring and a place to open a deeper conversation – hopefully one effective in allowing black people to figure out our thoughts around how Stacey Dash's new-era liberalism fits into the future of black society overall.
Like Pryor, Rock also stirred all of the known classic echoes of progressive blackness and awakened the future of black celebrities-as-leaders on Sunday night.
If you follow Rock on Twitter and Facebook, you would've known that none other than Dave Chappelle – the only living and famous black comedian who could understand Rock's pressure cooker of a situation – was in the building as Rock's guest.

Pregame #Oscars #DaveChappelle pic.twitter.com/mWvRVRUQ8D

— Chris Rock (@chrisrock) February 29, 2016
Rock also highlighted Whoopi Goldberg, Leslie Jones and Tracy Morgan in the same sketch, and made sure to continuously allude to the fact that Kevin Hart is the next great black funnyman – claiming that Hart's working at a "porn star" level clip and could possibly eclipse not just comedians, but all black actors, as the best black actor in Hollywood history.
The idea that Rock highlighted Hart (and Jamie Foxx, who he called "one of the best actors in the world") on a show that also featured successful black film industry pioneers like Morgan Freeman, Louis Gossett, Jr., Quincy Jones and more is nothing short of impressive and places the spotlight not just on the negative issues plaguing the black community, but also on the positive hope for the future.
But while The Oscars were a divisive ceremony that invoked difficult conversations about not just race, but sex, gay rights, religion, global warming, the banking industry and so much more, let's pause for a second and realize that, in the midst of this, a troop of Girl Scouts hustled the crowd to buy Samoas to the tune of $65,000…
At the end of the night, the biggest winner at the 88th Academy Awards wasn't Leonardo DiCaprio or even amazing host Chris Rock. Rather, it's the troop of Girl Scouts who inspired every other young entrepreneur in the world to take the reigns of power — and with whatever #DoSiDoDiplomacy looks like to them — gain a share of economic influence.
While the adults are actually getting along and sharing cookies, it's the #DoSiDoDiplomats who look to be the ones who will actually figure out where the world heads from here.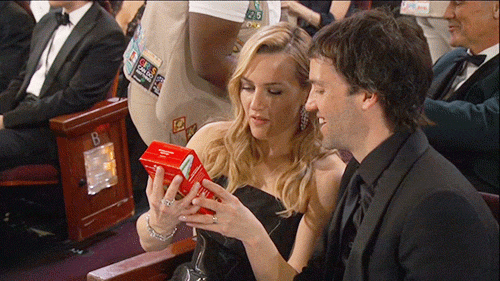 *written as I eat an entire box of Savannah Smiles*
Submitted To Civil Rights, Comedy, Film
Like what you read? Share it.
(That helps us.)
Love what you read? Patronize Marcus Dowling.
That helps us and the writer.
What is Patronizing? Learn more here.
---