Fixing Baseball, one blowout at a time
---
---
On Opening Day of the 2016 MLB season, the Los Angeles Dodgers beat the San Diego Padres 15–0.


Update: @ClaytonKersh22, still good. #OpeningDay pic.twitter.com/QRcoZpPGFk

— MLB GIFS (@MLBGIFs) April 5, 2016
Surprisingly, that's not the worst blowout of the season to this point, as the Chicago Cubs dropped two touchdowns and the subsequent two-point conversions during a shutout of the Cincinnati Reds on April 21, with Cubs pitcher Jake Arrieta throwing a no-hitter (more on this later).
The Reds were also the victims of a slightly less embarrassing 14-3 beating at the hands of the Cardinals the week prior, and the Padres got some form of retribution with a 16-3 smackdown of the Rockies less than a week after getting routed by LA.
These are absolute, unmitigated shellackings. Bare-bottomed spankings if you will.


Why is @arosie7 running this fast? https://t.co/kix6txgboh pic.twitter.com/tXMe1Wae37

— MLB GIFS (@MLBGIFs) April 20, 2016
You can't blame people for leaving the game or turning off their TVs and heading to the nearest patio/outdoor bar/lighted driving range.
But baseball can't afford to let this happen.
Interest in the game is waning, and those interested in the sport are aging. Since Nielsen started tracking viewership for the World Series in 1984, the five lowest rated series have all occurred after 2007. Since individual game viewership has been tracked (starting in 1996), the 2012 and 2014 series own the lowest rated Games 1, 2, and 4-7.
Admittedly, those might be isolated examples. The 2012 World Series wasn't particularly compelling; the Giants swept the Tigers. The apathy towards the 2014 series is a bit harder to defend, though. It was a drawn-out battle between the Giants and the upstart Kansas City Royals, and it came down to a one-run victory for San Francisco in Game 7 – a game which featured ace Madison Bumgarner gutting out five shutout relief innings on two days' rest for the victors.
So let's dig a little deeper.
For the first time ever, an annual ESPN poll of young Americans showed zero baseball players among the respondents' top 30 favorite athletes. Nielsen numbers indicate that half of professional baseball's viewers are 55 or older, up from 41% a decade ago. And to really hammer it home, 8.8 million American kids (ages 7-17) played baseball in 2000, and only 5.3 million did so in 2013.
If we want to hook a new generation of kids on the game, we have to start somewhere, and I propose we start by making lopsided baseball games eminently more watchable.
Simply put, the fix is this:
If you get beaten by 15 or more runs twice in one season, you're automatically ineligible for the playoffs.
Boom.
As the great Boston poet Will Hunting once said: "How do you like them apples?"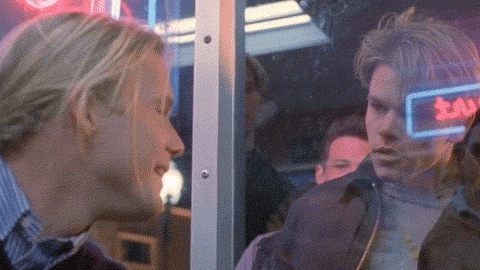 First of all, it would turn any midseason game into a potential life-or-death situation.
Any time a team started putting a few runs on the board early, the Twitter murmurs would begin, like how mentions of Arrieta's no-hitter began to creep across the internet.


#Cubs Jake Arrieta has a no-hitter thru 7. #Reds haven't been victimized by a regular-season no no since June 23, 1971

— Sportsnet Stats (@SNstats) April 22, 2016
Cubs lead 16-0 and Arrieta is thinking , " Ok someone make an out and let me get my no- no."

— chuck swirsky (@ctsbulls) April 22, 2016
Arrieta one out away pic.twitter.com/S2HeZHJLDV

— Barstool Sports (@barstoolsports) April 22, 2016
If a team was down 9–1 in the 6th inning and put a couple men on base with no outs, things would start to heat up. All of a sudden, the broadcast gains a new urgency. The fans at the game get grumbly, but also hopefully cheer on their team with a renewed fervor. People who once were leaving in the sixth inning of a 10–0 blowout find themselves on the edge of their seat, wondering if their team can convert a sac fly while down 14–2 in the top of the 8th.
All of a sudden, the manager's job gets a lot harder, too.
Do you leave in the innings-eating long reliever and hope your offense can close the gap? Or do you empty the bullpen in hopes of keeping your playoff chances alive? Or, what if it's September and you're trying to get your rotation in order for the playoffs? Maybe you eat that one big blowout because you've still got an extra one in your pocket.
Plus, think of the implications for bottom-feeding teams. Talk about the ultimate spoiler. You could ruin a division rival's season at any point during the season.
The Red Sox go up to the Rogers Centre and murder the Blue Jays in May? There goes the Jays' season.
The incentive for revenge on the return trip in August skyrockets. Intriguing subplots would abound. Think about a team sitting behind the Wild Card holders, out of the hunt in games but very much alive in blowouts, going into a late September series. Blow out the Wild Card team once, and they leapfrog into the playoffs.
Sometimes, blowouts of this magnitude are in the cards early on. Maybe the starting pitcher gets injured, the bullpen is in tatters, and a position player comes in to throw a glorified batting practice. Over the course of a 162-game season, those things are going to happen.
With this rule change, you'd just have to make sure they didn't happen twice.
Sure, it's a half-baked idea. And yes, baseball is the sport that is the least amenable to change. But consider most of the other crockpot schemes to "improve" the game of baseball. Most involve shortening something – at-bats, games, and/or entire seasons – but baseball, more than any other sport, takes its history (and historical records) seriously.
This change doesn't fundamentally alter the record books; it simply makes a lopsided game in late May more watchable.
We're fixing baseball, one blowout at a time.
Like what you read? Share it.
(That helps us.)
Love what you read? Patronize Robbie Vogel.
That helps us and the writer.
What is Patronizing? Learn more here.
---