Hollywood is still trying to find its rhythm with EDM
---
---
More than A-list stars, more than good ideas, more than common sense, the whims of teens decide which movies get made and which ones die in the womb. The modern film industry is a mad scramble for film executives to lure those coveted 16-to-28-year-olds out of their homes and into the movie theater. Because young people don't just drop eleven bucks to see a movie; they tweet about it, tell their friends, reblog .gifs on Tumblr, and turn entertainment into viral ubiquity. They make hits.
As such, movie studios have ramped up efforts to capitalize on electronic dance music's recent explosion of popularity with #millennials, those social-media-savvy money factories. At major music festivals such as Coachella and Lollapalooza, thousands upon thousands of neon-clad revelers gather to watch the likes of Skrillex and Avicii lay waste to stages formerly occupied by adults holding guitars, so accordingly, a number of films have begun to integrate elements of EDM culture into the biz.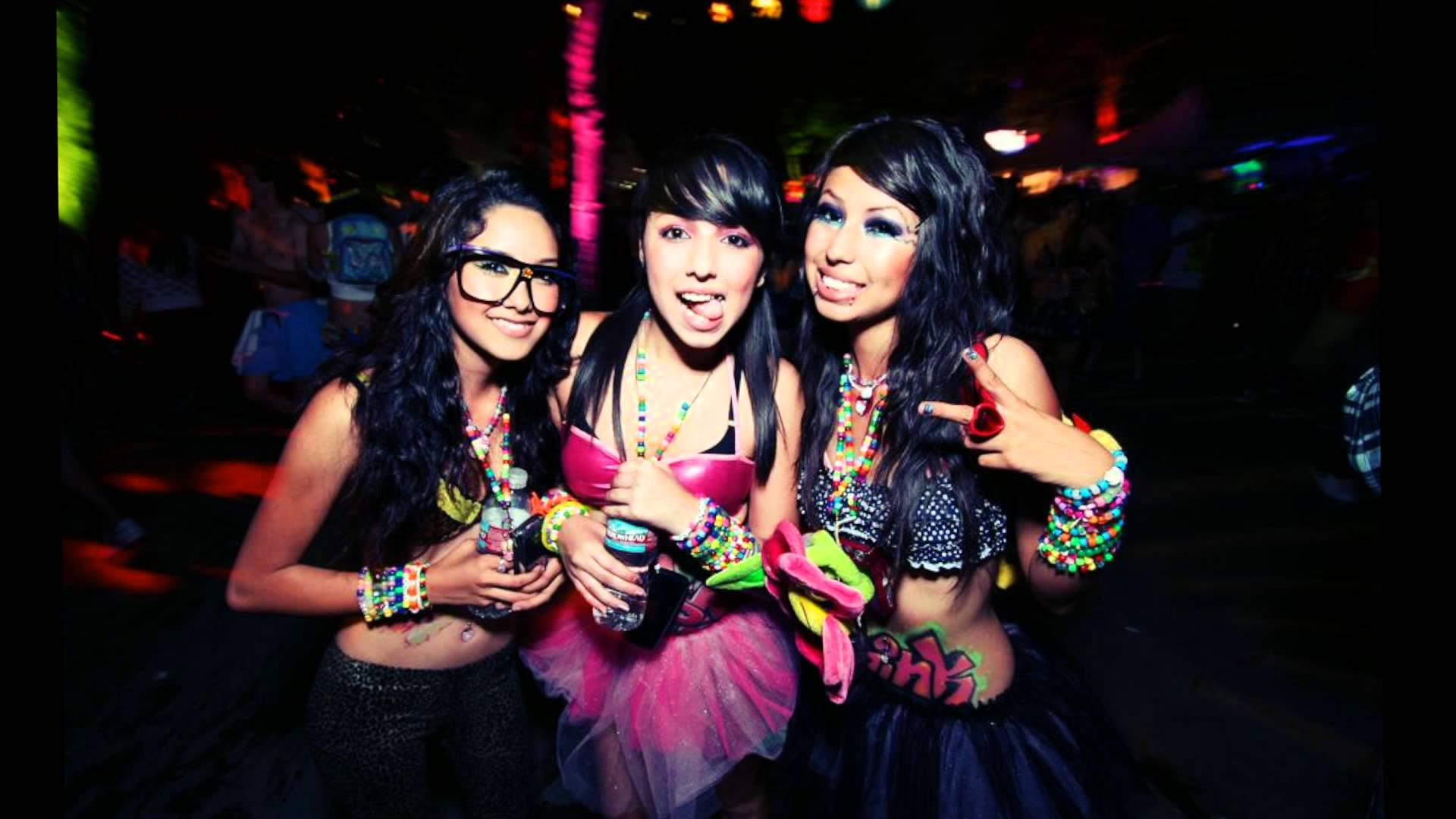 The hazard here is negotiating the balance between engagement with electronic music and its attendant lifestyle, and flat-out pandering to youth. Thus far, EDM film has spread just like the earliest murmurings of electronic music: The French already know what they're doing, while America's on the precipice of catching up. But first, Hollywood has to learn how to sell an EDM movie that doesn't feel like a product middle-aged businessmen are peddling to tweaked-out ravers.
***
Regardless of genre, no film geared for teens hitting the mall on a Friday night has been spared a shoehorned-in genuflection to the powers of EDM. Even when a racuous party scene scored to the amp-busting strains of electronic music might not be completely essential, in it goes.
Take, for instance, the impromptu needle-drop of "Gangnam Style" in This Is The End:
And here's Seth Rogen again, with Rose Byrne in a memorable scene from Neighbors, during which the couple attends a rave that the rowdy frat next door has thrown: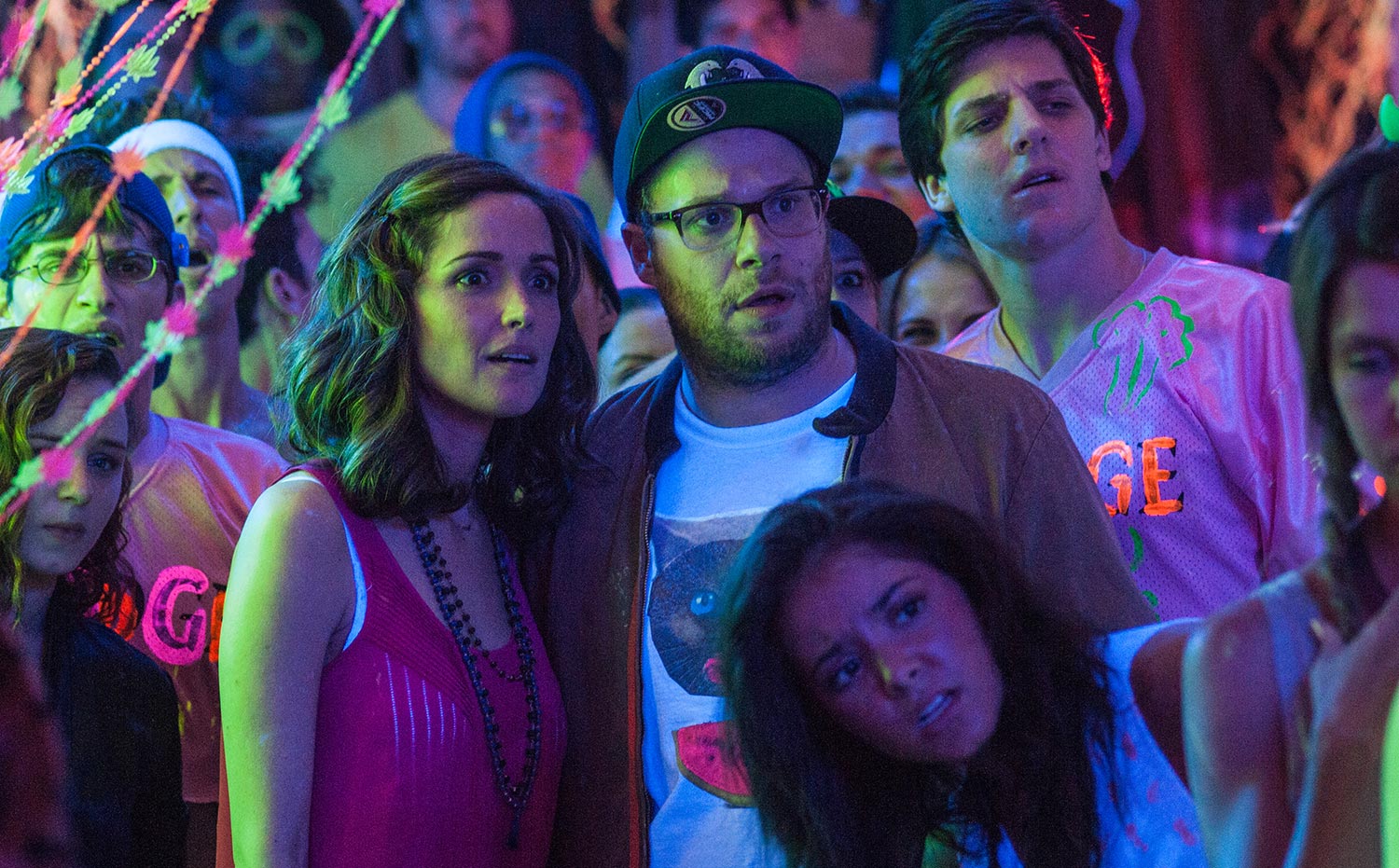 Not to mention the dozens and dozens of advertisements that have tapped EDM as a tacit signifier that the film being promoted is exciting, fun, and outta-control in a way that only #cool #teens can understand. Any time a muscle-bound hero drives a car out of a building, a booming trap breakdown can't be far behind. The song accompanying the clip has undoubtedly been curated to convey maximum #relatability. Studio executives: They listen to the same DJs you do!
Next month, Warner Bros. will bring their ploys to EDM followers to the next level with a Zac Efron vehicle called We Are Your Friends.# In the film, the former High School Musical star plays a fresh-faced DJ named Cole who comes under the wing of an older EDM talent played by Wes Bentley. Early reports explain that Cole enters into a love triangle when he develops feelings for his mentor's girlfriend, essayed by "Blurred Lines" prop/Entourage actress Emily Ratajkowski. But here, let's all take a look at the trailer together:
First things first, it's no fair for a critic to levy judgement on a film he hasn't seen. I don't wish to denigrate We Are Your Friends, only the meticulously calibrated appeal of its promotional campaign. Because goodness gracious, is this ever a calculated reach-around for the molly-addled party monsters that exist solely in Warner Bros. executives' imaginations. The advertisement conveys the vaguest possible understanding of the physics of electronic music, trying to pass off a three-BPM increase as a totally gnarly sick move (, bro). The trailer specifically foregrounds the line "…all you need is a laptop, some talent, and one track."
This feeds into the worst conception of electronic music, the ungainly notion that it's super-easy and that anyone can do it. In actuality, it's more like the bon mot from Anton Ego near the tail end of Ratatouille — it's not that anyone can be a great DJ, but that a great DJ can come from anywhere. The top comments on the YouTube page for the We Are Your Friends trailer are comedy gold, as commenters unencumbered by professional decorum let loose on what they perceive as an attack on their culture. User MANDY MIGGZ puts it concisely, writing, "this movie looks like a potential insult to every EDM producer or DJ. established or aspiring smh".
Even with an MDMA-lowered brain cell count, EDM devotees can tell when they're being pitched to. All that nonsense at the beginning of the trailer, about how EDM is somehow the answer to the debt crisis and economic meltdown and all of your broken dreams, feels as hollow as a chocolate bunny. It's a waste of oxygen that makes explicit what was once implicit. The trailer begins with Efron and his buddies literally imploring people to come to their party. The trailer and Efron promise you verbatim that We Are Your Friends will be the greatest night of your life. It's a naked appeal to a very specific sort of viewer, begging them to tear themselves away from the dance floor and get into the movie theater. (It's worth noting that Voltage Studio is also currently prepping a similar-sounding film called XO, described in The Hollywood Reporter as "music festival-themed" and "social media-influenced", to which I say, Jesus fucking Christ let me off of this spinning planet already.)
Speaking of The Hollywood Reporter, they ran an editorial from DJ Pete Tong back in April titled "Where Is EDM's 'Saturday Night Fever'?", in which he bemoans the lack of quality films chronicling the EDM phenomenon. Someone should go tell him that we found it! It's over in France, and it's called Eden.
Mia Hansen-Løve worked with her brother Sven to tell his story as a struggling DJ in the French touch scene of the '90s, the nu-disco offshoot that produced Daft Punk. It's an excellent film, and for the usual reasons — Hansen-Løve's a supremely gifted director and writer, and her leading man Félix de Givry turns in a guarded, nuanced turn as her brother's stand-in, Paul. But more than that, the film understands electronic music and why it's resonated with such a wide audience.
The film really comes alive in its party scenes, but before it can get there, it does due diligence and shows Paul's painstaking process of creating his set. The camera follows him as he paws through old crates of vinyl, sits in bedroom studios listening to a hundred different samples just to find the perfect click, and travels far and wide in search of rare gear. It shows him working the twenty-dollar gigs and fielding phone calls from angry press agents and hitting up friends for a place to sleep. It shows that designer drugs are fun as hell, until they're not. It's a more honest sort of film. Those of us susceptible to sentimentality might even venture to say that while the We Are Your Friends trailer works along financial imperatives, Eden comes from a place of love and devotion.
***
In a pop-cultural landscape that reshapes itself more frequently than ever before, it's hard to say where electronic music will be five years from now. For now, it occupies a cultural space that rock 'n' roll held in the early '60s, and hip-hop held in the early '90s (and if we really want to get down to it, the space that jazz occupied in the '20s); it's new, fun, thrilling, and misunderstood by people out of their twenties. Piles of dust in thousand-dollar suits will continue to puzzle over how to turn the craze into money, but the solution's really all too easy: Listen to the people who were there.
Like what you read? Share it.
(That helps us.)
Love what you read? Patronize Charles Bramesco.
That helps us and the writer.
What is Patronizing? Learn more here.
---