Just a Game of Thrones #803: In Awe
---
---
Welcome to Just a Game of Thrones, the column singing backup vocals on the Song of Ice and Fire.
***
In Awe
The English language makes no sense.
For instance…
Knot and not. Knight and night.
Knew and new. White and wight.
Write and right. Read and red.
Cite and sight. Lead and led.

Break and brake. Throne and thrown.
Tale and tail. Groan and grown.
You and ewe. I and eye.
Build and billed. Buy and bye.

Which and witch. Where and wear.
Who's and whose. There and their.
Steel and steal. Teams and teems.
Real and reel. Seams and seems.

Soul and sole. Son and sun.
Whole and hole. One and won.
Past and passed. Pain and pane.
Peace and piece. Reign and rain.

Absolutely bonkers, right?
No matter how many books from the Citadel one pilfers, no matter how many hours one spends getting tutored by greyscaled wunderkinds, there is simply no defense one could cobble together that would justify all the quirky lexical items that compose the Common Tongue.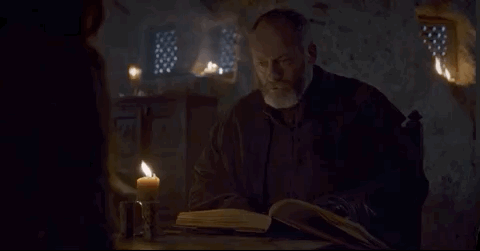 Think of the word "awe."
Defined (by Dictionary.com) as "an overwhelming feeling of reverence, admiration, fear, etc., produced by that which is grand, sublime, extremely powerful, or the like," the word is meant to evoke a sense of humbling astonishment. It is what overtakes Night Watchmen and Wildlings alike the first time they see The Wall. It is what leaves Davos, Tormund, Edd, and Melisandre breathless when they see a resurrected Jon Snow breathing again. It is the expression on Arya's face when she sees dragons flying over Winterfell.
Because, to be curt, dragons are awesome.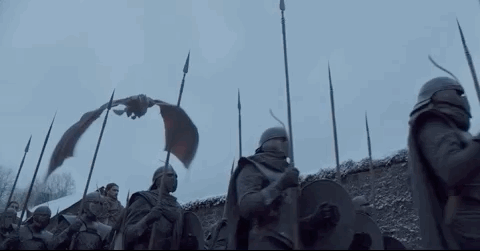 The Wall, too, is awesome.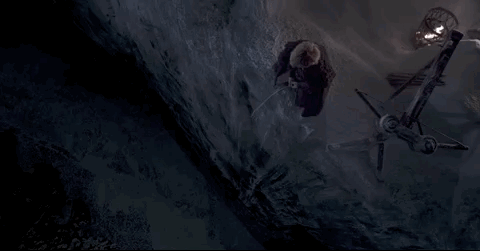 That moment when Jon's eyes burst open? Awesome.
So awesome it feels downright insulting to bestow only "some" awe upon such overwhelming spectacularities.
Those monuments, miracles, and mythical creatures, they deserve all the awe we can mine.
The problem is, that would make them "full" of awe. And the English language, as it's currently constructed, isn't capable of handling that weighty an ovation…
Believe it or not, for a sizable portion of its millennia-long history, the word "awful" was actually used to describe something "worthy of, or commanding, profound respect or reverential fear." It was only over the course of the eight centuries between 1000 and 1800 AD that the word's (somewhat) positive connotation began being contorted into the more specifically negative posture it presents today, and it wasn't until the early 1900's that "awful" became fully recognized, at least among the common folk, to mean "very bad, unpleasant, or of low quality."
The relatively adolescent "awesome," on the other hand, was only first recorded back in 1598. Most likely crafted in response to the bastardization of "awful," it has always been used as a colloquial synonym for "awe-inspiring."
Absolutely bonkers, right?
How in the Seven Kingdoms the ~753.3 million non-native English speakers can wrap their brains around that kind of linguistic absurdity is itself astonishingly humbling; and a question best left to wiser, skinnier-armed men than myself…
Which is all to say that last night's episode, "The Long Night," was both "awesome" and "awful."
Director Miguel Sapochnik's magnificent visual imagination and symphonic use of pacing? Awesome.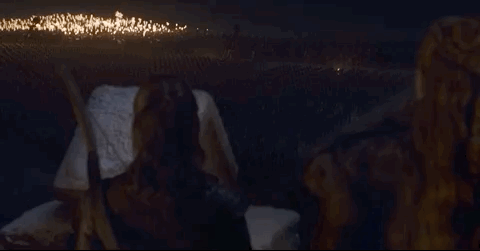 The Valyrian steel dagger originally intended to kill Bran and instigate the War of the Five Kings being used by Arya to save him and consequently end the Great War? Awesome.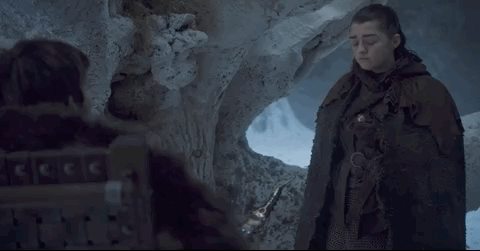 The show's visual editors not realizing "every recent advance in television technology seems to have been designed specifically to make 'The Long Night' difficult to make out?" Awful.
Having Jon completely forget the central lesson of the Battle of the Bastards and run straight at the Night King in a blind rage so as to protect his younger brother? Awful.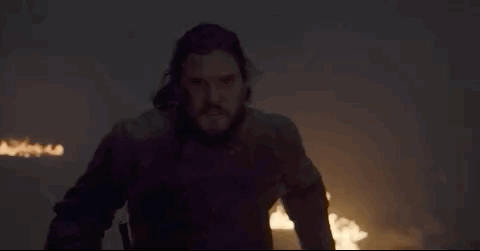 In fact, let's just go ahead and make us some lists…
AWESOME:
the tracking shots
the imposing vastness of Winterfell's assembled forces
Sapochnik's patience when it came to whetting the prebattle tension
Melisandre lighting the Dothraki arakhs on fire
the startling despair we, and the characters themselves, experienced when the Dothraki's lights died out
the multiple instances of Arya: Endgame foreshadowing
the bulked up orchestration
the dragon on dragon fisticuffs
Arya's "stick them with the pointy end" callback
Arya's "fight through the halls of Winterfell" scene
Arya's "super stealth library escape" scene
Arya spending what seemed like her last moments on earth with the "two miserable old shits" she explicitly didn't want to hang out with last episode
basically everything related to Arya, save the cognitive dissonance one had to employ when wondering how she made it from the barricaded room to the weirwood tree
Jaime and Brienne fighting back to back on the walls of Winterfell
the look on the faces of those still alive when the Night King reanimated the dead
the look on Sansa's and Tyrion's faces down in the crypt
Theon's face right after Bran told him he's a good man
Drogon cuddling around Dany like a dog
the realization that Melisandre's "brown eyes, blue eyes, green eyes" prediction refers to the brown-eyed Walder Frey, the blue-eyed Night King, and either the green-eyed Cersei or the green-eyed Dany
the implication that the Prince that was Promised/Azor Ahai/Warrior of Light prophecy was never meant to describe one particular person.
Lyanna Freakin' Mormont: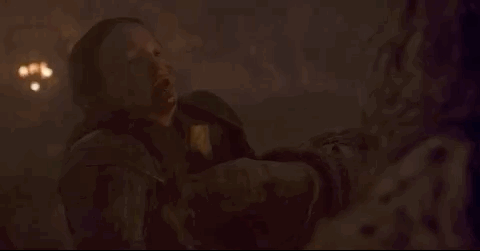 AWFUL:
the battle plan that…
didn't include any scouting by Bran "I Could Have Warged into Ravens Hours Ago" Stark or a heads up/reminder from Jon that the Night King might raise the recently-slaughtered at some point like he did at Hardhome
sent the realm's best cavalry into a frozen darkness they weren't acclimated to with unexpectedly flaming versions of their normal weapons instead of letting the army of the dead first take on the Unsullied who are known realm-wide for their defensive capabilities
revolved around minimal, fairly inefficient use of dragon fire
relied on a small force of longbow archers to protect the most important piece on the board even though everyone was fully aware this was going to be more of a hand-to-hand combat kind of fight
Dany landing Drogon for no reason whatsoever, leaving him vulnerable to the wights that eventually besieged him
the lack of an explanation as to how Jesus Christ Beric was able to survive his stab wounds and successfully run away from the wights long enough to make it through the door
the amount of characters who survived when they logistically shouldn't have, including…
Brienne:


tackled and then enveloped by what looked to be at least two wights (17:53)

backed against a wall while to trying to fend off at least a dozen wights (1:06:40)

backed against a different wall while trying to fend off another dozen wights (1:09:37)
Sam:


leveled by a dagger-wielding wight that somehow couldn't overpower him despite the fact he was pinned on his back and is utterly devoid of muscle (21:15)

simply stared at by the spear-wielding wight that had literally just murdered Edd no more than two feet away from him (21:43)

engulfed by at least two wights on the wall (40:30)

blanketed by at least three wights while on his back, again (106:25)
Greyworm:


'protected the retreat' of every other fighting force on the battlefield (17:53)

encircled by numerous wights while fighting on the wall (1:06:40)
Dany:


overlooked, somehow, by the since-reanimated horde of wights long enough to be saved by Jorah (1:07:49)
Everyone in the Crypt:


faced a litany of formerly-deceased Starks with only Tyrion and Sansa there to defend them (1:08:05)
Jaime:


backed against a wall while facing a swarm of wights (1:09:37)
Gendry:


stood only a foot above a mass of wights that were totally cool not taking his legs out from under him as he smashed his hammer down upon them (1:09:42)
only one, seemingly obligatory shot of Ghost: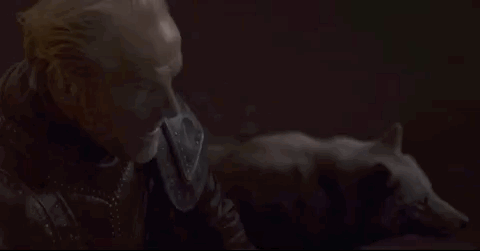 Now, with all that out on the table…
I'm sure, in the long run, "The Long Night" will forever be considered the most overtaking, breath-stealing, awe-inspiring episode of Game of Thrones. However, it would be editorially irresponsible to not point out that this third episode of the show's final season also undeniably, on several occasions, clumsily let the disorienting confusion that made its various battle scenes so compelling seep into the logistical coherence of the narrative.
Repeat viewings, especially those post-finale, might give us all a clearer perspective on how this episode will ultimately be regarded in relation to the greater story.
For now though, or at least until next week, let's just remain here.
In awe.

Break The Wheel of Hot Takes
After "The Long Night," there are a few (predictable) names from me and my wife's Death Watch list that need to get crossed off…
Jorah Mormont
Grey Worm and/or Missandei
Beric Dondarrion
Theon Greyjoy
the women and children "safe" in the crypts
* Notable absences:
The Hound (because if I don't write it down it won't happen/CLEGANE BOWL!!!)
Gendry (because he's the last Baratheon)
"It Is Known"
To keep quoting myself, "Holy crap how are we going to tackle the litany of remaining prophecies, conspiracies, and far flung fan theories in only five four three episodes?!?! Even with extended running times, I just don't see it happening."
I do think some loose ends are more likely to be tied into bows than others, though…
HAS to happen:
Jaime = the valonqar
Bran = the Night King and/or the voice inside the Mad King's "Burn them all!"-filled head
An appearance by Howland Reed
An explanation as to why Bran was in warg mode throughout the entire battle
CLEGANE BOWL!!!
The end of Tyrion's "honeycomb and jackass" joke
SHOULD happen:
A Night King defeat by no later than Episode 4
A Valyrian steel sword and/or dragonglass spear to Bran's chest
A Daario update
An on-target shot by Chekhov's Scorpion, currently in the Red Keep
An off-target shot by Bronn that leads to SER Brienne's death, cementing Jaime's resolve to valonqar Cersei
An explicit acknowledgement that a throne you can ride (e.g. a horse, a dragon, a ship) is better than a stationary one made of iron
COULD happen:
Tyrion = a Targaryen
Syrio Forel = Jaqen H'ghar
Harry Strickland = the wielder of Blackfyre
PROBABLY WON'T happen (but it would be cool if it did):
Varys turns out to be a merman
The Hound turns out to be the Lord of Light (and The Mountain is The Great Other)
Sam kills one of the big bad bosses, Neville Longbottom style
Westeros becomes so uninhabitable all surviving Westerosi are forced to join Arya in exploring "what's west of Westeros," thus becoming a mysterious Other 'invading' a foreign land via a once-impenetrable barrier
Elephants
Arya is Batman Now
It turns out I am not the only one who's noticed the multiple parallels between Arya Stark and Bruce Wayne, but allow me to illustrate them nonetheless…
Both were born into a prestigious, wealthy family.
Both had to watch helplessly as their parents were murdered.
Both subsequently vowed to avenge said murdered parents.
Both travelled east to study under master assassins.
Both abandoned their assassin masters to continue their personal quest for vengeance.
Both have defeated a supervillain who thrives in below-freezing temperatures.
* Fun fact: Arya's grandmother on her mother's side was related by marriage to Oswell Whent of the King's Guard, who wore a bat on his helmet.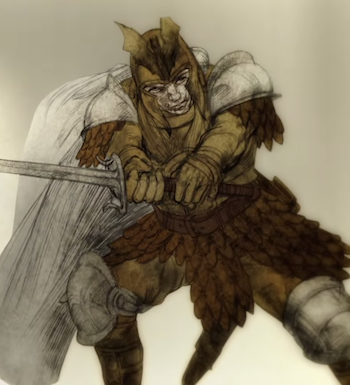 Ba Dum Tssshhh
"At least we're already in a crypt…" — Varys

"Maybe we should have stayed married." — Tyrion
"You were the best of them." — Sansa
"What a terrifying thought." — Tyrion
Short Ass Winter, TBH
winter is coming…
winter is coming…
winter is COM- ugh dammit winter got in their head about it and couldn't finish and so winter felt pretty unsatisfying

— Travis Helwig (@travishelwig) April 29, 2019
The HoF of GoT GIFs
* My fellow recappers/reviewers, feel free to pilfer from these, or any other GIFs from the Just a Game of Thrones archives, anytime
In addition to the multitude of GIFs in the first section…
Flame Off:

Knights of the Seven Kingdoms:

Enter the Dragons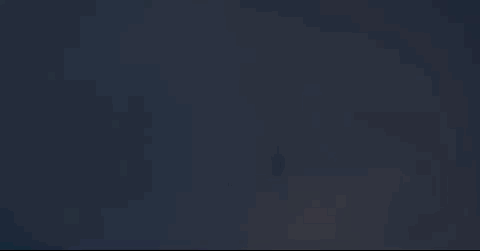 Sword to my Throat, I'd Bet _____ Wins the Game of Thrones
(this is subject to, and will most likely, change each week)
A Poorly Thought-Through Installation of Democracy!
If Westeros really is going to suddenly transition into some sort of quasi-democratic collection of nation states after eons of adherence to a feudal system, as many speculate it will, then its various leaders should expect a realm's worth of unforeseen repercussions.
There is a reason even the United States didn't provide for the direct popular election of senators until 1913.
Submitted To Just a Game of Thrones, Television
Like what you read? Share it.
(That helps us.)
Love what you read? Patronize Bryce Rudow.
That helps us and the writer.
What is Patronizing? Learn more here.
---