Landmark Festival 2015, the HFStival that never was
---
---
I have been to a lot of concerts and more than my share of festivals in the 28 years I've been on this planet. I don't remember them all perfectly – headliners from one blend with bands from another – though I still hold on to a crystalized memory of when, at the ripe age of 12, my mom dropped my two friends and I off at RFK Stadium in NE Washington DC to go to the 1999 Fall Edition of the HFStival.

It was the 11th installment of the festival put on by local alternative radio station WHFS, and while the lineup doesn't really hold up 16 years later (Limp Bizkit, Bush, 311, and Everclear all got heavy billing), I will always credit those 12 or so hours of live music as helping spark the audiophilic fire that burns inside me today.
However, I also vividly remember that fateful day in January of 2005 when, at the stroke of noon, just as I was heading off campus to have lunch with my friends, my car's radio jumped from my regularly scheduled programming — fittingly, Jeff Buckley's "Last Goodbye" — to tropical Latin music and DJs speaking in Spanish. As I and my fellow confused listeners would soon come to find out, HFS had been the tragic victim of an abrupt format change.
What had once been one of the most influential alternative rock stations in the country was now "El Zol" 99.1 FM.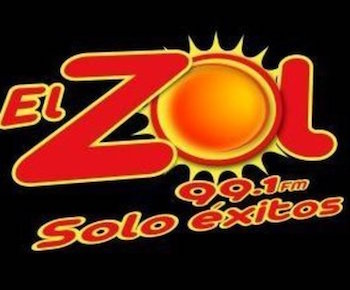 HFStival hung on a few more years at different locations like M&T Stadium in Baltimore and the oasis in the suburban desert that is Merriweather Post Pavilion, but by the time the last notes of the 2006 festival rang out the writing was already on the wall.
And maybe that's why this weekend's Landmark Festival, held on the National Mall, felt so darn refreshing.
In the years following HFStival's demise, DC would get teased with the gone-but-not-forgotten Virgin Freefest and the continuously-worse Sweetlife Festival. We would even try to build our own festivals organically, as evidenced by events like Trillectro and All Things Go's Fall Classic. But the truth is, for a few years now, DC has been in desperate need of a major music festival that takes place in DC, not just near it.
Still, this is Washington DC we're talking about, which means we're at the mercy of the federal government and we can't just hire C3 Presents — who is known for putting on Lollapalooza and who produced this year's Landmark Festival — to give us our due Capitalooza. We have to be trickier about it. And that's why anyone remotely familiar with the festival heard so much about the The Trust for the National Mall, an official partner of the National Park Service, and the reason Landmark happened in the first place.
You see, this is the National Mall…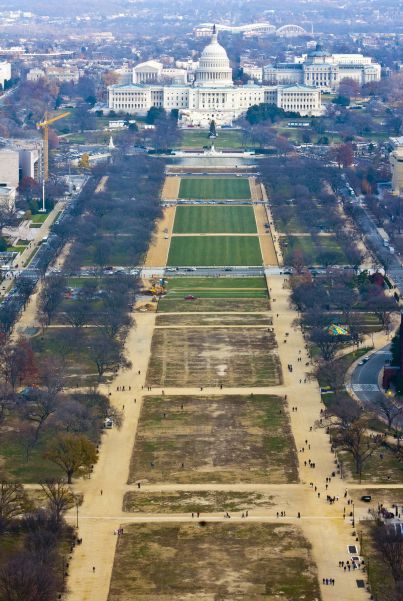 It is falling apart.
As any organizer of the show is quick to tell you, it has been 39 years since the last major renovation of the National Mall and they are currently dealing with $750 million in backlogged repairs to deteriorating monuments and landscapes, plus needed upgrades for "a more sustainable, functional park."
So when the money wasn't coming from the government, the Parks Service said fuck it and looked at other, more privatized options; even if that meant doing something they had never done before: cordoning off a section of the Mall and its memorials to the nonpaying public (aka those who didn't want to drop $175 for two days worth of music).
Obviously, this didn't go over well with some, like Peter R. Penczer, author of The Washington National Mall:
The Mall is America's front lawn. It's a place where people go to protest, to see the monuments, to relax on the weekend. I don't know how it can be America's front lawn if you're fencing it off for a paid event.

It's for a good cause, but they are setting a bad precedent.
Before we go any further though, let's stop kidding ourselves about this whole "good cause" thing…
Yes C3 is providing 10% of the festival's gross ticket receipts to the Trust for the National Mall and yes 10% of concessional sales will get thrown in there too, but as Gary Bongiovanni of Pollstar told the Washington Post, "Benefit concerts rarely make money the first time around." And while the theme for this year's Awareness Fair was definitely "awareness"#, it didn't seem like many of those who chose to don the admittedly unique gold and silver #MakeYourMark temporary tattoos knew what they were marching for:
Charlie Jones, one of the partners of C3, admitted as much in the same WaPo article:
[The first year] is relationships, and making sure you do what you say you're going to do and operate honorably. And in this particular instance, there could not be more eyeballs on this event to make sure that it is run safely and with the piece of property respected.
And now we get to the real talk.
Because most people bitching about how this kind of thing is bad for the sanctity of the Mall or worried that it was going to get destroyed by the 30,000 concertgoers a day probably didn't realize that Landmark wasn't taking place in the part of The Mall that most people think of when they think of "The National Mall"#. It wasn't going to be desecrating the hallowed lawn where Dr. Martin Luther King had a dream; rock-and-rollers wouldn't be urinating in the Reflecting Pool in between sets.
In fact, the festival took place in West Potomac Park, kind of really far out of the way of things: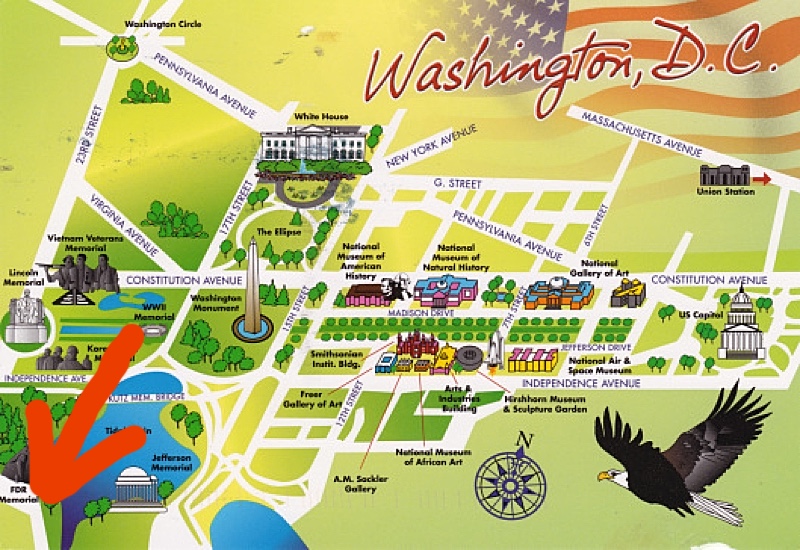 And to keep things super real, I already peed on the West Potomac Park fields years ago after having too many beers whilst playing softball with the Boston College alumni team.
So really, while Frank Vogel, director of the National Capitol Region of the Park Service is right that this festival is a "bold experiment" for the National Mall, he's being coy about what this inaugural event's hypothesis really was; namely, "If we get someone else to do all the work, could DC at least house a national-level music festival?" Because to get the massive amount of green space needed for a massive festival like Landmark, the Parks Department was almost always going to have to be involved.
The unknown variable was what, exactly, the Parks Department could actually get in exchange for selling their soul to the private contractor devil.
Judging by the results of the first ever Landmark Festival, it turns out quite a lot: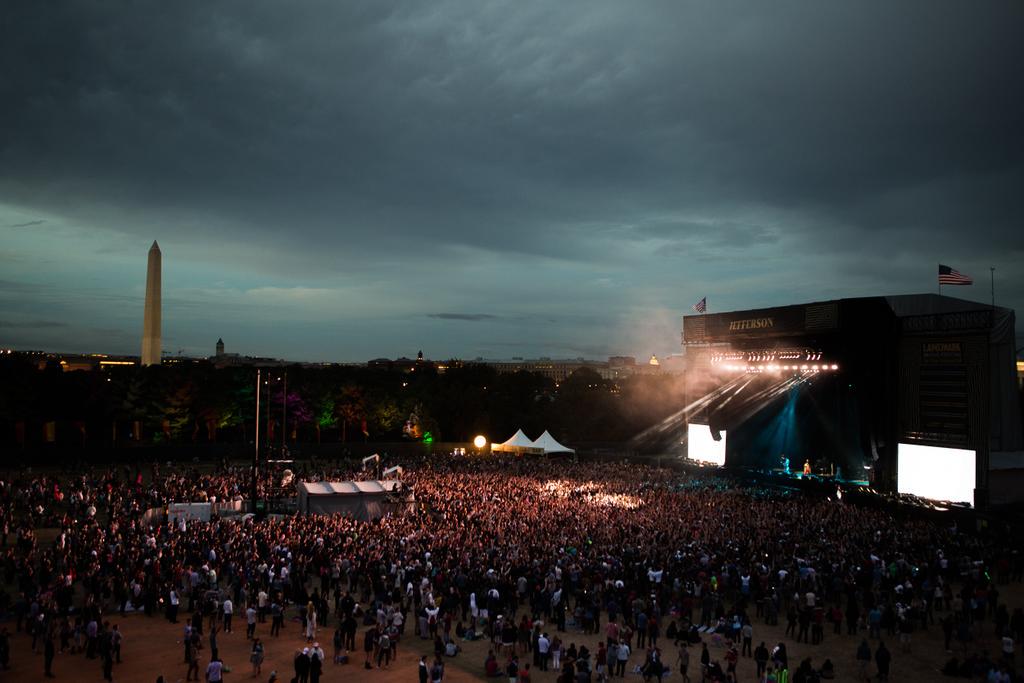 There's no denying — concession and portapotty lines on the first day not withstanding — that the first ever Landmark Festival was one impressive affair.
C3 Presents was able to wrangle 40 acts and five stages, bringing us some of the best talent to grace DC at one time since the last time the Kennedy Center honored someone, and the biggest complaints attendees can even muster is "getting ____ (beer/to pee/home) was kind of annoying."
You know what's more annoying? Sitting on Route 29 for two hours after you've just been at a festival all day.
With Landmark, I was able to bike a few miles downtown, park my bike in a guarded lot, and watch a local band like Ex Hex trade face-melting solos from atop a 12-foot stage like the rock goddesses they are:
.@exhexband melted my face off with a bass solo at #LandmarkFest. I am faceless. pic.twitter.com/NmHvKdjPE6

— Bryce Taylor Rudow (@brycetrudow) September 26, 2015
I was able to watch Dan Deacon lure a skeptical crowd in with his infectiously brilliant blend of electronic music and get them to hold hands with strangers, close their eyes, and think of the faces of people they loved and missed, only to then exploit the very vulnerability he created by commanding us to then think of the recent victims of police violence and reflect on how they're one of those faces for someone else in this world.
I was able to watch Twin Shadow play my favorite song of 2013.
And Drake, arguably the biggest pop act in the world, headlined the whole thing.
We made it. #Drake at #Landmark. pic.twitter.com/2ysTr4UHeh

— Patrick Kelly (@PatGKelly) September 27, 2015
Sure, we may have had to pretend like it was all for a good cause and there may have been some growing pains that come with any first-year festival. But after the 2015 Landmark Festival, why shouldn't we feel like we, as a city, finally made it?
We didn't need an A+, Coachella-rivaling festival to get a victory this first year. We just needed to prove to all interested parties, including ourselves, that we're worth the gamble that the Parks Department made on our behalf.
Oh what a time to be alive in DC.
Submitted To Live Music, Music
Like what you read? Share it.
(That helps us.)
Love what you read? Patronize Bryce Rudow.
That helps us and the writer.
What is Patronizing? Learn more here.
---