Presenting: Liner Notes
---
---
Back when physical albums were still a thing, one of the joys of purchasing a record or CD was getting to pore over its liner notes.
In an age before iTunes turned everything digital, one of the rewards of spending your hard-earned $12-20 at Tower Records was getting this extra little glimpse into the mind of the artist. Of course now thanks to social media that extra little glimpse has become a relative peep show when it comes to artist access, but vacuous Instagram photos and 140-character bursts are just no replacement for the dedicated, more purposeful medium of the liner note.
It's a damn shame too, because over the decades artists have had a lot of fun with the creative real estate of the liner note…
Rivers Cuomo shut down Weezer for three years after the huge commercial flop that was Pinkerton, but when they finally reunited and put out The Green Album, the liner notes contained a phrase from a Verdi opera in its original Italian: "Tornate all'antico e sarà un progresso" ("Let us return to old times and that will be progress").
Taylor Swift leaves secret messages in the written-out lyrics of each song, capitalizing letters to spell out certain words (e.g. "DATE NICE BOYS" and "YOU THOUGHT I WOULD FORGET").
Inside the cover of Can't Buy A Thrill, Steely Dan wrote a hilarious fake review of the album under the pen name Dan Steele#.
The liner notes of Coltrane's Love Supreme contain a devotional poem written by Coltrane representing a conversation between himself and God and an explanation that the album's fourth part, "Psalm," is a "musical narration" to this poem.
In the booklet for Sublime's self-titled album, under the lyrics for "Caress Me Down," it just has the first few lines in English followed simply by "Learn Spanish"#.
So, with that in mind, it's my pleasure to present Random Nerds' latest series: Liner Notes
With Liner Notes, we want to give musicians a place to express themselves outside of their music. Sure sometimes this will mean deeper dives on their own material or process, but we also want to know what they think about the world around them. You'd be surprised, but a lot of musicians actually have poignant, insightful things to say, and not all of them are easily captured in catchy 8-measure choruses (not to mention having to make it all rhyme).
Plus, since this is Random Nerds — home of the Patronizing engine — this series also becomes a great potential revenue driver for musicians, whom I keep hearing are struggling financially even though everyone is listening to music all the time forever.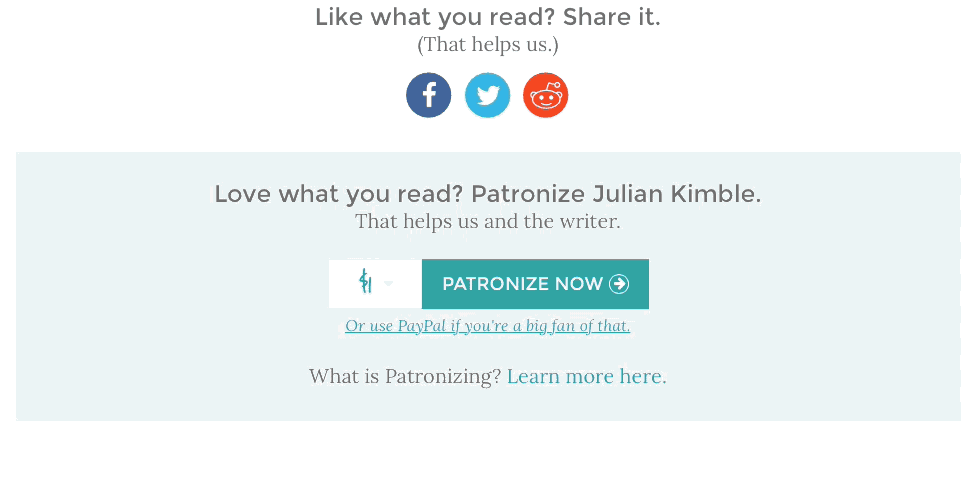 To get hypothetical about it…
Let's say you're K.A.A.N., my favorite musical discovery of 2015. You have these phenomenal tracks on your Soundcloud page, you've got one of the most interesting backgrounds a potential fan is ever going to scroll across, and you've got more than a few thoughts on the current music industry.
What if you released a single like "Concealed the outro," a certifiable jam…
And paired it with an essay on Random Nerds based off this interview answer:
I also feel like people don't really want real honest genuine hip hop. They say they do, but they don't really. People want catchy shit to party to, and easily digestible music. In my opinion no one wants to think. They don't want thoughtful meaningful music, because you normally cant dance to a song where the artist is speaking about depression and suicidal thoughts or suicidal tendencies. I feel like people see those types of songs as something for a specific mood, and not something that should be in heavy rotation, but that's the only kind of music I listen to. I really only like true lyricists. Tupac, Kurt Cobain, Bob Dylan, Iggy and the Stooges, John Lennon, Eddy Vedder, like those are true lyricists. They would say things that could touch your soul if you let it. Nowadays I'll hear shit like Young Thug's trash, Rae Sremmurd's trash, but those are the kind of artist that are in heavy rotation on the radio. The same nigga saying fuck Young Thug is the same nigga nodding to his shit in a club, and he'll tell you "Well I only fuck with it for the beat." People just want something to complain, and be hypocritical about. I feel like its human nature. It's like when people complain about the government, and you ask them did they vote and they say no. Why are you complaining when you control whats going on around you? Music's no different. You can't complain about music being trash when we are the ones supporting these so called artists that are killing music. We go to their shows, we listen to their songs on the radio, we buy their merch and follow them on social media sites. We talk about them daily and keep them relevant. If people realized the power that they have over what's presented to them as entertainment, music, and entertainment period, would be more engaging, educational, and entertaining in my opinion.
Then you simply ask your fans to Patronize $1 or 2 if they like what you're about.
At the very least, you've now given your fans a great chance to connect with you on a deeper level while potentially monetizing a song you were going to give away for free anyway. And considering you'll get the kind of hands-on, expert editing treatment that all Random Nerds writers receive, thus ensuring that your word-thoughts are as polished and Patronizing-worthy as possible, what do you really have to lose?
It's not like anything bad has ever come from an artist simply speaking their mind…


If you're a musician, manager, PR person, or label and you're interested in the Liner Notes concept, please email [email protected] or tweet at us @Random_Nerds.
Submitted To Liner Notes, Music, The Art of Writing
Like what you read? Share it.
(That helps us.)
Love what you read? Patronize Bryce Rudow.
That helps us and the writer.
What is Patronizing? Learn more here.
---