Some Songs Considered #013: Louis Weeks, CHVRCHES, Tame Impala, and DMX
---
---
Welcome to Some Songs Considered, a column that recognizes they can't all be zingers and truly appreciates the ones that are.
***
Louis Weeks – haha
I don't use emojis. I'm almost positive I've never sent one intentionally. Call me a Luddite, but I just find the little guys a little, well, pointless.
I'm aware that as someone that gets paid to express thoughts in non-emoji form I have a slight bias towards the written word, but I've always figured that we've already butchered and disfigured the English language enough; we don't need to undermine it completely with little yellow blobs#. And I know all the counter-arguments — the Francis Bacon idea that a symbolic language is more Babel-esque, that 'an emoji says 1,000 words', that it taps into a more primal understanding of communication — but I don't care. Something gets lost in translation.
Aziz Ansari can translate all of "Niggas in Paris" to emoji: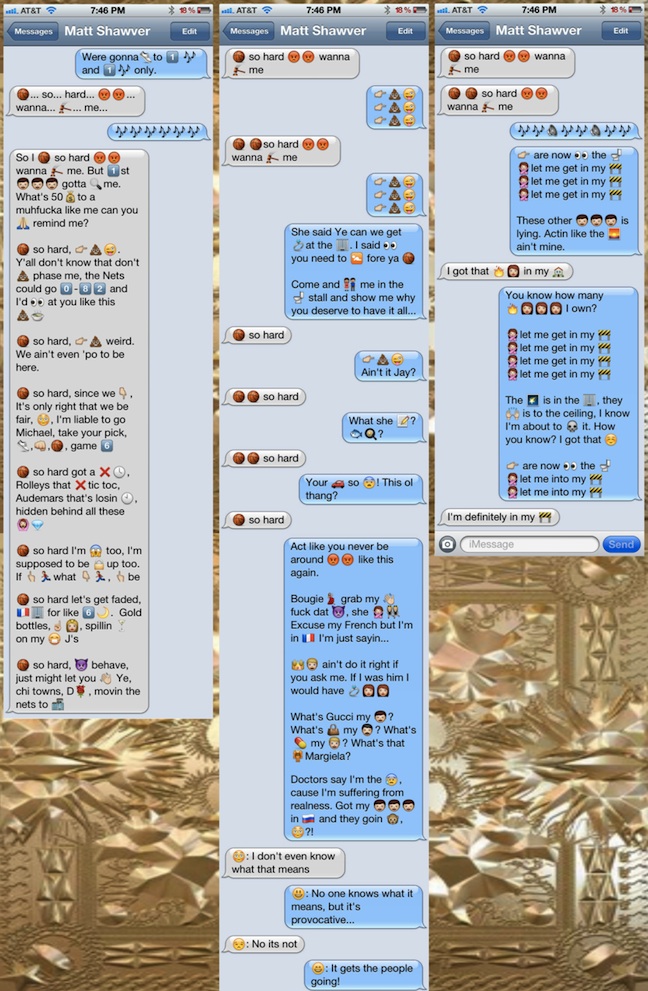 But you'd never be able to take that series of images and come up with the phrase "Prince William's ain't do it right if you ask me/Cause I was him I would have married Kate & Ashley"
That's why, after spending the better half of this month soaking up all things Louis Weeks (shouts to Chunky Glasses' TWO interviews with him, Marcus J. Moore, and Lindsay Hogan), it was the following little bit in Dean Essner's article in the Washington City Paper about the DC-area artist that really jumped out to me:
I have an anxiety about mimetic culture," Weeks says. "I think memes and GIFs are an incredibly useful vehicle for communicating an idea. It's a very postmodern idea, being able to take a big idea and then take a symbol of that and use the symbol. But I wonder what gets lost.
And when you listen to haha#, his grandiose new album that was released for free early last month, you get it. This album is full of big ideas and attempts to deposit them into something tangible. It's not just the "both are both and neither" theme of the lyrics either; it's the feeling you get that all of these songs are thought experiments, attempts at grasping something abstruse. Sometimes they're forceful and purposeful, sometimes they're delicate and meandering. Sometimes they're unpredictably wild. As Weeks says later in that WCP piece, "[The record] is about intimacy and closeness. But it's also about the clunky language of life that gets in the way of that."
It may be the heavy classical and jazz backgrounds that Louis Weeks and his newly expanded band bring to the table, but there's also an intoxicating unmistakable sense of whimsy in this album. Even during its most formulaic or derivative# moments, there is an air of unpredictability. It may be a touching twist of phrase, an unexpected instrument thrown in there, or even a sporadic free jazz solo, but nothing about this album feels safe. Instead, there's a constant, exhilarating thrill that pulses throughout it.
It's almost indescribable.
*Since this album is available for free on his Bandcamp, I convinced Joe to let any and all Patronizing proceeds from this article go directly to Louis Weeks (the 2% charity, not included), so vote with your dollars for good music.
***
CHVRCHES – "Leave A Trace"
The world is a different place today than it was when Glaswegian electropoppers CHVRCHES released their starmaking single "The Mother We Share".
How long ago was November 2012, exactly? When the music-blog circuit first caught wind of the group, their all-caps, no-vowels band name felt weird and novel. The song earned its creators a respectable measure of popularity# on the strength of its stories-tall chorus and tricky, bitter lyrics, though the masses that howled the anthemic words at mid-range auditoriums over the past couple of years probably haven't given too much thought to just how dark the content of the song really is; frontwoman Lauren Mayberry gives an arcane brush-off, intoning, "Come in misery where you can seem / as old as your omens / and the mother we share will never keep / your proud head from falling." It's comforting and discouraging, splitting the difference between pessimism and optimism.
But in the time since their debut LP The Bones Of What You Believe assumed dominance over college radio airwaves, the rest of the game has caught up to CHVRCHES.
The hot Scots made an M.O. out of sanding the edges off of The Knife #, but that brand of vibrant synth-work has become par for the course. Nowadays, you can't throw a stone at any major music festival without hitting three dudes on laptops doing a slightly-worse version of the thing that CHVRCHES perfected years ago. Now, moreso than ever before, they needed to re-establish that they're the best at what they do. With a sophomore slump looming on the horizon, the time had come for a divergence into virgin territory, a reminder of the exhilaration and novelty of the public's first brush with the group.
In other words, the band could not have picked a worse time to generate a song as bland, forgettable, and indistinct as "Leave A Trace".
The crispy drum kicks have the overproduced sheen of the million CHVRCHES ripoffs that saturated the musical landscape in the wake of their original success. It's a hollow imitation of their former glory, trading out the balance and maturity of their earlier songs for empty platitudes such as "I gave up on time / just like you said you would / There are tiny cracks of light underneath me / and you say I got it wrong / But I tried hard to uncover them." There's a brutal absence where the sense of homespun majesty and wonder thrummed on the first LP, and while we can certainly hope that the forthcoming tracks will step it up a few levels, this is certainly an ill omen. We can't even accuse them of radio-chasing, because "Leave A Trace" lacks the hyperaddictive catchiness that propelled earlier singles atop the charts.
CHVRCHES needs renovations.
***
Tame Impala – Currents
We've come to expect certain things from Tame Impala — meticulous collages of sound, experimentation, transporting hypnotic music — and all those elements can be found in their latest release, Currents. But Tame Impala has taken a new turn. The sonic make-up of Currents is different from Lonerism and Innerspeaker, and while I mourn the guitar's loss of prominence, after buying a spontaneous ticket last month for their show at DC's 3000+ capacity, EDM-friendly venue Echostage and seeing them perform it in that environment, I am quite content watching this band stretch into new territory.
https://soundcloud.com/brooklynvegan/tame-impala-let-it-happen
Currents opens with the single, "Let it Happen," released back in March. And how can you not open an album with this track? Both disorienting and compelling, the song's engagement with disco is certainly not novel, but if nu-disco is indeed an established genre, then Tame Impala wants to be on the front lines. "Let it Happen" also serves as a microcosm for the band's shift in tone on this album and in their live performance. The first half of this ambitious 8 minute song is a fresh, synth-y psychedelia, but the second half of the song shifts into a more trance-like phase, calling on dance and disco with rock music nowhere in sight. I originally found the length of the song off-putting, but after seeing it in the context of a live show, I now understand its extended and danceable appeal.
The sold-out 3000 person venue resembled the energy of EDM show, but with meticulously talented musicians on stage instead of laptops. Familiar songs extended into hypnotic, enthralling jams. A geometric lightshow was synched to Kevin Parker's guitar, allowing him to connect with the audience without having to compromise the obsessive diligence of his performance. They played for nearly two hours, with steadily growing energy and intensity. Full disclosure: if you detest crowded venues with rambunctious teens and a cumulonimbus cloud of marijuana over your head, a Tame Impala show may be beyond enjoyment. But the larger take away was that Tame Impala packs venues, plays complex, inventive music, and thus creates an electrifying bridge between dance and rock.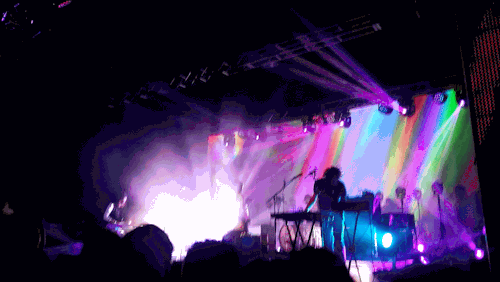 That being said, Tame Impala's committed stride into dance music is not consistent throughout the whole album. He plays around with pseudo R&B psych ballads like "Yes I'm Changing" and "Love/Paranoia", which I don't find to be very compelling; in fact, I lost focus the first few times I listened through the whole album. Thankfully, there's a handful of enticing songs later in the album to make up for it.
"Past Life" is possibly the weirdest track on the album (and therefore one of my favorite). Lyrics have never been Tame Impala's focal point, so its a clever choice to record a distorted spoken word vocal piece as a means of story telling/lyricism; "Past Life" gets inventive and takes a romantic anecdote and distorts the vocal until it sounds like the devil narrating a Stephen king short story. One of Tame Impala's greatest talents, taking the recognizable and warping it into the unrecognizable.
***
DMX – "How's It Goin' Down"
by Julian Kimble (@JRK316)
Insight was never DMX's trademark; that designation was reserved for the electricity flowing through his body when he's performing (or simply talking). However, on forbidden romance tale "How's It Goin' Down," he flexes a keen understanding of life's difficult truths. The heart may want what the heart wants, but "How's It Goin' Down" juxtaposes desire with reality, revealing that the former rarely prevails.
Let's get this out of the way: infidelity is irrefutably wrong. Yet because the Moral Police Academy has no graduates, these things happen. What's more intriguing is why it happens: sometimes it's boredom, sometimes the relationship is built on a shaky foundation, and sometimes the spark between you and 'the one who got away' lingers. Be it impulse or a deeper reason, some people get so swept up in the passion that the situation becomes a vacation from their real life, while others mistake it for more than a fling.
In the case of "How's It Goin' Down," DMX and a woman from his past share a connection, despite the fact that she now has a boyfriend who's fathered her children. Despite these obstacles, the two engage in an affair that allows them to revisit their history. "How's It Goin' Down" is about laying everything on the table in search of clarity: she's important enough for X to make wholesale changes to life just to be with#, but he'll only make that leap if she's willing to do the same. He's showing her his hand and placing the decision in hers.
However, DMX decides for her on the final verse. After acknowledging that the magnetic pull of their bond was strong enough to reunite them, he admits that it was wrong of him to get involved with someone who's taken. After promising her that they'll always be friends (a comfort lie), he exits her life. There's a moment in the superior video version when DMX, Drag-On, Ja Rule, and Irv Gotti are leaning against a black SUV, watching people use an open fire hydrant to combat the summer heat. With his eyes locked on her, the father or her children, and their PDA, DMX resigns himself to reality: the mutual feelings they harbor are irrelevant, as a future together is impossible.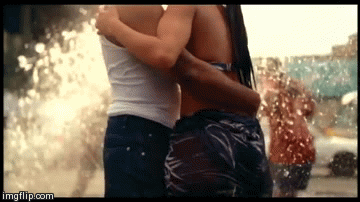 Letting go is a slow-healing wound — a struggle you won't fully grasp until you're in X's shoes. The upside of the experience is that it makes "How's It Goin' Down" an even better song.
Submitted To Music, Some Songs Considered, To Those About To Rock
Like what you read? Share it.
(That helps us.)
Love what you read? Patronize Bryce Rudow.
That helps us and the writer.
What is Patronizing? Learn more here.
---