Some Songs Considered #014: Landlady, Nas, and Fever Jams, a playlist for sick people
---
---
Welcome to Some Songs Considered, a column that recognizes they can't all be zingers and truly appreciates the ones that are.
***
Landlady – "Above My Ground"
Way before 'broga' was a thing, I was doing yoga 3 times a week to manage the rheumatism I've had since I was 12. But what started out as just a physical routine to help with pain management (and a chance to get close to my beautiful yoga teacher) became a real life-changing practice. Mock it all you want, but all that spiritual namaste stuff really does work if you let it. One of the best things I've learned during all my years of classes and meditation, however, is the power that comes with simply sticking out your tongue.
Try it. Stick it out as far as you can and exhale violently, like from your diaphragm. Feels great, right? Not only does the violent stretching of the muscles of the face and throat relieve tension in other areas of your body like your neck and back, it relieves emotional tension too. I have an armchair coach's theory that Michael Jordan actually stumbled upon this trick too and that's the real reason we always saw him playing like this: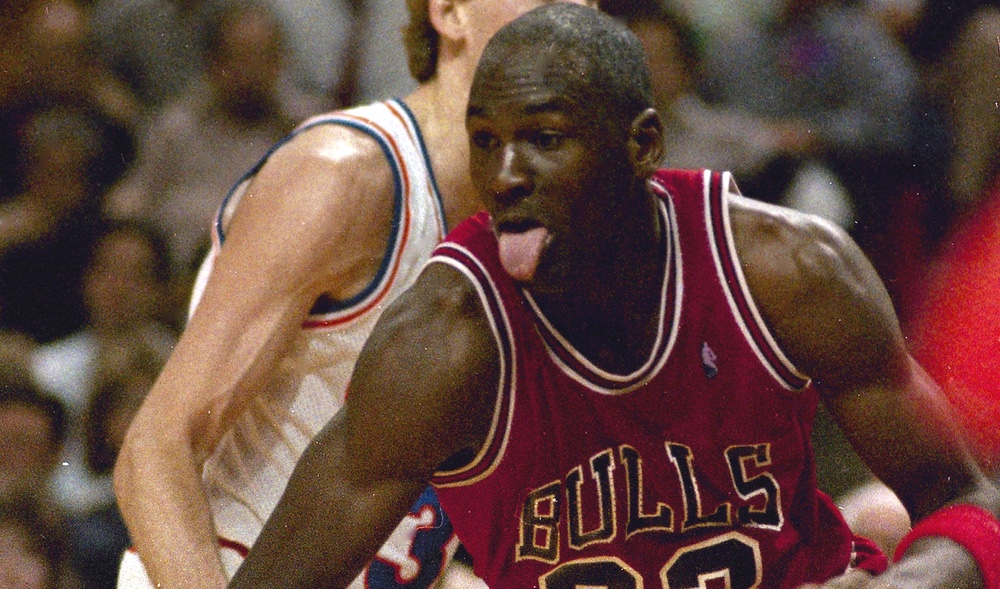 In yoga, there's an entire pose called Simhasana (aka Lion's Pose) that involves kneeling down, tucking your palms upward under your thighs, tilting your head back, and sticking your tongue out as far as you can. While one does indeed resemble a lion sitting down, it emphasizes the major downside to sticking your tongue out: You look kind of silly. There's a bit of a mental hurdle you have to get over in order to really reap its benefits.
And that's exactly what it felt like seeing Landlady close out their set with "Above My Ground" earlier this week at U Street Music Hall.
Opening up for the very impressive Son Lux, Landlady definitely brought their own contingent of fans, and as they burned through their 2014 album Upright Behavior and recently released EP Heat, they won more than a handful of new ones along the way. Lead singer Adam Schatz was at his most charming and the band boasted their unique sonic talents with absolute professionalism. But Landlady is one of those bands that has a 'man, that one song though' kind of song, and "All My Ground" is it.
A lazy snare sets the tone for Schatz to begin what starts as a plea and soon transforms into a repeated mantra:
"I wish that you were still around
I wish that you were still around me now
I didn't know I needed you always then
But I need you always now"
For 5 minutes or so, over wandering psychedelic instrumentation and that driving snare drum, it gains momentum until the climax of the song when Schatz's entreaty of "I need you always" becomes simply a monumental wave of "al-ways, al-ways" crashing down.
It's the highlight of their album for sure (even though it was on a single released almost two years prior), but live, it's a different beast altogether.
With Schatz' encouragement, the audience took over the background "al-ways, al-ways" role, which gave Schatz the freedom to really wyle the fuck out. And this wasn't just for 8 bars or anything, we're talking the final minute or so of the song. Sure, some more self-conscious audience members clammed up and transformed back to passive observers, but I'm proud to say I was part of a strong contingent of concert-goers who understood that while it may have seemed a little silly to be chanting "always" on repeat, we were the ones fully reaping the benefits of a crowd-fueled Landlady. Schatz couldn't help but smile as he flailed when he'd happen to lock eyes with another passionate voice in the crowd, and it was one of those brief but impactful moments that come along every few shows that reminds you why you leave the house to go see live music in the first place.
Go see if Landlady is playing near you sometime soon, but when you go, remember to be like Mike.
***
Fever Jams, a playlist for sick people
Sometimes you try to balance social life, a depraved day job, and some scrappy contributions to music journalism. And sometimes you try and balance social life, a depraved day job, scrappy music journalism and a feverish sinus infection. This is one of those times.
Thankfully, like any good music fan, I had a thematic and kitschy playlist waiting in the wings. I hope this will provide you with previously unheard earworms and perhaps be an escape the next time your throat refuses to swallow food and all you limbs are on fire.
***
Nas – "Bye Baby"
by Julian Kimble (@JRK316)
Although Nas is my favorite rapper, some of his nadirs are undeniable. His career's heights outweigh its low-points, but losses always resonate deeper when they happen under the spotlight. His very messy, very public divorce from singer Kelis, for example.
Three years ago, following their split and the birth of their son, Nas released Life Is Good. Inspired by personal tribulations, it was his best work in years. Furthermore, the covert art was flawless: a reflective Nas holding a champagne glass in one hand while Kelis' wedding dress lay pinned beneath his other elbow. The early singles were strong, but I was blown away when "Bye Baby" popped up just before its official release. The instant I heard the sample of Guy's "Goodbye Love," I knew both the song and album would be special.
"Bye Baby" finds Nas at the final stage of grief. Not only was he and Kelis' union destroyed, they had to deal with the media combing through the details of the divorce. I can only imagine# the vitriol divorcing couples exchange, but "Bye Baby" was nothing more than honest parting words for his ex-wife. He spoke to Kelis directly, but rather than air her out, he simply addressed where they went wrong:

Bye baby, I guess you knew why I walked away
When we walked to the altar that was an awesome day
Did counseling, couldn't force me to stay
Something happens when you say I do, we go astray
Why did we mess it up? We was friends, we had it all

The end of a relationship can turn your best friend into a stranger, or, worse, an enemy. Wondering how you both managed to fuck it all up is a natural reaction, but with that last phase of grief comes the realization that it doesn't matter anymore: what's broken is broken. What's more, Nas reveals that he won't let the divorce jade him: "Next go round, I hope I pick the truest type/And watch me do it all again, it's a beautiful life/Aight, goodbye…"
Life Is Good was about Nas learning to appreciate changes: having a son, his daughter becoming a woman, and the end of a marriage. "Bye Baby" is the last statement made before accepting it all. In its final moments, 40's production submerges Aaron Hall's voice as the song slowly fades away. In recreating the album cover, the video brings this moment to life with precision: Nas drops Kelis' wedding dress and walks away, the perfect metaphor for moving on.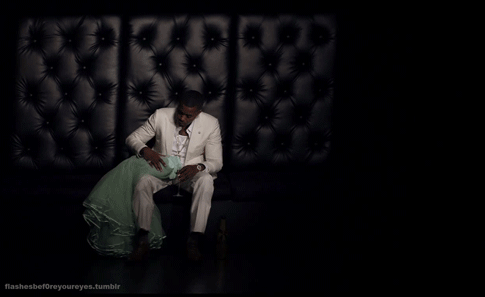 Sometimes it's all that can be done.
Submitted To Hip-Hop, Music, Some Songs Considered
Like what you read? Share it.
(That helps us.)
Love what you read? Patronize Bryce Rudow.
That helps us and the writer.
What is Patronizing? Learn more here.
---