Some Songs Considered #022: Hopscotch 2015
---
---
Welcome to Some Songs Considered, a column that recognizes they can't all be zingers and truly appreciates the ones that are.
***
Hopscotch 2015, a truly Raleigh affair
Despite what more than a few people will tell you before you go, the Hopscotch Festival is not a smaller SXSW, that corporate carnival disguised as a music festival. It is also vastly dissimilar to CMJ, the other 'city festival' you may have heard of, which feels more akin to a Red Light District for hype-machined musicians than any sort of celebration of musical talent. Instead, Hopscotch has found a way to subvert its Sim City-esque location of downtown Raleigh, NC with a kind of city festival that feels organically grown into its singular urban home. Minus the street bazaars and the three square headlining acts a night that were fed to a downtown block's worth of festival-goers — 'alternative' but sure to be well-received acts like TV on the Radio and Tycho — you might even be excused if you didn't happen to realize that, for three days straight, over 140 other bands were playing the various theaters, clubs, and bars that dotted the polished architecture of the city.
It all makes for a truly unique affair.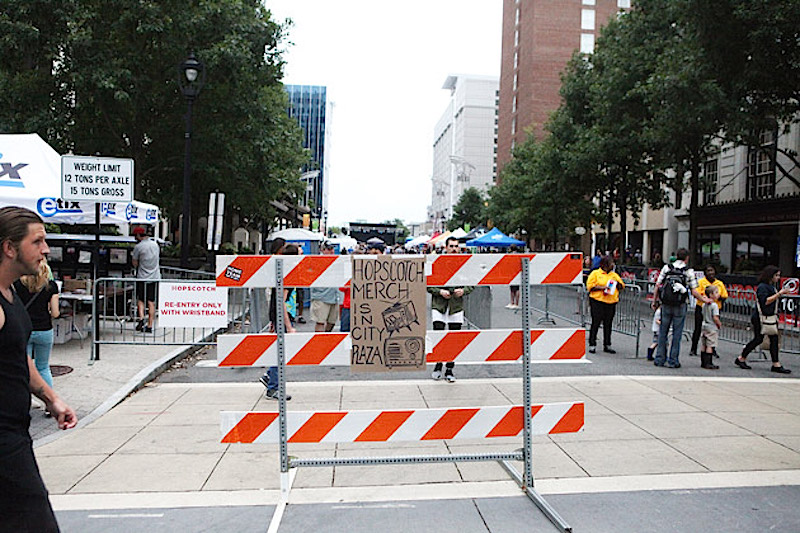 Downtown Raleigh feels like it was all built about 10 years ago, with the kind of ornate care one would put into a mid-revitalization commerce center that wants to be seen, at least sometime in the future, as a major Southern city. Yet it doesn't pretend to compete with the historically-cooler Chapel Hill or the hipper, booming Durham; its intimate size and pristine planning innately convey an expected sense of order.
It's funny the things that jump out when one first begins exploring. The one CVS downtown, with a beautiful view of the historic State Capitol building, closes at 6pm, leaving many a late-night traveler without the toiletries they so desperately crave. But there's also an organic coffee shop called The Morning Times right across the street from that CVS that is so modern-industrial-chic-with-a-heart-of-hipster-gold that even the most Brooklyn of bands would have felt at home. The downtown buildings monotonously vacillate between your standard 9-to-5 fare, but then there are these kitschy bar fronts and doors to club entrances and local art studios tucked ever so unassumingly among them just one street over.
And it's in those dive bars and underground clubs and art museums, thanks to some brilliant logistical planning from the festival's organizers, where the real Hopscotch takes place.
You can be casually strolling down Martin St., dodging a pack of inebriated NC State frat bros, and all of a sudden you're passing through the plain-door opening of Slim's to witness DC punks Loud Boyz initiate a crowd of packed-in, doe-eyed Southerners with their charismatic hardcore sound. And after their set, you can head to the bathroom and see one of those doe-eyed Southerners examining a freshly-broken nose while exclaiming to his friend, "Dude I came here for the bluegrass, but that was fucking awesome!"
You can then leave that bar because you need some air and something other than another PBR, head up the stairs of a neighboring venue, and holy shit — is that Cloud Becomes Your Hand on the little stage in the corner?
No one set or show ends up defining Hopscotch because the festival is really just a series of these kinds of moments. It's constant discovery, it's constant interaction; it's a constant reminder of what being a fan of live music is all about. When local music journalist turned festival director Greg Lowenhagen first concocted the idea for the inaugural Hopscotch, this had to have been close to what he had in mind. The day parties feel more like neighborhood cookouts, the happy hour showcases don't involve business card swapping, and even the VIP areas feel more suggested than anything.#
It's a place where the social hubs during down times are spots like the 85-year-old Mecca Restaurant diner, whose lovely owner Paul of course went in the back to fetch me a copy of their original menu because this is Raleigh and, politics left aside, North Carolinians are the nicest people you'll ever meet:
And because there's no real wrong way to go, you end up kind of just wandering around, meeting people and taking their suggestion on what to see next, like I fortuitously did with Nashville's Bully:


And with the electrically funky Raleigh native Boulevards:


However, while there is an undeniably lackadaisical feel to Hopscotch, there are most certainly those precious, deserving acts you know you have to make time for no matter what.
For yours truly, that was Leverage Models. The Brooklyn-based band birthed from songwriter Shannon Fields has come a long way since first releasing their 2013 debut LP, and having expanded into a fully-formed 6-piece, their sound is as impressive as ever. The addition of Tiny Hazard's Alena Spanger and a true embracing of their dramatic pop sound has me thinking they could really go places with the new album Shannon and company teased.
I only saw their official set the final night of the festival and it was one of the more memorable parts of my trip, but rumor has it their day show that kicked off the day at noon might have won Best Performance of the Weekend.
I, however, nominate Pusha T…
With the kind of veteran performance that any stand-up comic would be proud of, he locked unblinking eyes with the faceless, wild crowd of the Lincoln Theater# and led it into a frenzied exhilaration worthy of a Friday night's closing set. Bouncing Clipse tracks off bangers like "Mercy" with unwavering confidence and unparalleled skill, it felt like he didn't even take a breath until the very end of his finale when he finally, basking in the crowd's adulation, smiled wide and said "Thank you Raleigh, have a great night!" before walking off stage.
And then, all we adoring fans were left to do was wander back through the now-deserted streets of 2AM Raleigh back to our various hotel rooms. There was literally nothing else we could do.
The bars were closed and the crowds had dissipated. Even the streets, which had just hours ago been ravaged by throngs of humanity, looked relatively well-kept again. The festival still had one more full day to go, but the symbiotic relationship between it and its home city meant that what was good for the latter was good for the former. And that meant a clean street, and no loud music after a certain hour#, and don't let too many people know that throughout this small metropolitan area there are music fans secretly invading the nooks and crannies in between the banks and finance buildings, incubating a subculture that feels destined to one day blossom to the point of inescapable blatancy.
Hopscotch 2015, a truly Raleigh affair.
Submitted To Music, Some Songs Considered
Like what you read? Share it.
(That helps us.)
Love what you read? Patronize Bryce Rudow.
That helps us and the writer.
What is Patronizing? Learn more here.
---