Some Songs Considered #023: Sun Kil Moon, Lana Del Rey
---
---
Welcome to Some Songs Considered, a column that recognizes they can't all be zingers and truly appreciates the ones that are.
***
Sun Kil Moon – Tiny Cities
Are you tired of hearing about Ryan Adam's song-for-song cover album of Taylor Swift's 1989? Because I'm tired of hearing about Ryan Adam's song-for-song cover of Taylor Swift's 1989. Nevertheless, I really hope this one instance of water-cooler overkill doesn't ruin the concept of the One Artist Covering One Artist cover album.
It's a rare, bold move when an artist decides to take that task on, and as a lifelong Modest Mouse fan, my life has been made more complete thanks to one of those albums in particular: Sun Kil Moon's Tiny Cities.
In 2005, Sun Kil Moon — the band centered around controversy machine Mark Kozelek — recorded 11 songs from throughout Modest Mouse's discography, with at least one track from each full-length Modest Mouse release getting a roster spot. In his signature intimate style, Kozelek warped fan favorites like "Ocean Breathes Salty" and "Dramamine" into soothing, cooing versions of the post-punk indie rock jams they were originally created to be.
However, it's what he did with the lesser-known fare that really makes this daring reinterpretation something special. Because if I told you a guy did an acoustic, baritone version of "Dramamine"#, you'd probably be able to conjure up something similar to what Kozelek did with it – one of the reasons why a lot of people are hating on Ryan Adams right now. But if I told you a guy did an acoustic, baritone version of something more eccentric, like "Space Travel is Boring"# or "Trucker's Atlas"#, that's a little harder to imagine, right?
Think of a song like "Exit Does Not Exist" off Modest Mouse's 1996 LP This Is a Long Drive for Someone with Nothing to Think About…
This 5-minute long song features cacophonous guitars, screeching vocals, breakneck rhythm changes, and what sounds like a slide-whistle free jazz solo coming in at the end.
And I always used to skip it to get to the next deep cut on the album, the self-flagellating classic "Talking Shit About a Pretty Sunset"#.
But then I heard Sun Kil Moon's take on "Exit Does Not Exist":
For the first time, thanks to Kozelek's consuming vocals, I was able to get a handle on the poetry of the lyrics:
Sunlight 7:20 PM, early September
Standing, looking at a photograph
That you do not remember being taken
You look out of breath, and me like I am faking
As a matter of fact, I don't recall this photo being taken
You don't even actually exist, so I just started shaking
Does not exist, take an exit
And it's not like lyrics make or break a song — even if they are the brushstrokes of a veteran word painter like Modest Mouse's Isaac Brock — but after finally getting a grip on them, I was able to get a better grip on the original song too. The frenzied instrumentation and schizophrenic mood changes that used to make my trigger finger itchy now not only made sense, they seemed imperative to the whole point of the song.
Not to mention, the backstory of Tiny Cities' creation is beautiful.
Here's Kozelek telling it to The A.V. Club back in 2006:
Five years ago, I didn't know who [Modest Mouse] was. And then by chance I saw them live, and something about it just kind of got into my system, and the next thing you know, I felt compelled to go make that album.

Had I not seen them and had they not had that effect on me, it's hard to say where I'd be.
And he's not done…
There's just something really, really extraordinary about Isaac Brock. I feel like the guy's writing is all his own—he's definitely in his own world. It was just the way things were coming out of this guy.

You have a sense, I think, as an artist, when something is happening that's really real, and there was just this element of danger — the way the lyrics were just so all over the place and random. I told one journalist, it was like The Exorcist, you know?

…Within a week, I had all their records, and all their records had their own separate personalities. It's just like getting addicted to a TV series—I immersed myself into their music, and just found it all so colorful.
If that wasn't Cameron Crowe-y enough for you#, back in February of this year, in a conversation with Death Cab for Cutie's Ben Gibbard, Kozelek let us know that he had recently run into Isaac Brock and that Brock "thanked me for making Tiny Cities, and that made my day!"
So when everyone starts annoying you with their latest hot take on the Ryan Adamsified version of 1989, shake it off and remind them that the artist-covering-another-artist thing has been done before and better. And then go back and listen to early-era Modest Mouse because, in Kozelek's own words, "I think there's something extraordinary about them. I think Isaac Brock is that good."
***
Lana Del Rey – Honeymoon
The album opens with the line: "We both know its not fashionable to love me."
This is the first contradiction in Lana Del Rey's newest release, Honeymoon but it's only the latest in a career loaded with cultural paradox.
Critically, Lana has received a lot of hate for her fake persona, seemingly antifeminism, inauthentic physical appearance, etc; like any female pop star, a critical look at her music is secondary. But while she has fallen from grace in some circles that once misunderstood her trajectory of her career as "indie," everything about her is fashionable. From the 60's, old-world glamour to the luxurious songwriting, even the exclusive early release of her album in Urban Outfitters, her fashionability is inseparable from her music.
But three albums into her career and Lana Del Rey is no less of a contradiction.
Lana Del Rey is the stage name of Lizzy Grant, who is as much an actress as she a musician, and a good one at that. This makes Lana a constructed pop star in the same way every female pop star is constructed from her clothes to her relationships to her album covers. But comparatively, Lana's personal life is not in the spotlight, because it doesn't exist. Unlike the Mileys, Taylors and Nickis of the world, she is not grasping for our attention as herself. And is thus cleverly safe from the threat of actual personal decay ala Britney Spears or Amy Winehouse.
So without a real woman behind her music, the contradictions continue (and continue to fascinate).
Lana Del Rey sings about drowning herself in whiskey and cocaine, while Lizzy Grant has been sober for over a decade. Her career is more self-driven and self-motivated that any child star reared by Disney. Lana ambitiously asserted herself into the industry and was business savvy enough to get a deal with Interscope before her first album, which is nearly the opposite of the helpless, male-dependent, tragic femme depicted in all of her music. She fits into the image of everything we see when we imagine the tragic pop starlet, but at the same time she is firmly in control of her music, her image and her career.
On paper, this makes her an empowered figure in the music industry, a far cry from the naïve, submissive and endangered Lana Del Rey depicted in Born to Die and Ultraviolence. And as much as I justify these songs that glorify helplessness, dependence and even domestic violence as the tales of a constructed character, she has legions of young female fans, screaming her name, shedding tears at live shows and taking her at her word.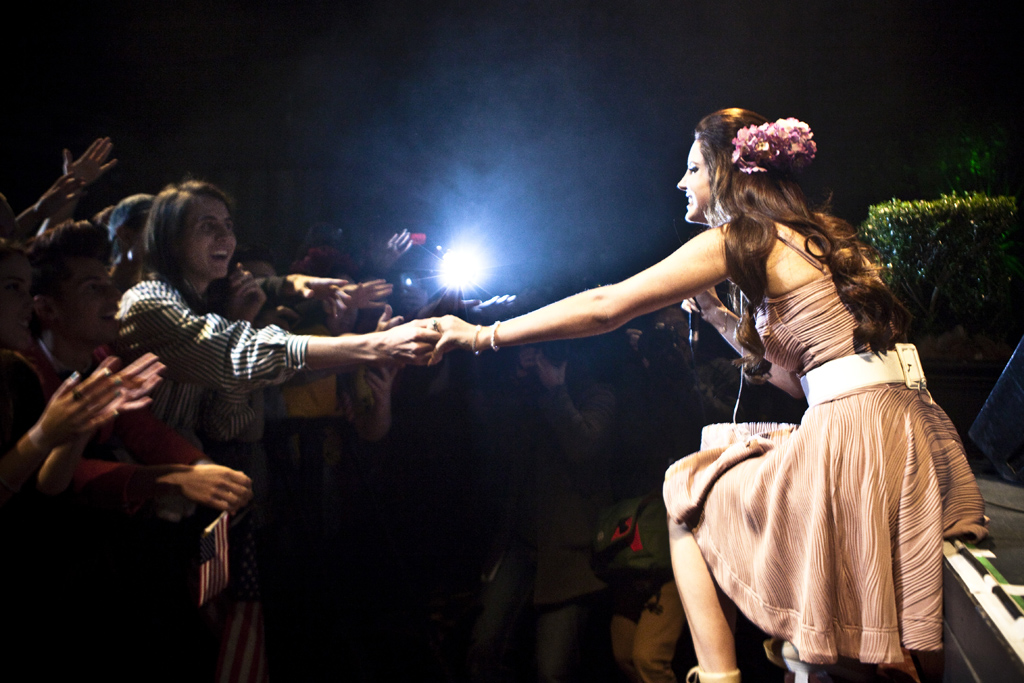 And speaking of live shows, you'd think all this glamorous music and a killer voice would lend it self to a stage presence and a compelling concert – but it does not.
At least not since I witnessed the horror of her zealous 15-year old fanbase at last year's Sweetlife Festival…
It's clear that I have a lot of unresolved feelings about Lana Del Rey. The best I can do so far is give into Lana Del Rey as more of a myth than an actual pop star so that we can begin to actually enjoy her seductive, dreamy, and exquisitely produced music.
But in addition to bold and beautiful music, we also get this fascinating tragic figure who is an elusive shadow of many different women. She is simultaneously an archetype from Los Angeles, Brooklyn, Vegas, and Miami. She is from 2015, 1962 and 1920 all at once. She gives us a taste of each of these characters, but never enough that we believe its entirely her.
As a songwriter, I see her as a long-concept folk musician, spinning stories of wild and impossible character, sprinkled with personal truth.
All that being said, is a single character and mythos enough to sustain album after album? So far it has. But I see Lana's sorrowfully romantic hybrid of balladry and baroque pop reaching the end of its novelty.
I used a lot of "even mores" in my initial description of this latest release, Honeymoon. It is "even more sad" and "even more classic" and "even more noir." I don't want to disparage the album for being consistent, but sonically, it does dabble a little in the monotonous. For each album, she tends to find a fascinating balance between classic sounds and modern music and drag it out for a few too many songs. In a year, I probably won't be able to distinguish the tracks "Terrance Loves you," "Salvatore" and "24," despite them all being luscious time capsules.
But on the other hand the album's opening track, "Honeymoon," is audacious and beautiful not just for its 4th-wall breaking opening lines, but for its sparse simplicity. As far as Lana's thematic formula is concerned, I think it is the most successfully haunting and intriguing take on romantic dependence and doomed love. I also think it's a smart move highlighting the bewitching range of her voice, which, lest we forget amongst all this character critique, is hands-down amazing.
Thankfully Lizzy Grant chooses Honeymoon to add a new layer of religiosity to the myth of Lana Del Rey.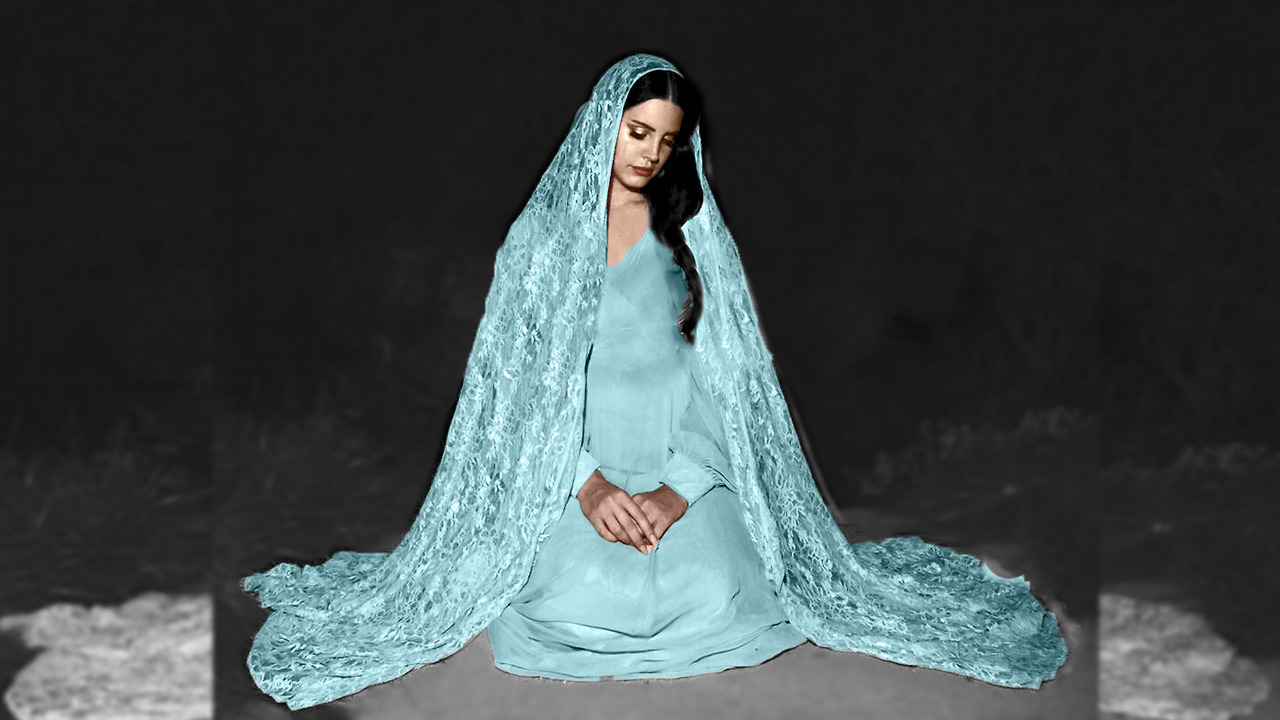 While she flirted with religious themes in her past albums, tracks like "God Knows I Tried" dive deeper into the repentant side of the tragically delicate, ride-or-die persona. Of the many classic women figures she has reflected in the past, Marilyn, Nancy Sinatra, Bonnie Parker, we can now add Mary Magdalen to the list.
"High by the Beach" is the most upbeat track on the record, and plays to the hunger of the modern audience by pairing her vocals with trap beats. I don't think it compares to some of the more clever singles from Born to Die and Ultraviolence. But what it does give us, is a music video that hints at a more empowered Lana Del Rey, one willing to aggressively confront her haters.
Also, back to head-spinning contradictions, "High By The Beach," the album's most popular single, leads you into this vision of a privileged, drug-loving celebrity. Yet a mere two songs later her album takes a contemplative pause with a spoken T.S. Eliot interlude. Lana Del Rey is not to be pigeon-holed into any stereotype.
The album ends with another, potentially self-aware ballad, "Don't Let Me Be Misunderstood." Lana is asking us to understand that she is well-intentioned and not without regret. It's a lot to ask, but as hard as it is to understand Lana Del Rey, the easy way out would be to label her as "inauthentic, "depraved," or "desperate" and move on.
I say just give in to the myth, its more satisfying.
Submitted To Music, Some Songs Considered
Like what you read? Share it.
(That helps us.)
Love what you read? Patronize Bryce Rudow.
That helps us and the writer.
What is Patronizing? Learn more here.
---