Some Songs Considered #024: Big Grams, Sophie, Girl Band
---
---
Welcome to Some Songs Considered, a column that recognizes they can't all be zingers and truly appreciates the ones that are.
***
Big Grams – Big Grams EP
While Big Boi and Andre 3000 will always be the exes we wish would give it one more try, for real this time though, the multi-project creative relationship between Big Boi and Phantogram — the indie pop duo out of New York city consisting of Josh Carter and Sarah Barthel — feels like something special.
They've even got a great meet-cute.
As Big Boi explained in an interview with Pitchfork:
I stumbled upon Phantogram through a pop-up ad on my computer. I was closing out screens and then a pop-up ad came up and it had their song "Mouthful of Diamonds" on it. I Shazamed it and bought it on iTunes, and ended up putting it on my BigBoi.com website as the jam of the week. I guess they caught wind of it and reached out to me.

We began a conversation, and they sent me vinyl of their first record. We began to talk then, and was supposed to catch up with them then when I was doing Governors Ball [in New York City] but we kind of just talked on the phone. Then, we crossed paths at Outside Lands Festival out of San Francisco and we hit it off real cool. I invited them back to Stankonia [Studios] and we just started making magical music.
And from the album's first track, "Run for Your Life," you can hear how seamlessly the two acts fit together. Big Boi's bars, confident as ever, feel like they're practically bouncing off the blips and electronic snare hits, which then ends up accentuating all the great intricate mini-rhythms that comprise the greater whole of the beat. And isn't that just another way of saying love?
Only the following track, "Lights On," feels like a 'Phantogram featuring Big Boi' song, as he doesn't come into the sweeping electro pop ballad until the 3-minute mark, but even then his energy is enough to leave a pleasant taste in your mouth by the time it's over. From there, the rest of the EP is a match made in musical heaven, with the lax swing of "Fell in the Sun" transitioning into the plucky "Put It On Her," only to then resolve with the album's highlight, "Goldmine Junkie."
Sarah Barthel obviously really likes the beat she threw down on her Miley Cyrus & Her Dead Petz feature, as I'm pretty sure this is "Slab of Butter" just with a little more piano and drums in the mix, but Miley's version doesn't stand a chance of holding up against this perfect example of great musical chemistry.
Speaking of, is this a good time to mention this is what the cover art looks like?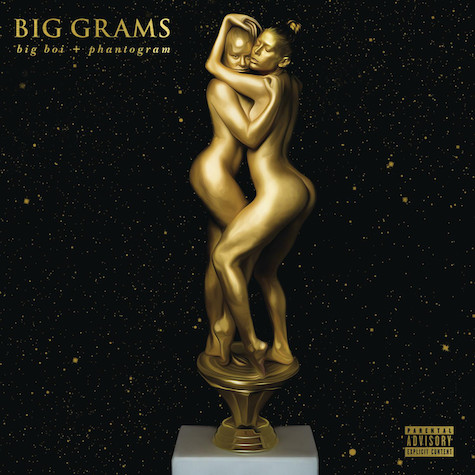 After "Goldmine Junkie", we're treated to "Born to Shine" featuring the wondrous duo of El-P and Killer Mike. Big Boi's casual sauntering eloquence is a great counterbalance to Run The Jewels' chest-puffing anthemic style, and Barthel turns the inveiglement up to 11, earning as much of the spotlight as anyone else.
And then we're at the EP-closing "Drum Machine," featuring Skrillex. And you know what? He got hated on hard for a long time, probably in a past column of mine at some point or another, but good for Skrillex for reinventing his sound and staying culturally and musically relevant. His bass-heavy contribution is actually a great way to end the EP on a peak of energy and leave 'em wanting more. I do still blame him somewhat for his ex-girlfriend Ellie Goulding falling off a musical cliff — the only thing that gives me hope is that she still churns out a great cover every now and then — but that's neither here nor there; I just always thought they were a bad pairing.
I ship Big Boi and Phantogram way harder.
***
Sophie – "MSMSMSM"
The most exciting new voice in electronic music is synthetic, outwardly androgynous, all hopped up on speed, childishly hyper, and it belongs to Sophie.


That's the stage moniker of Samuel Long, a Londoner with a flair for bucking trends and spawning his own. The minor subversion of a guy giving himself a woman's name and calling it a day represents the tip of a far larger iceberg of divergence from dominant cultural patterns. As electronic music's pissing contest with itself over who can construct the biggest, baddest drop finally collapses to make way for the deep-house throwbacks of Disclosure and Jamie xx, Sophie has fled to the fringes to do his own thing.#
"MSMSMSM" (it's almost like he doesn't want us to talk about this song out loud) is the latest single that'll fill out PRODUCT, the debut singles collection from Sophie, following tightly-wound bangers such as "Hard" and "Bipp".


Like the album art that depicts shiny, frictionless plastic objects, Sophie's music revels in its own artificiality. Repurposing the junkyard clangs from Japanese post-2000s pop and East London grime, Sophie polishes his laptop-made effects to a gleam so shiny it could burn out your eyes. The music deliberately evinces an unnaturally antiseptic cleanness, the sort of digitally-produced nonreality right at home in his aptly-titled PC Music posse.
Sophie's squiggly productions are a rare treat in the world of electronic music, dishing out the base pleasures of really goddamn danceable sonics while also grappling with real live Themes through his perversions of gender norms, challenges to the digital/analog binary, and deconstructions of identity — as Wesley Morris noted this week, the hottest topic in American pop culture at the moment.
***
Girl Band – Holding Hands with Jamie
Girl Band sounds like other noise bands you might have heard a lot in basements and dingy clubs. I started by referring to this sound as "discomfort rock," marked by a noise-heavy excess of guitars and more than a touch of aggro-punk.
The difference is, Girl Band is good.
Their entire first full album, Holding Hands with Jamie, is complex, lyrically clever and relentlessly energetic. But heads up, it will also make you a little crazy.
Each band member is separately skilled at building tension throughout the length of each song. "Baloo" and "Umbongo" start off with mockingly playful compositions and use a fitfully lo-fi throb of guitars, incessant buzzing bass, and rolling drums to build tension until the whole song erupts into a frantic and violent breakdown. I was over these guitar heavy, noise bands a while ago. But it sounds like Girl Band has put in the work, examined the capabilities of their instruments at ever angle, experimented with a diverse array of pedal distortion, and come up with some blessedly fresh guitar sounds.
There is a lot going on in these songs; wailing vocals, fitful interludes, distortion, relentless percussion. But Girls Band's greatest success is being able to keep their sound controlled when necessary, making each chaotic breakdown cathartic instead of excessive.
Unlike a lot of music, Girl Band's instrumentation is well-arranged and complex enough for these songs to stand on their own without vocals. Opening track "Umbongo" is an exhilarating assault on the ears, and the vocals don't kick in until 1:45.
That being said, Girl Band's personality wouldn't be as immediately effecting without the vocals of Dara Kiely. His drawling, detached lack of empathy is the unsettling cherry on the haphazardly delicious cupcake. After a few songs, his shifts between raging yells, deadpan drawls and a creepy high pitched articulation begin to border on psychotic (see: "Paul).
But Kiely's own struggle with mental illness is inseparable from the tone of the album. A lot of the lyrical content of the songs comes from his writing, which was a personal outlet before and after checking himself into the hospital after a breakdown. Thankfully, Kiely's dark sense of humor subsisted. As a result, Holding Hands… lyrics are filled with whimsical grit and charmingly cynical observations that become increasingly bizarre the harder you listen. Twisted pictures of failed interactions with women, conversations with hospital doctors, and a distain for hazelnut spread build an undeniably unique personality, pulling Girl Band high above the realm of noise-rock.
And if you weren't on board with this group already, I'll just leave the band's two recent videos here. You're in for a treat.
Submitted To Music, Some Songs Considered
Like what you read? Share it.
(That helps us.)
Love what you read? Patronize Bryce Rudow.
That helps us and the writer.
What is Patronizing? Learn more here.
---