Some Songs Considered #034: Another "Best Music of 2015" column worth reading
---
---
Welcome to Some Songs Considered, a column that recognizes they can't all be zingers and truly appreciates the ones that are.
***
Last week, we unleashed our "Best Music of 2015" lists upon the world. This week, we talk about all the stuff we forgot about we couldn't fit in there. Enjoy!
A Big Gift Exchange for Music People
And just like that, "Year End" season for online music writing is coming to a close. The "Best Of" lists are posted, on homepages with care, in hopes that the readers will read, click, and share.
Music writers, as we're wont to do with just about everything, gripe incessantly every year that they take too much effort, and they're all the same, and who even listens to Crystal Stilts anymore seriously tell us who you are, etc. But the fact is, these lists are extremely helpful tools for writers who, just like all music fans, have gaps big and small in their last twelve months of listening. Every year, I find a new gem or three in the various "Best Of" lists I come across — songs and albums that would've totally passed me by otherwise. So while it's easy to be a Grinch who writes these lists off as throwaway, click-through cash cows# and reductive forces of habit, I encourage you to think of them in a more positive way: like a big gift exchange for music people, where the gifts themselves cost nothing, though they may be worth a lot to the recipient.
And now, like your worst Facebook friend, I'm going to share with you the gifts I've received so far this year, a smattering of songs and albums I've recently discovered (and fallen in love with) from this year's rankings across the web…
The Districts – "4th and Roebling"
Pop quiz, hot shot: Do you know a band that can evoke the strutting cool of The Strokes, the folksy warmth of The Wood Brothers, and the romantically magnified anxieties of Bright Eyes, all in one song? Neither did I before I plucked "4th and Roebling" from FTW's year-end list and gave it a spin (shouts to friend-of-the-site Nate Scott).
God bless a garage rock band that can make a 4:47 song captivating throughout, and The Districts manage to do it in spades. This track has everything: expert guitar riffage, dramatic rests, convincing frontmansmanship, lyrics you can understand but don't hate, and an explosive ending worthy of the runtime.

Milo – So the Flies Don't Come
Sometimes you don't have the mental and emotional wherewithal to pour over that critically acclaimed, lyrically dense alt-rap album you've been meaning to check out during the year. But hey, that's what list time is for, and it's not like L.A. rapper Milo's So The Flies Don't Come has become any less smart or surprising or virtuosic since its October release.
Loungetronica-leaning producer Kenny Segal helms the whole project, lending it a cohesively muted warble-soul production throughout. The raps themselves, however, are anything but predictable. After a few helpings of stoner-poetry syllable clusters like "How he dazzled with bafflegab/ Sisyphus surmounts the Aggrocrag/ Cantillating grace and they can't keep my pace" it's pretty jarring to get stark prose like "I don't drink Pepsi Cola because my teeth aren't strong/ And I write rap songs for a living so I don't have health insurance." That last one didn't rhyme because, to paraphrase another great experimental rapper, sometimes the truth doesn't.

Floating Points – Elaenia
British dance music continued to flourish this year, as big hitters like Jamie xx and Disclosure dominated the blogs and legends like Aphex Twin emerged from the shadows to remind us that there's an art form to uphold here. But 2015 also gave us a less celebrated and much stranger album from former UK dance producer Sam Shepherd, an LP built on live instrumentation and no stylistic fealty whatsoever.
At its most discernable, it plays like loose jam sessions with jazz fusion pros who've been listening to a lot of ambient music, and the standout piece is the epic triptych "Silhouettes (I, II, III)." Like Vonnegut said about The Brothers Karamazov, this song might teach you everything you need to know about life. NPR called the album "unlikely music," because Elaenia defies classification like little else that came out in instrumental music this year, thus making it one of the Best Headphones Albums of 2015.

Kamaiyah – "How Does It Feel"
How does it feel, Kamaiyah? From the intro, it feels like we're about to take a ride with Warren G and Nate Dogg, which honestly, sounds great. But as the track progresses, it becomes apparent that the Oakland MC is taking us up to the Bay instead for some electro-funk, Mustard-esque bass grooves, and lyrics about poverty.
Yes, this flawlessly flossin' instrumental belongs not to a cash-flush kingpin, but a rapper with just a few songs to her name and (gasp) a day job; the struggle, it would seem, is real. Kamaiyah's Big Money Gang collective, the kind of organization Pusha T might be talking about when he calls out "kings of the YouTube," specialize in serviceable but ultimately forgettable electro-trap music, but moving forward, they'll need to switch their style up to accommodate the breakout star that is Kamaiyah, fitting her with every G-funk synth line that suits her fancy. That is, if they really want to know how it feels to be rich.
***
15 More Thoughts I'm Thinking As 2015 Winds Down
Just like last week's 15 Thoughts, these are in no particular order…
1. Neither Justin nor I mentioned Joanna Newsom's album Divers last week, and I consider that a huge oversight on our parts. I wish I could just blame it on the fact that she's not on Spotify — in her words, "Spotify is like a villainous cabal of major labels" — but that's a terrible excuse and Spotify is a villainous cabal of major labels.

2. What A Time To Be Alive may be a mixtape album chocked full of filler, but I really think "Jumpman"# and "Big Rings"# make the whole collaboration album worth it.#
3. In case you somehow missed it, Chuck Klosterman's interview with Taylor Swift for GQ was probably the best piece of music journalism done all year. I highly recommend checking it out.
4. I know our very own Lindsay Hogan rides hard for Girl Band, but honestly, they're a little much for me. However, when they're covering underground hard house tracks and turning them into mind-melding, 7-minute long sonic trips like "Why Do They Hide Their Bodies Under My Garage," I can feel my bones dance.

5. Justin Bieber is the reason there always needs to be a Behind The Music-esque show on the air. I would love to be able to stream the episode on him to my contact lens tele-screen in like 12-13 years, and there's no way 2015 isn't mentioned as a major turning point in there, no matter how his story ends up turning out.
5a. Skrillex deserves some major applause for knowing exactly when to jump off the dubstep yacht. Now he's living on a tropical house boat with Diplo and continuing to rake in millions.#

6. I know it's not a terribly hip thing in 2015 to still be reading SPIN, but their "Top 101 Songs of 2015" might have been the most thorough and well-curated "Best Of" list I saw this this year. Besides ours, obviously.
7. Ryn Weaver's 2014 4-song Promises EP proved to me that the 4-song EP is the medium of the future. Singles are disposable, two-track releases always end up becoming an A-side/B-side thing, three songs isn't quite enough. But if you can crank out four absolute bangers, like Ryn and her star-studded production team did last year, then not only are you going to turn a lot of heads, you've also already got a solid base for your future full-length debut (e.g. Ryn Weaver's very solid 2015 LP, The Fool).


7a. Having said that, Christine and the Queens did a damn fine job with their 6-song EP, so what do I know?


8. I'm still very skeptical about people giving enough of a shit about high quality audio to actually pay more for it — ask any teenager and they'll tell you they listen to most of their music on YouTube — but nevertheless, that doesn't change the fact that less than a year in TIDAL has as many paid subscribers as Spotify did 18 months after its release.
9. In 2015, former Disney star Demi Lovato wrote a song about bi-curiosity and Hailee Steinfeld, the little girl from True Grit, wrote a song about masturbation, and, somehow, the world spun madly on.
10. Considering I was a guest on a podcast exclusively dedicated to talking about the best music to come out of Washington DC this year, it's downright criminal that I didn't mention Soccer Team. Washingtonians, go check this band out live:

11. Overrated indie-pop band Glass Animals partnered with underrated hip-hop artist Joey Bada$$ to make a song that is 75% better than anything Glass Animals has ever done and more replayable than 75% of Joey Bada$$' other material.


12. Speaking of underrated hip-hop stars, Fetty Wap had three Top 10 hits this year, but I think a majority of the pop culture-consuming public still considers him a one-hit-wonder for some reason. Now I'm not saying the man deserves a Grammy, but as a fellow member of the Blind In One Eye Club, I feel compelled to ensure Fetty gets his proper respect as the more radio-friendly Future.#
13. It will never be considered their consummate work, but Reptar steering into the Talking Heads curve with their 2015 album Lurid Glow is a great sign for their further maturation as a band.

14. I sincerely wish I liked Beach Slang as much as everyone else seems to.
15. The winner of the "Peanut Butter, Pickles, and Mustard Sandwich" Award for sneaky great combination goes to A$AP Rocky, Rod Stewart (via his 1972 hit "In a Broken Dream") and Mark Ronson for "Everyday."
https://www.youtube.com/watch?v=NHkLlAW1YfE
***
Live Show Superlatives for 2015
The live show isn't about the music. The live show is about a unique experience, whether it be physical, communal, or sensory. It should feel nothing like popping in a pair of headphones. And, like the live show, like the album, the song, and the music video, it deserves its own End Of Year list.
But you and I are exhausted of lists, so I kept it short and in superlative form.
See you at the next show.

Best In Show/Class President:
Frank Turner and the Sleeping Souls – 9:30 Club
Frank Turner taught me to love the DC music scene before I ever considered living in DC, and that's quite a feat for a Wessex born, British folk-punk.
I didn't always have a good taste in music. And I wasn't always cool enough to find and attend the right shows. But through my awkward and inauthentic taste in teenage music, to my first mosh pit, to my current musical column, eventually to my favorite show of 2015 (out of hundreds), Frank Turner has been constant. The folk-punk Brit has been making rebelliously positive music for over a decade, and has toured harder than anyone. His progression from empty bars to sold out 9:30 Club shows has been hard and honest.
Anyone at his live show can attest that he bleeds music and lives for the community around it. And few shows mean more to him than his regular stop at the 9:30 Club. Like many musicians who tour through DC, this club and this city's punk scene was something he adored and eventually befriended. So much so that after the death of 9:30 Club Head of Security, Josh Burdette, Frank recoded an entire song for his friend live at the club back in 2014. You can imagine the energy, the gratitude, and the aching spirit of both folk and punk that consumed the set, as Frank Turner's shows, whether in bars or in theaters, in England or in the mid-west, are always anathematic and redemptive. But that night at the 9:30 club, that was special.
Most Likely To Succeed:
Shamir – U Street Music Hall
Shamir is young, flirty, and focused. When I saw him in June at U Street Music Hall, his age and inexperience was apparent, but it only added to the exuberant sass of his show. His first release, Ratchet, is a disco-influenced, high-energy pop album, but his show was made distinct by his honesty and goofy personality.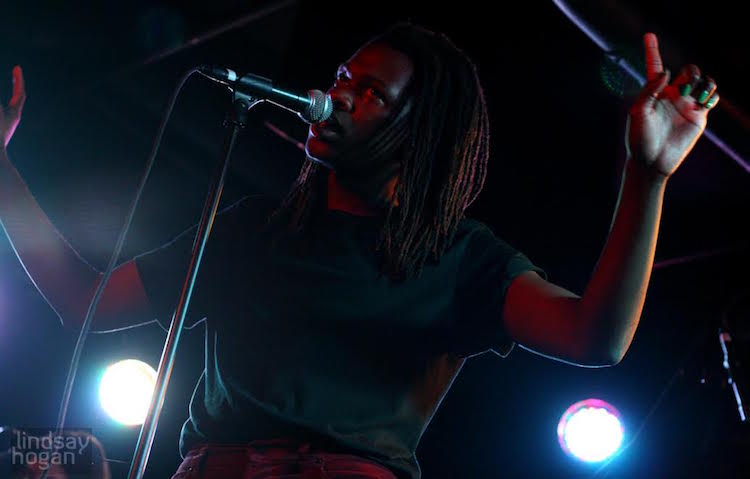 "You guys are so supportive!" he cheered, mocking himself while using his whole body to untangle the ear monitors wrapped around his head after an intense bit of dancing. He made jokes with friends in the audience, covered some Joyce Manor, and danced like a fool in and out of the crowd. Fortunately, his adorable outspoken nervousness didn't take on toll on his outrageously colorful pop numbers.
Shamir's youth is going to be an advantage, not just for the energy in his music, but for launching what I predict is going to be a long and legendary pop career. I'm just thankful I got to see him when he was scrappy, endearing, and having more fun than anyone else on U Street.
Further Reading: Some Songs Considered #016
Most Awesome:
Refused – Rock and Roll Hotel#
Refused is not exactly in my musical wheelhouse. Hardcore punk is not exactly in my musical wheelhouse. So I felt in over my head at this show.
I knew through friends and experts that Refused playing a show in 2015 in a 400-person venue was unthinkable to the point of joyful tears, so I'm forever in debt to those friends who not only offered me a ticket, but dragged me early enough to pull right up to the center of the stage in order to truly experience the awesome presence of Refused. I was witness to the fury, the energy, and the goddamn unstoppable style of one the greatest hardcore punk bands alive.
I took away from the show a shirt that dripped with sweat when I rung it out hours later and abdominal bruises from spending the show thrashing against/beneath/on top of the monitors, but I never stopped to think, "What am I doing here?" or whether it was possible to break a rid against the stage corner; their performance was too enthralling for those petty thoughts. Refused is that much of a singular force of noise and passion and sweat. Like Obama's first inauguration or the collapsing of the polar ice caps or the turn of the millennium, I will never witness something that awesome again.
Most Improved:
Young Fathers – Rock and Roll Hotel
When I saw these three guys about two years ago at U Street Music Hall as the opening act for Baths, their intensity was a little out of place. Sound issues and crowded staging made their ferocity come off as unwelcoming. But that same intensity was present on stage at Rock and Roll Hotel this April, except now their message was clearer, the music was louder, and their ferocity was more refined. Not to mention, they added a crucially sharp drummer.
Alloysious, Kayus, and "G" Harding, hip-hop artists of mixed British, Nigerian, and Liberian heritage danced without implying a dance party, preached without making it political, and showed the audience that pop music has way more potential then we're using it for. It was dark, abrasive, and beautiful. In place of normal stage banter, they pierced the audience with an intimidating silent stare, but somehow this only served to draw us in more.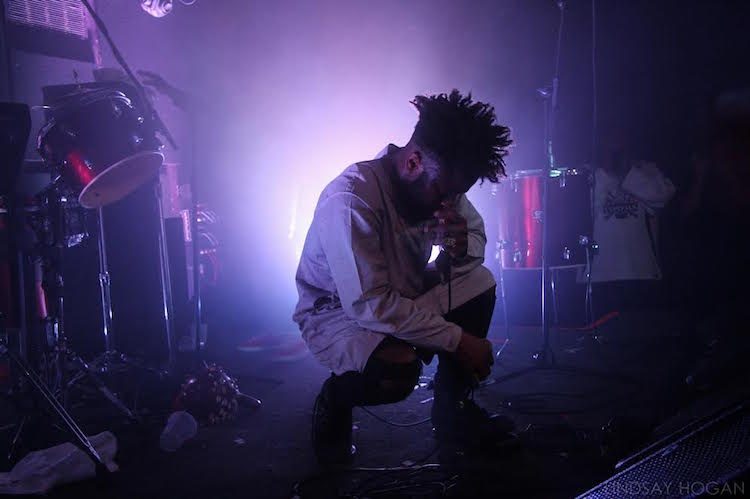 Best Unprompted Dance Party:
Todd Terje – Pitchfork Music Festival
Todd Terje was in the penultimate slot before headliner Chance The Rapper at this year's Pitchfork Music Fest, and after what was a lovely, well organized, and respectful festival weekend, I was hurting for a little physical catharsis. Todd Terje and the Olsens treated the audience (who to be honest, were foolishly ignoring the simultaneous Run the Jewels set) to an uninhibited dance party, the kind of organic one that escalates artfully from subtle groovy head bobbing to all-out dance-offs with strangers.
Todd's live set fused thoughtful nu-disco electronics with the playful joy of the jam band. The Olsens featured a handful of musicians alternating between guitar, bass, flute, and saxophone, drums and one guy on bongos looking like the happiest dude in all of Chicago. But most importantly, by mid-set the crowd from the barrier to the sound booth was a bunch of dancing fools. It was the most picturesque festival show I have ever been a part of.
Todd taught me that we don't need massive clubs, laser displays, and dub drops to get up to dance. We need talent and honest sonic energy.
Best Prompted Dance Party:
Dan Deacon – Landmark Music Festival
Have you still not seen Dan Deacon live?
Unlike Todd Terje, Dan isn't going to wait for you to catch the spirit of his music to start dancing. He demands and commands it early on. In his attempt to make "non-sexy dance music" and give the nerds of the world a physical outlet, he instructs his audience to let go via a series of dance contests and crowd experiments. Like Mickey in Fantasia, with an electronic board instead of a wand, he whips his crowd into a frenzy that will vary between stylized mosh pits and artistic flash mobs.
However, this is not to say that Dan's shows are completely void of terrestrial reality. His between-song tangents range from musings on Garfield to heartfelt expressions of love for his home city of Baltimore and its struggle with police violence. All this blends into a show that is not only wild, unhinged, and relentlessly physical, but one that doesn't lose its organic musical elements and human connection.
Dan is a kindred spirit and a proud nerd like you and I. He understands the pull of a communal musical experience, but he also understands our awkwardness and how to push past it.
Further Reading: Some Songs Considered #033
Best Dressed:
Jenny Hval at DC9
I firmly believe that every tour in support of an album should be a performance of its themes, and this was Jenny Hval's show off of her stimulating, norm defying album Apocalypse, girl. Hval sung and spoke her blasé and biting observations on capitalism, feminism, and (as the album title implies) the apocalypse, but the ideas behind the album were taken to another level when she showed up on stage at DC9 dressed in a bloodied night gown with two waifish backup "dancers."
She lounged around on a medicine ball, coolly and cynically telling off the small crowd of American's for their bitterly toxic political ways and cell phone addiction. Her back up "singers" performed a piercing cover of Lana Del Ray's, Summertime Sadness. Towards the end, after wrapping herself in toilet paper, she slowly pulled off her lovely wig and laid down across the stage, eyes closed, taking in the droning electronics of the man dressed in a Hazmat suit behind her.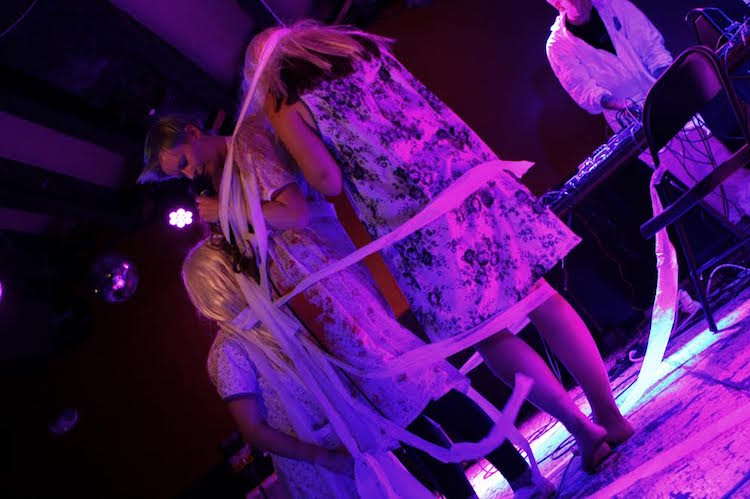 This is how every album should be performed live. And if your album isn't lyrically or thematically deep enough for that kind of performance, do better.
Submitted To Music, Some Songs Considered
Like what you read? Share it.
(That helps us.)
Love what you read? Patronize Lindsay Hogan.
That helps us and the writer.
What is Patronizing? Learn more here.
---