Some Songs Considered #042: The REAL Tiny Desk Contest Winners
---
---
Welcome to Some Songs Considered, a column that recognizes they can't all be zingers and truly appreciates the ones that are.
***
Last year, NPR's All Songs Considered – whom we nominally jeer in this column – held the inaugural Tiny Desk Contest.
Calling for submissions from all expanses of the internet, it sought to find the undiscovered gem out there in the digital ether and give it the ole Bob Boilen/Robin Hilton Bump.
And now it's back for its 2016 edition!
However, NPR has an unfortunate tradition (read: last year's results) of picking the wrong winner.
Yes, 2015 champion Fantastic Negrito's submission# was everything one could want in an NPR-related contest submission – sonically vintage, ethnically diverse, rustic yet hip visual aesthetic – and their subsequent Tiny Desk Concert# was probably exactly what NPR (and sponsor Lagunitas) were dreaming about when they first came up with this idea. But there was one undeniable hitch in this well-considered plan…
DC's own Kokayi, and his submission for the 2015 contest, "The Lick":
We highly encourage clicking play on the above video and watching until at least the 2½ minute-mark, when Kokayi singlehandedly proves both why we booked him to play Random Nerds' relaunch party last year and why he should have been the one getting to play behind Bob Boilen's desk back in 2015.
But we digress. It's time to start living in the present…
For the past two weeks, Lindsay Hogan and Bryce Rudow have been hacking away at the seemingly-endless list of this year's submissions (both via NPR's database and by going down deep, dark YouTube rabbit-holes) to find the most deserving contestants in this year's contest.
This is what they've found.
Click titles to jump:
"For Those Who Still Believe in Magic" by Bryce Rudow
"Tiny Desk Contest 2016. It's a dirty game." by Lindsay Hogan
***
For Those Who Still Believe in Magic
As Lindsay will happily explain below, going through the near-infinite Tiny Desk Contest submissions on YouTube is an almost Sisyphean task. Not only is the end of the list a mere hypothetical concept, it feels like downright punishment to continuously and repeatedly click play on a given submission in hopes that this could be "the one," trudge as far up the hill of whatever okay-but-definitely-not-good song as you can, only to eventually give up and be sent expediently right back to where you started in the first place – all so that you can click play on the next video on the list.
Honestly, as a music fan, it can get you jaded pretty quick.
There's just only so many mandolin-toting, cliché-dripping A-B-A-B-Choruses one can stand before it all starts to blur into one generic song. You begin to wonder if Mumford has overtaken Genghis Khan as the man with the most direct descendants on earth, or why in the world every hipster couple owns a ukulele and a loop-pedal these days. Like watching a GOP debate, it's a truly delirium-inducing cocktail of curiosity, disbelief, and misanthropy.
But then one comes across the right video at the right time, and something happens (like when you accidentally lock eyes with one of those well-intentioned, semi-informed flyover-state residents during a debate crowd shot). You're unexpectedly smacked in the face with the disarming power of raw humanity and are forced to reckon with the fact that this is who else is out there. These are your fellow dweebs, dorks, and douchebags who make up the All Songs Considered audience; YouTube is both a window and a mirror. We are, collectively, the huddled masses yearning to breathe free, the wretched refuse of NPR's teeming shore.
And after that philanthropic revelation, it's easier to see this "contest" for what it really is: a talent show.
Sure, there's got to (and going to) be a winner, yet the true entertainment — and the real beauty — is found not necessarily in the ubiquitous crowdpleasers, but in the creative bravery of (some of) the performances.
In one of the better "one person with an acoustic guitar playing major, open chords" videos, a singer-songwriter named Crys Matthews belts out what could be the unofficial anthem for the Tiny Desk Contest in her song "Imagineers":
What if I told you there really is no right or wrong?
You've been banging your fist against a plexiglass ceiling
You've been swallowing your sorrows just to keep from feeling
You are more than your day job, more than what it is they see
You're like water carving stone, you wield your power quietly
…We are Imagineeers, the ones who still believe in magic
The ones who rise above our fears
So, with a rekindled respect for those who still believe in magic, I'm happy to share my favorite Tiny Desk talent show acts…

Shawn James' "Hellhound"
This is the kind of song that will shake you from a submission-saturated stupor. It might not necessarily be the best one you've heard in hours, this might not even be a genre you necessarily like, but this video from Shawn James of Fayetteville, Arkansas will sneak up on you in the middle of a playlist queue and simultaneously grab you by the throat, heart, and genitals.
The frontman of 5-piece rock band Shawn James & The Shapeshifters sits alone with a slide guitar and a minimal drum kit in a dark and musty study, backlit by a gray-skied window and perched under a precarious but possibly prophetic "LUCKY" sign. Over the course of 4-minutes, he and his heavy, bluesy guitar belt out the kind of gutty, gutsy song that I would love to watch for three 10-episode seasons on AMC.
If this submission won, I wouldn't be mad.
Tabah – "Time Will Come"
NPR may be a non-profit, but they're not stupid. They know what kind of band looks good winning this kind of thing, both from a sonic and visual perspective. If I were them, I would go with Tabah and their submission for their song "Time Will Come."
https://www.youtube.com/watch?v=R-ENkB7T-ug
Based out of Minneapolis, Tabah is the perfect All Songs Considered band. In fact, their sound is already so tight and well-produced, especially given that this is live, that I'm surprised I haven't already heard Bob or Robin plugging them in their signature dulcet tones.
One of the few bands I actually Liked on Facebook during this whole adventure.
Gump – "Acorn"
Gump is from the DC area, but they don't need the hometown bump to make this list.
Fronted by one of my favorite local rappers, Uno Hype, Gump is a fairly new addition to the DC music landscape, and while "Acorn" might not be enough to win them the Tiny Desk Contest, it definitely has me excited for what they have in store for us here in the District.
Sleep State – "Awkward"
This is awkward (and ironic), but there are times when video can kill the radio star, and Sleep State's "Awkward" may be one of those instances…
I have had the jangly, swinging tune stuck in my head for days. It's as witty as it is catchy, and I don't consider it a guilty pleasure in the slightest. It's just a damn good song.
But the video, well, you see…
I just want to punch the lead singer in the face whenever I watch it#.
I know that completely goes against everything I wrote above about a rekindled love for my fellow man, but I went to too many a capella parties in college to not have my Deadpool-esque "spidey sense" go off whenever I see a punchable face singing like that, all punchable and stuff.
Seriously though, GREAT song.
Failure Machine – "Too Late"
Failure Machine are based out of Reno, which feels right.
This is one of those bands I would love to accidentally stumble upon at a bar one night after a few hours of drinking. Hopefully while they're on tour and not because I am in Reno.
Scuber Mountain – "Non-Beer Prison"
Scuber Mountain are from a town called Arcata, California that Google Maps tells me is between Sacramento and the Oregon border, which also feels right.
This is one of those bands I would love to accidentally stumble upon at a bar one night after I've just taken a small but effective helping of mushrooms.
SKRIBE – "M.I.Y."
If Chris Stapleton can find a way to win four CMA Awards in 2015, then maybe there's hope that the country community will be smart and adopt SKRIBE and his oil-can "canjo-zookie" too.
With gauged ears and a suitcase for a kick-drum, he's exactly the kind of phoenix a burning-alive country industry needs right now.
Velvet Crayon – "Sleep It All Off"
You know how earlier I mentioned getting "unexpectedly smacked in the face with the disarming power of raw humanity"? This was what I was talking about.
After hours of watching mediocrity reign supreme, all of a sudden I happened upon Erik Paluszack alone in his garage.
With an almost voyeuristic camera setup, the "one manned, more koala based, psychedelic garage-punk noise making persona/band" of Velvet Crayon built a 'full-band' folk song that would make Dylan proud.
Paluszack's obvious limitations make it easier to notice, but the reason this video pierces so deeply is that it's an unflinching reminder that behind garage doors across the world, in unfinished basements and cleared-out closets, there are millions of amateur melody-makers, all creating simply because of the overwhelming desire and necessity to do so.

It's enough to make you remember why you ever fell in love with music to begin with…
***
Tiny Desk Contest 2016. It's a dirty game.
When it came to pouring over these entries over the course of a week, I committed to the Spartan route of scrolling through as much of the list as I could get through, as opposed to checking out highlights or filtered recommendations. That probably means I never made it to (or skipped over) some of the more winning videos, but this is how I began as a music writer; optimistic and ready to give everyone a try.
Unfortunately, and inevitably, after two hours of this, I found myself overwhelmed by the sheer amount of content.
Knowing I had to speed up the process or risk having no picks for this column, I began to ignore videos with low quality or uninteresting screen shots, much like scrolling through Indie Shuffle and ignoring track with really lame album art…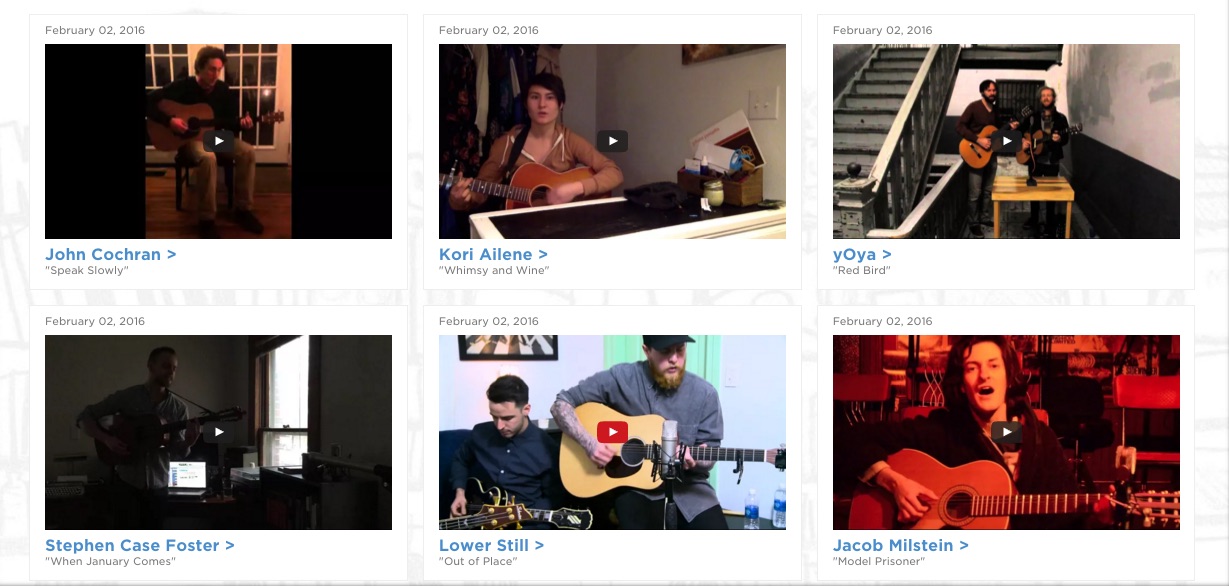 But even after doing this, I was still drowning in reductive, uninspired videos. After enough listens, every guitar track seems to start off with a variation of the same chords. Every song-writer spooning an acoustic in their bedroom looked the same.
A music writer will consume so much mediocrity in a year of looking for something great, that eventually they (read: I) will just be satisfied with something different. In this Tiny Desk Contest, and in the wider music industry, I would rather hear lower quality, modestly successful, weird originality, or even unusual dissonance before I have to sit through another gorgeously produced acoustic guitar or dude-rock track.
 
This reached a point where a video featuring a guy playing a handpan blew my goddamn mind because it wasn't a guitar. Do I think this is a winning entry and a really stand out song? Of course not. But it sounded nothing like the Lumineers or Jack Johnson, and just for that I was willing to give this guy the Mercury Prize.
So you can see how, as a music consumer, I began to lose my way and react with excessive negativity toward every well-meaning contestant. I was the Simon Cowell of NPR subculture. How did it come to this? And was I crazy that most of this stuff was wet-blanket bullshit? Will someone please take a risk?
 
Thankfully, Gull came up a few hours into my infinite scroll, just as I was about to scrap the whole thing and write a thesis on Father John Misty. The visuals were simple, unforced, yet different from anything else I'd seen so far.
The majority of entrants chose the coziest or most idyllic setting for their shoots. Gull found a forgotten, heavily polluted corner of America that perfectly matched his suggestively creepy and captivating sounds. This masked individual plays around with sparse and metallic guitar loops before slowly adding drums and warped vocal samples fitting of the surrounding industrial abandonment. It's crisp and concise, highlighting the subtle melancholy of the guitar between the inhuman, distorted vocal effects. It's like a grittier, more introspective Ratatat. But most importantly, Gull was the first video in the scroll that I didn't need to try to like.
Then a few more hours of the same mind-numbing videos went by. The only thing that saved me were the videos like LoveBomb Go-Go, which despite being way over the top and low-res at least reminded me that there were still odd musicians out there throwing it all into the performance:
But this really couldn't be the best out there, could it? By Day 3, I caved to to my biases and my hunger for originality and began only listening to majority-electronic submissions. Even then though, I quickly identified the "solo acoustic guitar" equivalent of electronic music: a dance beat, some whiney vocals on a loop (oh boy), and maybe a friend with smooth electric guitar thrown in there for…variety?
Then Spearfisher showed these fools how it was done…
As much as I love electronic music, I lose a sense of connection with the performance, as I can't always discern what's going on musically. Spearfisher understands this and make a point of collecting their audio samples live, proving to the viewer that they were actually making music. The result is a gorgeous head-rush of echo-y drama. They also won big time with the slow build of anxious noise that culminated in the actual shattering of a wine glass at the 2:50 mark. Maybe I'm a nerd for authenticity, but live glass shattering is the new bar.
Then, finally, after all my suffering, I found a video that combined all elements of originality, cleverness, and killer talent – and miraculously produced a song that was widely accessible:
"Triplets" by Iris Lune could be a winning track just off the strength of this woman's voice. And the three other musicians that surround her know it. The piano and synth elements of the music are low and measured, not to take away from the vocals – which unlike most electronic acts, needed no looping or effects. The slow build of the song never rises above the sensual, focused drama of the lyrics "my heart beats in triplets," followed by the clever vocal hook imitating those beats. Iris Lune even incorporates the organic elements I loved in Spearfisher (the band-member under the table on the right uses a sharpie and metal pot in place of percussion, and unless you watched him you wouldn't know the difference).
As electronic music grows as common place as garage rock, we find groups like Iris Lune who succeed by understanding that less is more and (like every genre) you're only as good as your raw talent.
That being said, I'd be remiss if I didn't give props to the real winner in my heart, Ether Mach IX, who despite every NPR music stereotype, submitted this video and saved me in my darkest moment of sedated, pedestrian complacency. In place of wholesome accessibility, Ether Mach lifts a punch line from 1970's stand-up comedian Flip Wilson and creates an aggressively pulsing and thought-provoking dance track that is unlike anything else in this column.
It's a dirty game out there. Keep music weird.
Submitted To Music, Some Songs Considered
Like what you read? Share it.
(That helps us.)
Love what you read? Patronize Bryce Rudow.
That helps us and the writer.
What is Patronizing? Learn more here.
---