Some Songs Considered #054: Your Perfect Funk Parade Schedule
---
---
Welcome to Some Songs Considered, a column that recognizes they can't all be zingers and truly appreciates the ones that are.
***
Washington DC's Funk Parade has come along way since Justin Rood and Chris Naoum first organized U Street Corridor businesses, nonprofits, and community leaders back in 2014 for the inaugural event. Last year's saw attendance double, and this Saturday's Parade (et. al) looks to be a truly monumental affair. You could spend an entire day bouncing around U Street and barely make a dent in seeing the various performances, exhibits, day-parties, and roller discos taking place. And that means making some tough decisions.
Fortunately, tough decisions are the Some Songs team's speciality.
We pored over the official schedule and kept our ear to the streets, shaking down hip kids for the 411, eventually making the tough choices in order to whittle down this Solomon's baby of a schedule.
Just don't get lost…
See you on the parade trail.
Your Perfect Schedule
Pre-Parade
12:00: Wave to friends at Velvet Lounge's Daytime DJ party and Nellie's Drag Brunch as you briskly jog to the Industrial Bank North Lot hosted by One Love Massive in order to pick up one of their awesome "DC As Funk" t-shirts:
12:10: Head to the Tapwagon Soundsystem BierGarden Rewind (Lee's Flower Shop parking lot, across from Solly's) to grab a refreshing beverage after that brisk jog.
Enjoy a selection of cool tunes from hot people…
12:30-1:30: Swing over to Mulebone to see various musicians singing Black Broadway classics from the likes of Duke Ellington and Pearl Bailey, as part of Black Broadway on U's Echo of an Era.
1:00-1:50 Head to the City First Bank Stage to see Nag Champa, whom you might remember from our Tough Love, Hard Feelings podcast.
1:40-2:10: Mosey over to the Atlantic Plumbing Stage to see Random Nerds-favorite Kokayi, whose Sounds of the City project was so nice he had to do it twice, and then twice more:
2:00-3:00: Check out the most well-branded event: The Hip Hop Orchestra, with special A Tribe Called Quest Tribute.
3:15-4:00: Head back over to Atlantic Plumbing to see The Funk Ark, the best live act in DC.
4:00-4:05: Linger and stay to see DJ Ayes Cold, who is gobbling up good press lately, and see if the hype is worth it.
4:05-4:10: On your way to the parade route, take a detour to experience the Maggot Brain Guitar Jam taking place at the African American Civil War Memorial.
4:10-5:00: Get your parade on. Did you get the Boombox app?
Post-Parade
5:00-5:30: Pop by the Harrison Rec Center to witness the Marching Band Showdown.
5:30-6:00: Head back past the African American Civil War Memorial and catch some of Holly Bass' Birth of a City, a curated and choreographed rollerskating activation and performance.
6:00-6:50: Return to Atlantic Plumbing one last time to soak in Rare Essence w/ DJ Kool. If you went to Broccoli City last weekend, you know why.
6:50-7:00: As the Music Festival portion of the night kicks in to gear, poke by the Black Broadway Stage and get a glimpse of the Malcolm X Drummers.
Post-Post-Parade (aka The Music Festival)
From 7-10PM, there's an official Funk Parade Music Festival taking place at various venues and bars in the area, and the rest of the neighborhood is going to be pulsing with unofficial but no less tempting events.
Here are some recommendations…
Cautious Clay will be cultivating a vibe at Frank & Oak starting at 8:30:


Aztec Sun goes on at 9:30 over at DC9:


PitchBlak Brass Band is headlining a U Street Music Hall early show, so assume they'll be on around 9:


Late Night
Free before 11pm, Black Cat's backstage is hosting the Heavy Rotation Funk DJ Party: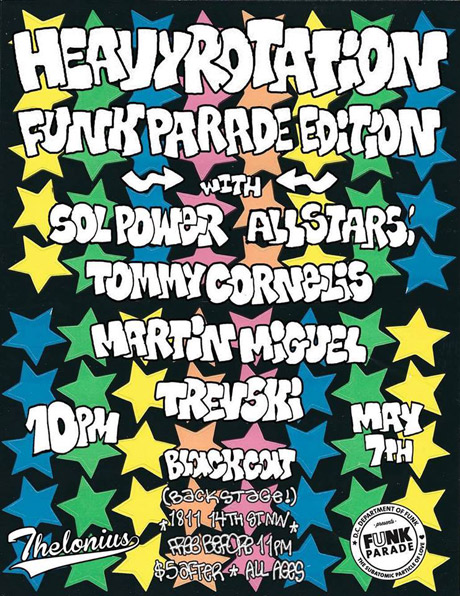 BONUS: Recommendations, with Chris Naoum
Chris Naoum of Listen Local First is one of the founders of Funk Parade.
We asked him to give us some of his personal must-sees:
The Day Fair:
The Music Fest:
Random Tracks from Random Nerds:
Chance the Rapper – "Blessings"
https://www.youtube.com/watch?v=uZyt5dSNcFo
"I don't make songs for free, I make 'em for freedom."
It's the line that kicks off the first verse on Chance the Rapper's new single "Blessings," which debuted on The Tonight Show last night. It's also a little misleading. Not the "free" part, though – even after 5 years in the game Chance is still eschewing the traditional commercial rap release format, choosing instead to release "Blessings" and its non-single counterparts on yet another mixtape at zero cost to consumers. Chance 3 will be out next week – check your local banner ad-saturated mixtape website.
It's the "freedom" part that seems dubious. When you earn as much popularity, industry respect, and public good will as Chancellor Bennett has in the last few years as a musician, "freedom" is typically hard to come by. You've got expectations to meet now, and a hopeful audience to please – it's like being in a relationship. Your path narrows, and your options skew toward the traditional. Accordingly, the vibe is a bit bottled-up on "Blessings" – this isn't the whiz-bang sugar-high gospel of "Good Ass Intro,"# instead it's a more subdued take on praise music, with a tempo that allows Chance to spit perhaps the most deliberately-voiced verse of his career. He lingers on every syllable, making direct eye-contact with the camera. It's the kind of rapping you do when you know that people – and not just hip-hop heads – are listening.
But this isn't a bad thing. It may be hard to imagine a context in which the concept of freedom is overrated, but in music, sometimes that's the case. Watching Chance grow into a pop star right before our eyes – culminating in his show-stealing SNL appearance with Kanye West – has been a beautiful thing, because as spastic, busy and rhythmically experimental as it is, his music has always contained glimpses of widespread appeal. When artists hone in on those glimpses while staying true to themselves, perfection is achieved. "Freedom" is what you get when you're single. But what Chance is giving to us as an audience?
That feels more like love#.
Radiohead – "Burn The Witch"
Radiohead's "Burn the Witch" is a tantalizing new release from one of the most celebrated bands of our generation, and they did not disappoint their throng of devoted and intellectually leaning fans. "Burn the Witch" is sonically a haunting, anxiety inducing but ultimately gorgeous piece of music. Radiohead has never sounded better with such prominent strings. From the first few seconds of the song, the listener is reminded that, even after 23 years as an influential band, nothing else sounds quite like Radiohead.
Visually, the Trumpton# imagery is meant to contrast the sinister nature of the music, but only at first. After the video's "protagonist" is escorted through a bizarrely functioning town full of witch hunts, imprisonment of undesirables and human sacrifice, it becomes clear that persecution of otherness is on Radiohead's mind.
Submitted To Music, Some Songs Considered
Like what you read? Share it.
(That helps us.)
Love what you read? Patronize Bryce Rudow.
That helps us and the writer.
What is Patronizing? Learn more here.
---