Some Songs Considered #055: Chance the Rapper's Coloring Book
---
---
Welcome to Some Songs Considered, a column that recognizes they can't all be zingers and truly appreciates the ones that are.
***
Chance The Rapper – Coloring Book
As the music media dutifully insists on reminding us, we're living in the era of surprise releases. Or maybe it's appointment listening. Or maybe it's just that the future of music as commodity has never been less clear, so artists are responding by doing all they can to take the reins on the present – control the moment, make a splash, yell into the void as loud and long as you can before your lungs give out (or someone else shows up with a megaphone#).
The publicists tell the artists this is how it's done now, and the numbers prove it's working: Drake's VIEWS debuted at No. 1 on the Billboard 200 chart, and each of the twelve track servings on Beyoncé's Lemonade made it to the Hot 100 on its own.
There's a Tragedy of the Commons-esque risk to this approach, though. If everything is an "event" release, nothing is. When you dilute the concept to the extent that it becomes the new normal, you essentially boy-who-cries-wolf the entire thing. And while this isn't a concern for artists with robust, unflappable networks of stans like Drake and Bey, it does create a dilemma for artists who don't benefit from that kind of mystical, alchemical PR machine.
Like, say, Chance the Rapper.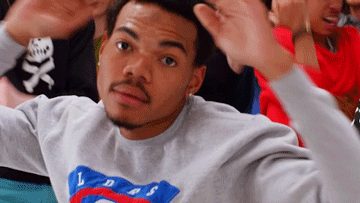 The young Chicago MC is at a precipice.
He's had a string of successful mixtapes, late-night TV appearances#, and the best feature on a Kanye album since the Monster herself# made history. But whether he transitions to that next level – whether it's the festival headlining level, the barbershop Top 5 discussion level, or both – probably depends on this next release. At a crucial juncture in his career, and when the music world is desperately lacking male artists (Kendrick aside) capable of creating true masterpieces, that's what at stake.
But what does he have to gain? Well, not much financially. Coloring Book, like everything else Chance hath wrought, is free.
Trusting fans to spread your gospel then kick you cash via other channels might be the most immediate way in which Coloring Book can be understood as an act of faith, but it's far from the most important. To this collection of songs, faith is a through-line that consubstantiates form and content in that ineffable way that speaks deeply to why we love art in the first place.
Said another way, faith is a major theme in this mixtape. In the ways you might expect – Gospel music, always a constant in Chance's music, is more deliberately employed here than ever– and ways you might not.

Because Chance calls himself a "Christian rapper" directly, it would be wrong to erase that which is particularly Christian about Coloring Book. On "Same Drugs," Chance laments how his friendships have suffered from the fact his new drug of choice is really more of an anti-drug, and, like Christ in the desert, he finds himself questioning – "Don't you miss the days, stranger? / Don't you miss the danger?" And of course, there's "Blessings," which, in keeping for a sermon of this magnitude, mutes the instruments during the verses and allows for the beam of his lyrical prowess to shine like the morning sun through a stained glass window.
If you can avoid writing off this mixtape simply because in our post-Spotlight world religious overtones give you the heebie-jeebies, you'll see this collection of songs is about as unassuming and non-judgmental as it gets in terms of religious texts. Perhaps just as Buddhist as it is Christian. Chance's version of religion is a coloring book, not a bible; not a hard-and-fast doctrine, but a clean slate (with a few guidelines to maximize your experience) ready to be filled in with all the colors in a bag of Jolly Ranchers, or a neon-glowing skate rink, or that stained glass window.
Or maybe just the hazy purples and greys of a smoke break with Future…

And it's not just God in which Chance expresses faith.
In a more humanistic reading of the tape, Coloring Book finds Chance the Rapper worshipping twin deities: his daughter and her mother.
The alpha and omega songs, "All We Got" and "Finish Line/Drown," are filled with elegiac words of praise for girlfriend Kristen Corley, to say nothing of "Smoke Break," which is perhaps the most romantic song about a couple's smoke session ever written. Chance's daughter Kinsley dangles over the entire album like a mobile over a crib – the subject of lyrics, certainly, and most likely the object of Chance's warm downward gaze on the cover art.
However, while being a religious family man in 2016 is great, Chance knows you still have to make sure to keep the devils out of the house. He's offering his songs for free, but his endgame is obviously freedom – ostensibly from the label system, as he addresses explicitly on songs like "No Problem," but more specifically from the artistic constraints under which artists must live in that system.
It was expected that Coloring Book would represent a shift in Chance the Rapper's music from the niche and experimental to the broad and pop-friendly – in fact, it's quite the opposite. Coloring Book is a renewal of Chance's commitment to making daring music. It's full of wildly busy and eccentric soundscapes, lyrics that oscillate from specific regional Chicago references to radio unfriendly pro-BLM rhetoric, and provocative amalgamations of the religious and secular, the sacred and the profane. It is so blessedly, uncompromisingly Chance's music – and because of that, maybe the truest way to read the album is as an act of faith in oneself.
There's no faith without risk, but the risk paid off – Coloring Book couldn't have come from anyone other than Chance, and yet it feels universal, which is the best case scenario for all art and artists. More so than any other "event" album in 2016, Coloring Book is worth its salt.
But don't take my word for it; he made it free to download so you would hear it for yourself.
Chance had faith, so that you wouldn't have to.
***
Random Tracks from Random Nerds:
Laura Gibson – "Empire Builder"
"Empire Builder" refers to the Amtrak line Laura Gibson took across the country to move from Oregon to New York, and it does a damn good job of nailing the expanse of the American continent.
Folk music is undeniably good at wanderlust – neither rock, pop, nor hip-hop can come close to capturing the near-painful longing for travel, mobility and isolation – but with "Empire Builder," Gibson has managed to craft a folk song infused with all the aching, lonely beauty of wanderlust, yet with a subtle vastness that surpasses the acoustic backbone of the genre. The production style serves the narrative by creating a cinematic sense of time and place; the train-track, rolling drums paired with Gibson's alluring but petite singing make the listener feel refreshingly small in a big space.
Gibson's efforts on this and the rest of the album, Empire Builder, are all built on a foundation of self-reflection, but the vastness on this particular track also conveys an undeniable sense of freedom, however lonely.

James Blake ft. Bon Iver – "I Need a Forest Fire"
I love James Blake. I have seen him in concert multiples times, and I may or may not have started crying at one of those shows.
He is, as they say, that good.
However, while Blake swears his new record, The Colour in Anything, is "the result of some of the healthiest, most productive years of his adult life," I just don't buy it. This whole album plays like a depressing, slog of a journey through the minute discrepancies of James Blake's singular breeds of melancholy (also, one would assume, his semi-recent breakup with Warpaint's Theresa Wayman).
Thank god, like a good friend should, Justin Vernon of Bon Iver fame is there to help lift him out of this doleful stupor for at least one single-worthy track, the ironically aptly named "I Need A Forest Fire."
James, you just gotta let it burn, bro.
Submitted To Music, Some Songs Considered
Like what you read? Share it.
(That helps us.)
Love what you read? Patronize Justin McCarthy.
That helps us and the writer.
What is Patronizing? Learn more here.
---