Some Songs Considered #061: The Julie Ruin, Mac Miller, and MIA
---
---
Welcome to Some Songs Considered, a music column that recognizes they can't all be zingers and truly appreciates the ones that are.
***
Each week, I invite some hot name from the world of music to talk the coolest tunes. Today, Marcus K. Dowling of the Getting Over podcast joins Bryce and I to talk feminist punk anthems, maturing MCs from blue-collar towns, and the Von Trapp family's 'Cuckoo.'
Feast your ear-tongues on these music pops, this is Some Songs Considered: #061.
Some Song Lindsay Likes…
It's Called… "I Decide" It's By… The Julie Ruin The PR Elevator Pitch…
Legendary feminist punk icon Kathleen Hanna returns with a ground-breaking new album in the spirit of her genre-founding work in Bikini Kill and Le Tigre.
Send This Track To…
Your 50-something Clinton-devotee aunt who dismisses punk as an art form OR your jaded 40-something friend who thinks punk is dead.
I'm Pretty Sure Pitchfork Said…
"This song is a fresh manifesto from an important musician whose balance between notoriety and obscurely will always ensure a high rating, a feature, and an end-of-year list spot from us [Pitchfork], regardless of quality."
But, IMHO…
– Lindsay
"I Decide," the strongest track on The Julie Ruin's new record Hit Reset, not only feeds my insatiable need for a throwback female punk anthem, it deftly strikes at the very prescient anxieties surrounding women's rights during this dangerously polarized political climate.
Unlike some of Ms. Hanna's more classically scream-heavy tracks, "I Decide" has a calmer (and ultimately more threatening) sense of foreboding. The words are familiar – "I belong to the wolves who drug me/In their mouths just like a baby" – but the restrained bassline and eerie harmonies channel a deeper anger kindled by having to re-visit the simple idea of women's choice, a quarter century after her activism with Bikini Kill.
An artist who made a name for herself pushing fiercely political feminist punk 25 years ago shouldn't be able to so easily dig into the same well of content and be relevant in 2016…
It'll Earn My $_:
$55; $20 for a ticket to their show at the Black Cat on August 19th, and $25 for a t-shirt after the show. (And $30 for Bikini Kill next time Pussy Whipped is released on vinyl.)

– Bryce
I only learned about Bikini Kill in 1999, two years after they had already broken up. I was 12, and this uniquely rebellious girl in my poetry class would always put them on whenever she wrote her uniquely rebellious poems.
Actually, come to think of it, that may have been Julia Styles in 10 Things I Hate About You…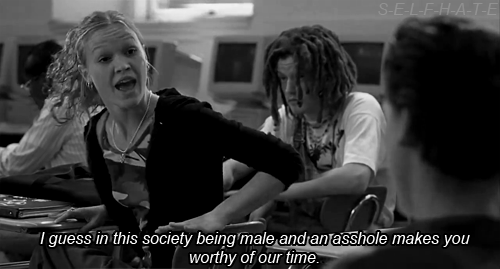 With female empowerment such a prevalent theme in almost every other genre currently out there (see: Beyonce, Nikki Minaj, T-Swift), it's pretty interesting that the sub-genre built almost exclusively on that concept hasn't recovered from the aughts's cooption (and inevitable dismissal) of it. Really, who knew Not Another Teen Movie would have such an impact on the world of punk music#?
Time heals all wounds though, and I could easily see "I Decide" (bolstered by Kathleen Hanna's starpower) capturing the same kind of momentum Sleater Kinney enjoyed with their reunion album last year. 2017 will be the year women take over everything.
It'll Earn My $_:
$.16, for a few Spotify spins every now and then, and then a few more when we ponder Best Of lists in mid-December. (I have a wedding to go to the night of the Black Cat concert).

– Marcus
Before I fell into what is rapidly becoming an endless sea of dance musics and emo-boy hipster raps, I was so down with angsty women in crazy pants sonically blowing my head off my shoulders with their punk anthems.
This one is straight up and direct, totally in my face, and as a bonus, I love that the atmospherics and vocals are mixed higher than the drums (there's a thing about some songs where they're ideally best heard as poems rattling around in your head rather than attempts at danceable garage punk). Kathleen Hanna is enough of a veteran at music making to know all of this, and I'm glad to see that her fingerprints are all over this one.
It'll Earn My $_:
This one will be getting tacked onto my current running playlist between the Von Bondies and the Yeah Yeah Yeahs for certain, so it's earning a sizable chunk of my Spotify membership money for at least the next few weeks.
In 6 Months, We Will…
Witness the reinvigorated and furious return of the Riot grrrl movement, led by Hanna and The Julie Ruin, as Donald Trump is inaugurated as the 45th President of the United States.


***
Some Song Bryce Likes…
It's Called…
"Dang!"
It's By…
Mac Miller, feat. Anderson .Paak#
The PR Elevator Pitch…
The maturing, multi-aliased MC and producer unleashes his most infectious hit yet thanks to the Mark Ronson-esque alchemy of Anderson .Paak (Malibu, Compton).
Perfect For This Playlist…
Hipster (But Not, Like, Too Hipster) Wedding 2016
I'm Pretty Sure Pitchfork Said…
Bravely venturing further into the realms of both funk and emotional introspection, this 24-year-old from Pittsburgh is basking in the Campbellian revelation that becoming a man doesn't have to mean having a heart of steel.
But, IMHO…
– Bryce
I've had a soft spot in my heart for Mac Miller ever since Rembert Browne did that great pre- profile on him. Still, I never thought I would be actively compelled to type "Mac Miller" in my Spotify search bar as much as I have in the past few weeks.
Granted "Dang!" is essentially an Anderson .Paak song with Mac Miller stepping up to the plate for the guest verses, but Anderson .Paak has recently etched out an entire third career as everyone's favorite feature artist (see: Kaytranda, Schoolboy Q, Snakehips). And IMHO, at the end of the day, a less obnoxious "Uptown Funk" good song is a good song, no matter who's holding the rights to it.
Miller's new album, The Divine Feminine, comes out September 16th and I'm very intrigued to see what else the not-so-young whippersnapper has in store for us.
It'll Earn My $_:
~$3.45, because I've already done that thing where I set Spotify to play it on repeat while I zone out and write, and those fractions of pennies add up.

– Marcus
"Sober and unbothered by a desire for mainstream success" Mac Miller has been my favorite Mac Miller for like, three years now. That being said, the most joyous part of this song is the idea that "unbothered by mainstream success" Mac Miller is an Anderson .Paak fanboy and just kinda lets his soulful and synth-driven art-pop vibe wash all over this single.
Like, if Mac Miller were still "backpacker rap nerd and hypebeast blog darling trying to get a Billboard hit" Mac Miller, this would definitely be more of Mac forcing himself into the song instead of just chilling and riding the wave; that's makes for a better feeling song. Seriously, I'm so glad this wasn't one of those "Macklemore inserting his white man guilt like some sort of flaccid penis into literally every song he makes" type of things, because good lord that would be terrible, and Anderson .Paak doesn't ever deserve to be associated with terrible music.
It'll Earn My $_:
Whatever the number of Spotify plays is worth that comes from any Anderson .Paak concert review I write in the future, lol.

– Lindsay
I feel equally blessed to have a smoother, better "Uptown Funk" to set on repeat. However, Bryce, I disagree that this is perfect for a Hipster Wedding playlist…
Everything about this track is light and fresh and sexy – except its core sentiment: "I can't keep losing you." Now, I'm perfectly willing to absorb the vibe and let the words melt behind the lyricism because so goddamn infectious, but you can't deny the song's hook is too much of a downer to play at anyone's nuptials.
Instead, may I suggest a spot on my "Strutting around the city like a boss/trying to ignore the 105 degree heat index" playlist?
It'll Earn My $_:
It gets a hefty bag of mostly-zinc pennies thanks to regular Spotify plays until the temperature goes down.
In 6 Months, We Will…
Be confused when we scroll through Anderson .Paak's discography on Spotify and can't find this song, only to eventually remember it's technically a Mac Miller track.


***
Some Song Marcus Likes…
It's Called…
"Bird Song" (Blaqstarr Remix)
It's By…
MIA (and Blaqstarr)
The PR Elevator Pitch…
MIA and Blaqstarr have a long history of working together – he was once signed to her NEET Recordings label, and he produced "Go Off"# (an earlier single from her forthcoming album, AIM).
The Real Reason You Need To Hear It…
Oftentimes, the answer to the question of 'who needs to hear' a particular type of song is MIA and MIA alone, and Blaqstarr is one of the few creators who's able to carry out that work.
I'm Pretty Sure Pitchfork Said…
"Ever wondered what the Von Trapp family's 'Cuckoo' from The Sound of Music# would sound like as a percussion-less new wave political agit-pop song?"
But, IMHO…
– Marcus
MIA's your favorite quasi-revolutionary rapper-ternt-sanga-ternt-mama-ternt-semi-retired Hall of Fame-level millennial hipster. Blaqstarr should've been the answer to the question of what happens when you mix Issac Hayes with EDM, yet is instead an OG Baltimore club icon who happens to be producing pop and R&B that's more art statement than club banger.
The best thing about their relationship is that for as progressive and left-leaning of an artist as MIA is, Blaq's maybe the one producer in the world who's willing to venture to the creative edges she loves to take her craft.
It'll Earn My $_:
Make your "all I wanna do is…take your money" jokes, I purchase everything MIA produces.

– Lindsay
What the shit? I swear I'm not a conspiracy theorist, but I'm inclined to side with MIA's rage against the mainstream music industry when two of her new singles slip by without my knowledge. Either way, thanks Marcus for catching me up.
Like you, I deeply appreciate that Blaqstarr is steering her music towards progressive creativity without going so far as to sacrifice accessibility. However, even I have to admit MIA's lyrics and delivery don't reach the fiery heights we know she's capable of…
On "Bird Song" (and on last year's, "Borders") I can't tell if MIA is exhausted or jaded, I just wish her tone matched the offbeat complexity of Blaqstarr's production. But hey, even a subdued MIA track is more banging than most stuff released in a given year.
It'll Earn My $_:
$9.99 on iTunes when AIM comes out, if its release isn't so convoluted and suppressed by the industry that I don't know it's happening.

– Bryce
MIA is incredibly talented and the perseverance she has put towards her underrated career deserves its own essay. Putting that aside though, I think one of the reasons everyone likes nobody hates her is because, like Rihanna, her voice just sounds good on the old eardrums. As long as she does it with enough swagger, MIA could pull off reading the phonebook; which ultimately means she's a great artist for remixing.
As Kiiara's "Gold" has proven, even jibberish can be catchy, so props to Blaqstarr for at least using whole phrases in his remix. It's not my cup of musical tea, but there are worse voices to hear squawking at you, like a seagull.
It'll Earn My $_:
Whatever they get from 4.5 replays on YouTube, with one one 30-second ad interjected.
In 6 Months, We Will…
Catch this on the soundtrack of a documentary about Marina Abramovic's latest book, Walk Through Walls.


***
Submitted To Music, Some Songs Considered
Like what you read? Share it.
(That helps us.)
Love what you read? Patronize Lindsay Hogan.
That helps us and the writer.
What is Patronizing? Learn more here.
---