Some Songs Considered #060: An Introduction to Kaitlyn Aurelia Smith
---
---
Welcome to Some Songs Considered, a column that recognizes they can't all be zingers and truly appreciates the ones that are.
***
An Introduction to Kaitlyn Aurelia Smith
Despite the uncountable number of active musicians out there right now, uncommon and beautiful music still requires a confluence of forces and the serendipity of time and place.
Such is the case with Kaitlyn Aurelia Smith…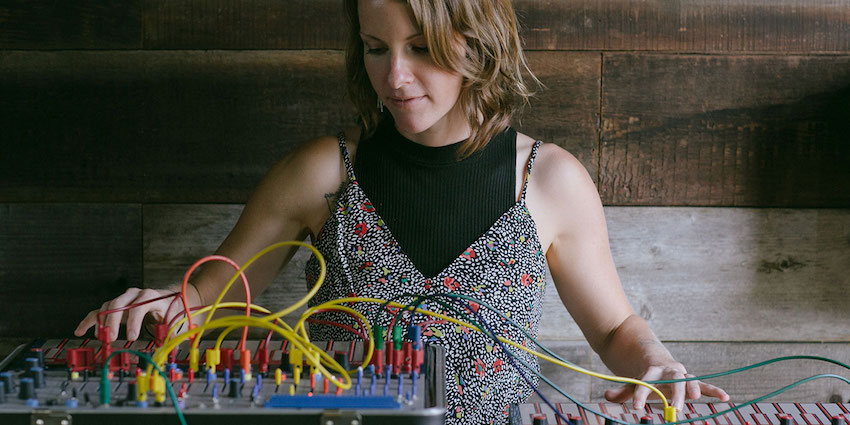 Kaitlyn Aurelia Smith and her two undeniably gorgeous electronic albums, 2015's Euclid and this year's EARS, are the product of an education in classical compositional training and the happenstance introduction to modular synthesis.
Combined with Smith's roots in the Pacific Northwest, these forces have collided into a style that speaks both to the hunger for electronic music in 2016 and our exhaustion of it.
She captivates both because her music is complex on a level that reflects her classical training and because her composition are uncommonly natural and environmental for electronic music:
Kaitlyn Aurelia Smith was introduced to modular synthesis after studying voice and classical guitar at Berkeley College of Music.
She had her sights set on orchestral folk and soundtracks when a neighbor introduced her to the Buchla Modular Synthesizer#. She spent a year teaching herself the ins and outs of synthesis and transposing her talent and methodology as a composer onto the modular electronic medium – creating something sonically impactful that wouldn't have been possible without each individual part.
I'll risk overstatement when I say that Smith's serendipitous introduction to the Buchla is a gift to music. The Buchla's emphasis on experimentation and the creation of new sounds is the ideal fit for Smith's multifaceted, composition-based skill set and varied musical background.
The intuitive nature of this relationship between Smith and the Buchla is undeniable in the elegance and depth of her albums:
There is a vision and a maturity in her music. But more importantly, Smith's sounds are old, natural and familiar.
While much of electronic music strives to captivate the listener with "otherworldliness," Smith succeeds in capturing the listener with the "worldiness" of her music.
The track "First Flight" is the epitome of her slow-rising compositional style that leads the patient listener into a meditative score before surprising them with her unique vocals over 2 minutes into the song:
Her echoy, ethereal processed-vocal technique sounds more like the deep origination of the human voice as opposed to the purposeful distortion of it. All throughout the album, the careful production blends the horn and woodwind samples so that the finished product sounds more like waves against a cliff, removing all trace of manufactured or unnatural electronic techniques.
This is meditative and heady stuff (i.e. it probably won't end up on Pitchfork's end of year list), forgoing big sonic releases in lieu of powerfully slow builds which – most notable on "Existence in the Unfurling" – end in massively complex and spacious movements:
Kaitlyn Aurelia Smith is an artist who, while currently obscure in mainstream music, will undoubtedly be around for decades; not just pioneering and innovating in her own genre, but creating trails of influence that will eventually be heard in mainstream electronic music (whatever that looks like in the next 10 years). She's already been charming audiences as the opener for Animal Collective, Dan Deacon and Bitchin Bajas, who rightly see Smith as a bridge between innovative synthesis and indie electronic music.
The performance of her music is also a clear indicator of her confluence of classical and electronic composition. Not only is there very little compromise between her live and recorded music, but her active performance style on the Buchla Music Easel – moving rapidly and shifting sounds between the keys, wires, and sliders – is sonically and visually impressive.
As a non-musician, I deeply appreciate an electronic artist whose performance can be observed as intuitively a as a guitarist or a drummer, and Kaitlyn Aurelia Smith does this with the effective grace of a classically trained musician…
These escapist instrumental compositions will never reach a level of mainstream success the likes of a Sylvan Esso or Beach House. Regardless, take 5 minutes to listen to the depth and intricacies of her music and it's clear that Kaitlyn Aurelia Smith is not just on another level, but will serve as an influencer in the genre for years to come.
***
Random Tracks from Random Nerds:
Oddisee – "Asked About You"
*Editor's Note: Make sure to check out the inaugural episode of Marcus' new podcast series, Getting Over, in which he interviews Oddissee about being and thriving as an independent artist.
"Asked About You" is the fist song from Oddisee's March 2016-released Alwasta EP, and it opens the interview portion of the debut Getting Over episode. It's also the song that gave Oddisee reason, after knowing of me for nearly a decade, to call me via Facebook Messenger and nearly word-for-word break down the meaning of his work on this release.
"Asked About You" in particular is Oddisee at his production and lyrical best, as mellow orchestral soul meets plain-spoken rhymes unadorned by metaphors about "good days for bad people."
It's a heavy moment of clarity, and an absolute must listen.
The Avalanches – "Frankie Sinatra"
For those unaware, The Avalanches released their acclaimed debut album, Since I Left You#, in 2000, and subsequently weren't heard from again for 16 years. They lurked in the shadows of the industry, working on things like a rumored Yellow Submarine-esque musical cartoon, but on July 1st – via Apple Music – they finally released their long-awaited sophomore album.
Wildflower has had many different iterations over the years, and various projects like scoring musicals and 2013's King Kong movie seriously distracted the group's members along the way, but the wait has (almost) been worth it for this uplifting collection of celebratory jams.
The lead single, "Frankie Sinatra," is a wonky carnival that rolls out a perfect beat for guests Danny Brown and MF Doom to do their respective things while welcoming:
Winter is Here. Beware of The Avalanches.
Submitted To Music, Some Songs Considered
Like what you read? Share it.
(That helps us.)
Love what you read? Patronize Lindsay Hogan.
That helps us and the writer.
What is Patronizing? Learn more here.
---