Super Art Fight Returns to DC THIS SATURDAY at the Black Cat!
---
---
A few months ago when Joe and I were at Friendly Design Co talking about the design of the site, back when Random Nerds was still a chick in its egg, Ross Nover, the co-founder of Friendly Design Co and overall great human, let us know know about an event series he co-produces called Super Art Fight.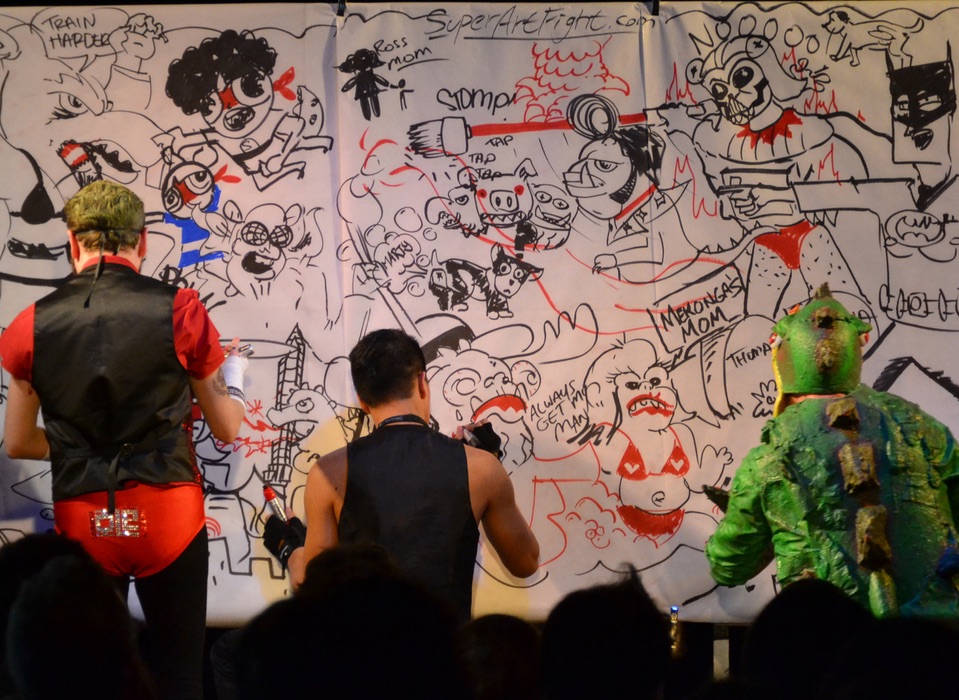 What is Super Art Fight, you ask? Why, it's only the greatest live art competition in the known universe! And it's having an event at the legendary Black Cat in Washington DC THIS SATURDAY NIGHT!
Two (or more!) artists will collide on a giant 6×12 foot canvas, armed with starting topics (e.g. 'robots' and 'monsters'), and they'll have 25 minutes to draw all over the canvas and win over the audience. Then, every 5 minutes, each artist will receive new topics from the WHEEL OF DEATH, a random topic generator featuring suggestions sent by us, the adoring public, to their website.
Sounds awesome, right? We thought so too. That's why we helped them make this fun promo video:
And why we will most definitely be at the Black Cat on Saturday night.
You can get tickets here, and if you come say hi to Joe and I, we'll probably buy you a beer.
Submitted To Cartoons, Comics, Events
Like what you read? Share it.
(That helps us.)
---