The Colbert Super PAC EXPOSED, and an interview with the woman who exposed him
---
---
On March 10, 2011, to spoof presidential contender Tim Pawlenty's "Freedom First" political action committee (PAC), Stephen Colbert announced on The Colbert Report that he was forming a PAC of his own. While it was done solely in jest, Comedy Central didn't like even the hypothetical notion of the idea, and quickly told Colbert that it "could be trouble" if he kept the charade going. Viacom, the company that owns Comedy Central, even sent Colbert a letter denying him permission to establish a PAC.
Fortunately, this just inspired the miscreant Colbert, who called upon none other than FEC Commission Chairman Trevor Potter to explain to his audience (and superiors) that thanks to the Citizens United decision, a super PAC could indeed be formed. Then Colbert went ahead and formed one, calling it "Americans for a Better Tomorrow, Tomorrow."
But what is a super PAC, exactly?
A super PAC is a "committee" that can raise funds from individuals, corporations, unions, and other groups without any legal limit on donation size. They can then spend that money any way they'd like, as long as the campaign they are helping isn't directly involved. Super PACs, along with their henchman the 501(c)(4), are essentially the mechanism that allows elections to be bought.
And Stephen Colbert did an amazing job of using his to show how absurd they really are, crafting a series of hilarious fake political ads#, walking us step-by-step through the gobsmacking legalities surrounding super PACS, and even establishing a 501(c)(4) shell corporation of his own called The Colbert Super PAC SHH Institute so that he could demonstrate how donations to his super PAC could be given completely anonymously and without limit (just like how the Republican party uses American Crossroads).
In fact, in April 2012, Stephen Colbert received a Peabody Award for his super PAC reporting, which they hailed as an "innovative means of teaching American viewers about the landmark court decision."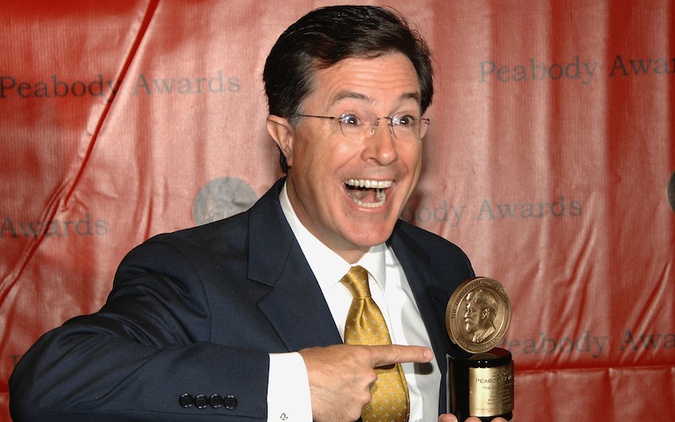 But recently, before taking over as host of The Late Show, Stephen Colbert was interviewed by a Catholic media foundation called Salt and Light in anticipation of the arrival of Pope Francis in the United States, when something interesting came out of his mouth.
The host asked Colbert what he would like to see the Pope talk about during his visit to Congress…
The corrupting influence of money in politics, because it reinforces not looking out for the poorest or the least of my brothers. I think that's what they need to hear the most because until you can control the money you will not control the message of Congress, and so you won't get action in Congress that looks out for average people.

One thing I've learned… I had a super PAC for a couple years…
This little opening was all the interviewer needed to then interject, "What ever happened to that money?"
Only for Colbert to chuckle a reply of, "Good luck finding out."
But that's exactly what the Sunlight Foundation — a nonpartisan nonprofit that uses the tools of civic tech, open data, policy analysis and journalism to advocate for open government — and their Senior Staff Writer Melissa Yeager did.
In a recent blog post on the company's site (that we've 'aggregated' below with their permission), Yeager and her team went step-by-step down the "Americans for a Better Tomorrow, Tomorrow" money trail, and in doing so, they revealed both the slippery, shady slope that super PACs have taken us down and the professional genius that is Stephen Colbert's political lampooning.
I got the chance to speak with Melissa last week, and while she admits it was "quite the ordeal" going down that rabbit-hole, she also concedes that it was pretty fun getting to investigate the super PAC of a man who is blatantly trying to mock the whole concept of super PACs.
We did the best we could given the information that's out there to find where all the money went, but that's exactly the point he's trying to make, that it's difficult to find everything.

I'm really impressed with how strategic he was, he always had attorneys involved so he would be on the right side of the law, so to speak. They definitely followed the rule of the law, but they made their satirical point.
And as another article from Yeager proves, following the rule of the law is not exactly the easiest thing to do when it comes to creating your own super PAC.
In Yeager's words, "The FEC can't be the judge of people's sense of humor. And the commission can't track data on real versus fake super PACs, even when some super PAC names indicate a high probability of satire," which means that while Colbert Super PAC homages like "Americans for a Better Tomorrow, Yesterday," "My Cat Xavier for a Better Tomorrow, Tomorrow," and "Slam Dunks, Eagles and Fireworks PAC" may give you a nice chuckle, they've also all most likely received inquiry and warning letters from the Federal Election Commission due to noncompliance. That kind of stuff is low-hanging fruit for a department that Yeager explains has much more troublesome problems to deal with.
Like the fact that because the financial data of these "dark money" 501(c)(4)s is only disclosed when they submit their annual 990 forms, a lot of the financial information regarding them doesn't come to light until 18-24 months after the fact — ya know, when elections have already occurred:
That's why Sunlight has been advocating for real-time disclosure and electronic filings, things that would get that information in the hands of voters quicker. Because 18 months to 2 years in the world of technology that we live in just seems ridiculous.

People shouldn't have to know 2 years down the road whose been financially supporting their candidate.
If you agree, you should probably check out check out their website to learn more about how you can help advocate for political transparency. Or, there's always Twitter.
And, in my personal opinion, you should vote for Bernie Sanders, who has been a staunch opponent of Citizens United since it first reared its ugly head#.
But enough of the depressing stuff. Let's get to Yeager's hunt for Colbert's Gold!
Take it away, Melissa…
***
In the interest of transparency, we're going to walk you through the process and provide all the links which will hopefully help you monitor the cash flow of 2016 candidates. The resources we used include campaign finance reports from the Federal Election Commission, nonprofit disclosure forms known as 990s from the Internal Revenue Service, our own Real-Time Federal Campaign Finance tracker, as well as financial statements and press releases from the charities that received funds from Colbert-affiliated entities. Finally, we did some good, old-fashioned research on Google, LinkedIn and social media.
Full disclosure: This post is going to feel a little bit like Carrie's apartment wall in Homeland#, but keep with us and we'll all get to the end together. Much like every other candidate super PAC, there are lots of money trails. Consider yourself warned.
All right, let's get started!
The players
Before we start, we want to clarify the players you need to know:
The super PAC: Americans for a Better Tomorrow, Tomorrow, Inc., established in June 2011 by Stephen Colbert
The 501(c)(4) dark money group: The Colbert Super PAC SHH Institute, established in late 2011 by Stephen Colbert to lure anonymous donors
The beneficiary of the money not spent by the super PAC: The Ham Rove Memorial Fund of the Coastal Community Foundation of South Carolina
The donors
According to the Federal Election Commission website, Colbert's Americans for a Better Tomorrow, Tomorrow super PAC raised $1,237,220 in 2011-2012.
FEC filings report $1.1 million of the money raised by Americans for a Better Tomorrow, Tomorrow came from unitemized individual contributions. "Unitemized contribution" is a term the FEC uses for contributions of $200 or less. PACs aren't required to list these individually, and they appear on the filings as a lump sum. (Colbert called these people "Heroe$" and scrolled their names through the show even though he was not required to name them.)
The FEC does require candidates and PACs to individually list the names, occupations and addresses for each donor who contributes more than $200. Americans for a Better Tomorrow, Tomorrow's filings show $121,065 came from itemized individual contributions. The spreadsheet on the FEC's website can be sorted to show the top donors.
Independent expenditures
Now it's time to find out where the $1,237,220 went.
First, the easy part: independent expenditures.
Independent expenditures are any expenditure made by a super PAC either supporting or opposing a candidate made without consulting with or at the suggestion of another candidate or candidate's committee (PAC).
Americans for a Better Tomorrow, Tomorrow spent $79,526 on independent expenditures. Here's the breakdown of those, courtesy of Sunlight's Influence Explorer:
$31,530 supporting Herman Cain
$26,102 opposing Newt Gingrich
$20,669 opposing Mitt Romney
$900 opposing Herman Cain
$326 supporting Mitt Romney
These expenditures were political ads that ran online and on local television stations in Iowa.
So we're all following along so far? Good. Here's where it gets tricky.
Operating expenditures
Americans for a Better Tomorrow, Tomorrow spent $395,194 on operating expenditures, or the costs needed to run the campaign.
Who received that money? Not many people have looked into that part of the Colbert super PAC, and this is where it gets interesting.
When Colbert decided to run for "the President of the United States of South Carolina," he turned over the super PAC to Jon Stewart, who, in addition to hosting "The Daily Show," was an executive producer of "The Colbert Report."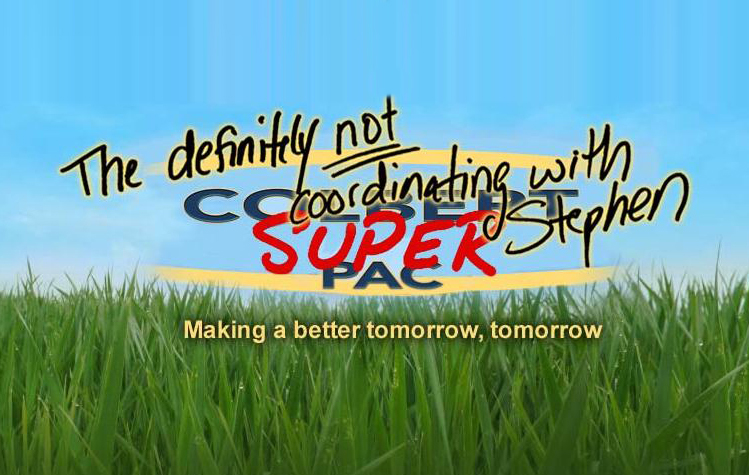 Super PACs are not allowed to coordinate, consult with or take suggestions from candidates or their candidate committees. Yet, the expenses from the super PAC show they were paying a lot of people with obvious direct ties to "The Colbert Report." This was likely an intentional way for the witty Colbert to satirize how a campaign could easily flout the "no-coordination" rule — and no one would question or investigate the super PAC's activities.
For instance, we found the Colbert super PAC had a multitude of so-called media consultants. In fact, 14 different people and companies were listed as media consultants to the tune of $33,963. With quick use of Google, we found several with direct ties with "The Colbert Report."
In fact, most of the list of expenditures reads like the credits of "The Colbert Report." Again, this is similar to how most super PACs supporting a campaign are run by former aides or someone who has long-time ties to the candidate.
Those include:
Meredith Bennett, current executive producer for "The Late Show with Stephen Colbert" and former co-executive producer for "The Colbert Report," reimbursed for fundraising supplies
Andro Buneto, art director for "The Colbert Report," reimbursed for media consulting
Peter Gwinn, former writer for "The Colbert Report," reimbursed for writing, administrative consulting and media consulting
Brendan Hurley, prop master for "The Colbert Report," reimbursed for T-shirt design and administrative consulting

Humor Logistics Corporation, the company of "The Colbert Report" writer Eric Drysdale

Opus Moreschi, current "Late Show with Stephen Colbert" writer and formerly of "The Colbert Report"
James Kuo, assistant to the executive producers of "The Colbert Report"
Alon Katsir, who may be Jay Katsir the intern (actually a writer at the show), was reimbursed for media consulting
Frank Lesser, writer for "The Colbert Report," was reimbursed for, well, writing.
Kris Long, "The Colbert Report" graphic designer, who was paid for T-shirt design
Liz Miggliaco, "The Colbert Report" props production assistant
Erica Myrickes, former writer for "The Colbert Report," reimbursed for web services, media consulting and fundraising supplies
Kateri Palen, talent for "The Colbert Report," reimbursed for fundraising supplies

Purple Canoe Productions, which is owned by Meredith Bennett's husband, Robert LaForty, for media consulting and administrative services.

Scardino & Sons, owned by former writer Meredith Scardino, for writing.
Well Read Doofus Productions, Inc., owned by Scott Sherman, then a writer for "The Colbert Report"
By our math, about $43,959 went to different team members of "The Colbert Report."
The super PAC also paid money to other businesses with links to the Colbert show including:
MTV Networks (email communications), the former parent company of Comedy Central
Extreme Group Holdings, LLC, also owned by Viacom, Comedy Central's current parent company, was paid for media consulting
Hello Doggie, Inc., the production company for "The Daily Show" and "The Colbert Report"
And, the PAC also paid $2,755 to meat processor Plumrose in New Jersey, presumably for the vital services of Mr. Ham Rove# over the period of several months. In other food-related expenditures, the PAC paid $400 for a cake congratulating Jon Stewart on the success of his book "Earth."#
The PAC also spent $3,500 toward commissioning Marist Institute of Public Opinion to conduct a poll and $47,965 for T-shirts and other apparel. (Stephen Colbert tote bags, anyone?)
And, of course, it's the lawyers who always win. Americans for a Better Tomorrow, Tomorrow paid the largest amount, $90,051, to attorneys at D.C. law firm Caplin and Drysdale. On the show and on the super PAC's website, Colbert repeatedly bragged about having good attorneys. The fees likely paid for advisement on the formation of the PAC and communication with the FEC to get opinions about the legality of talking about the super PAC on TV.
Where did the rest of the money go?
FEC filings show the balance of the super PAC's money, $773,704 went to the Stephen Colbert Super PAC SHH Institute, a 501(c)(4) nonprofit.
These so-called social welfare groups are allowed to spend money on limited amounts of political activity, but it's next to impossible to see who donated that money and where it went, a loophole that was likely not lost on Colbert and the staff of "The Colbert Report."
Nonprofits are required to file either a 990 tax form or a 990-EZ card with the IRS. The EZ card is typically filled out by organizations who have gross receipts of $50,000 or less. The 990 form N is filled out by organizations typically raising more than $50,000 and contains more itemized information about names and salaries of those running the nonprofit, its receipts and expenses, and sometimes they include donor information. There is a 501(c)(4) registered with the IRS called the Stephen Colbert Super PAC SHH Institute, but because it doesn't report having assets of more than $50,000, it's required only to turn in a postcard, not the full 990 return.
IRS filings are typically at least two years behind, and it's hit or miss on how clearly they identify donors or whether they identify donors at all. By then, the election is long over and voters don't have the opportunity to see who's really behind these groups and consider their motivations when casting their ballot.
The website dedicated to the end of the Americans for a Better Tomorrow, Tomorrow says that the money went from the SHH Institute to the Ham Rove Memorial Fund, in honor of the adviser to his super PAC.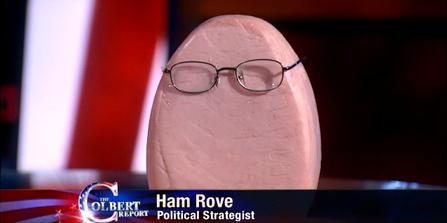 The money was distributed to six different charities. Many of the charities listed the donations on their websites as coming from "Ham Rove Memorial Fund of the Coastal Community Foundation of South Carolina." That's the same foundation that handles the charitable distributions for the proceeds from Stephen Colbert's Ben and Jerry's flavor, Americone Dream. (Colbert alluded to passing the money to a second 501(c)(4) on his show.) Each of the six reportedly received $125,000.
But we found that wasn't quite the case.
Going through Coastal Community Foundation's 990s as well as press releases and the 990s of the charities in question, we were able to piece together that the Ham Rove Memorial Fund was established and the foundation distributed donations in the exact figures of:
$138,022 to Donors Choose
$141,500 to Habitat for Humanity
$125,000 to the Yellow Ribbon Fund
$125,000 to Team Rubicon
$136,852.41 to Campaign Legal Center
$136,852.41 to the Center for Responsive Politics

If you do the math, you'll figure out that that amount, $803,226.82, is $30,006 more than the $773,220 reported to the FEC. We suspect the "media consultants" may have also donated their "consulting fees" to charity.
How did the charities spend the money?
This is a whole lot of work to point out the lack of transparency in campaign finance laws. The silver lining is that the Heroe$ really did help six nonprofits continue their work.
Habitat for Humanity, Donors Choose and Team Rubicon all received the funds to help with recovery from Hurricane Sandy. The Yellow Ribbon Fund received funds to help injured service members and their families. The Center for Responsive Politics and the Campaign Legal Center both renamed their conference rooms in honor of Ham Rove.


Deep breath, everyone. We made it.
It's important to point out that following the money for Colbert's political finance groups was a long, long process. But despite the arduous amount of research we did, tracking the cash flow of Americans for a Better Tomorrow, Tomorrow was actually much easier than it would be for almost every other case. Mr. Colbert flaunted his super PAC on cable television and left plenty of bread crumbs for journalists to follow; we knew where the money ended up and were able to fill in the gaps. Without these clues, it may have been simply impossible to track. Needless to say, few candidates for political office will be as generous — leaving the public in the dark.
So, what do you think, Mr. Colbert? Did we find all the money?
Submitted To Television, The 2016 Election
Like what you read? Share it.
(That helps us.)
Love what you read? Patronize Bryce Rudow.
That helps us and the writer.
What is Patronizing? Learn more here.
---