The Darkest Timeline Has Arrived (and so have our new trading cards!)
---
---
Back in 2015, when Random Nerds needed to order our first batch of business cards, I made the prudent decision to not order business cards.
Instead, we got one of my favorite illustrators — Jamie Noguchi — to turn us into the superheroes we spent our childhoods collecting…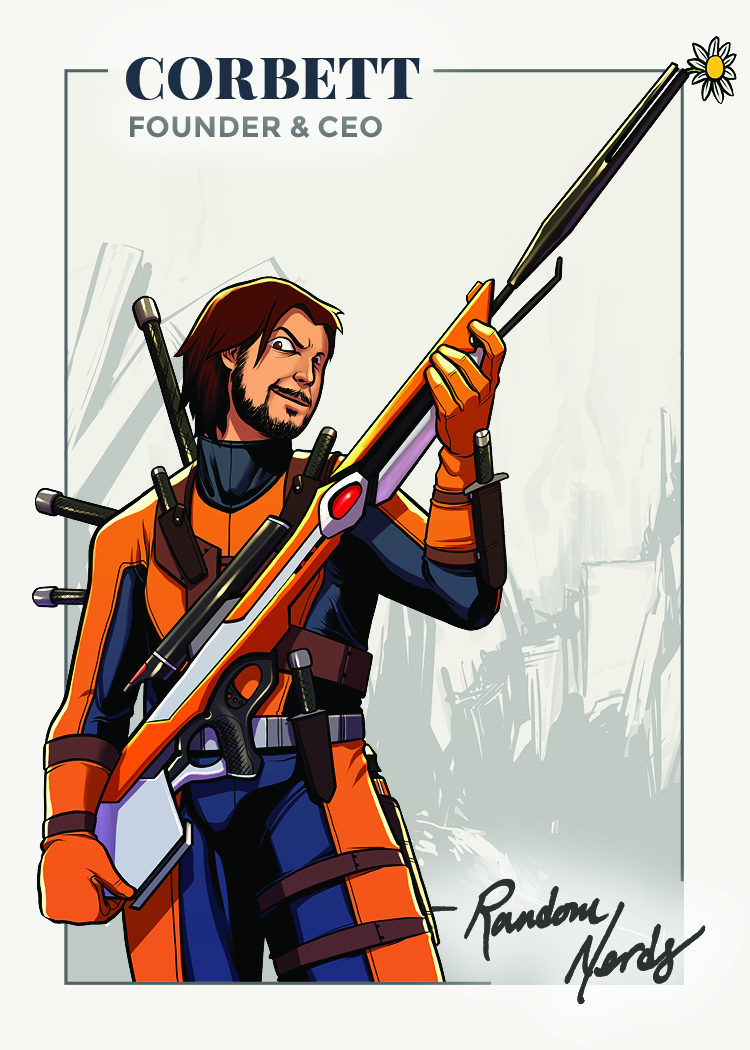 But to be honest, that feels like a lifetime ago.
Since we first tore open the foil on our Origin Series deck, the company has more than doubled in size. We have a podcast network now, and a daily newsletter, too. Not to mention, the whole planet recently slipping into an alternate universe where everything is terrible all of the time and every week feels like a year.
So, last month, I decided to reach out to Jamie about a new series of cards that reflected our updated state of affairs…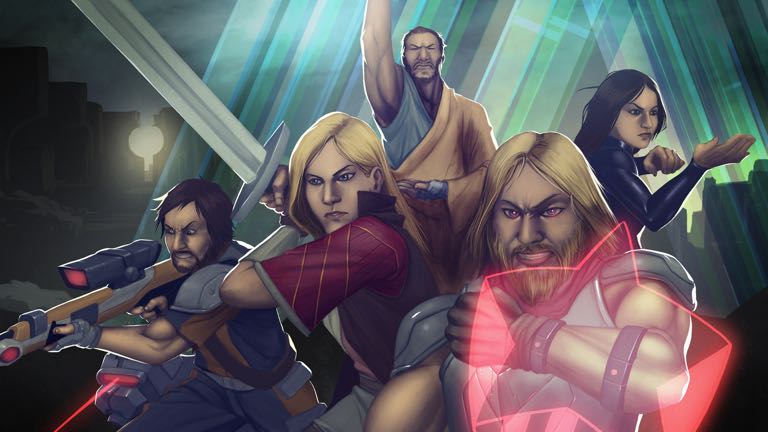 This is: The Darkest Timeline Series.
***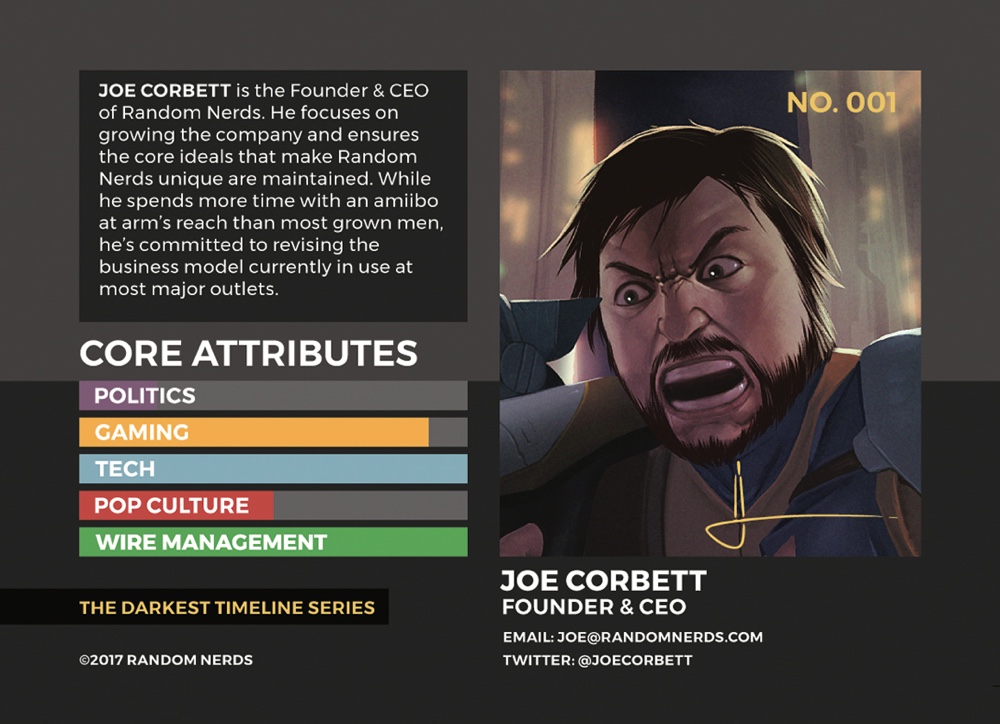 As an entrepreneur leading a small media company, there is no way to ignore how dark this industry has become. While I personally view this chaos as a ladder Random Nerds can use to elevate our innovative approach to driving revenue (see: Patronizing), it is still tough to see some of my favorite outlets struggling and some of the best writers I know constantly on the hunt for their next paying gig.
That's why my Darkest Timeline trading card shows me, and my loyal robo-pug Olive, defiantly taking out potential threats from our strategic, deadly vantage point — something we'll continue to do no matter how dark things get.


---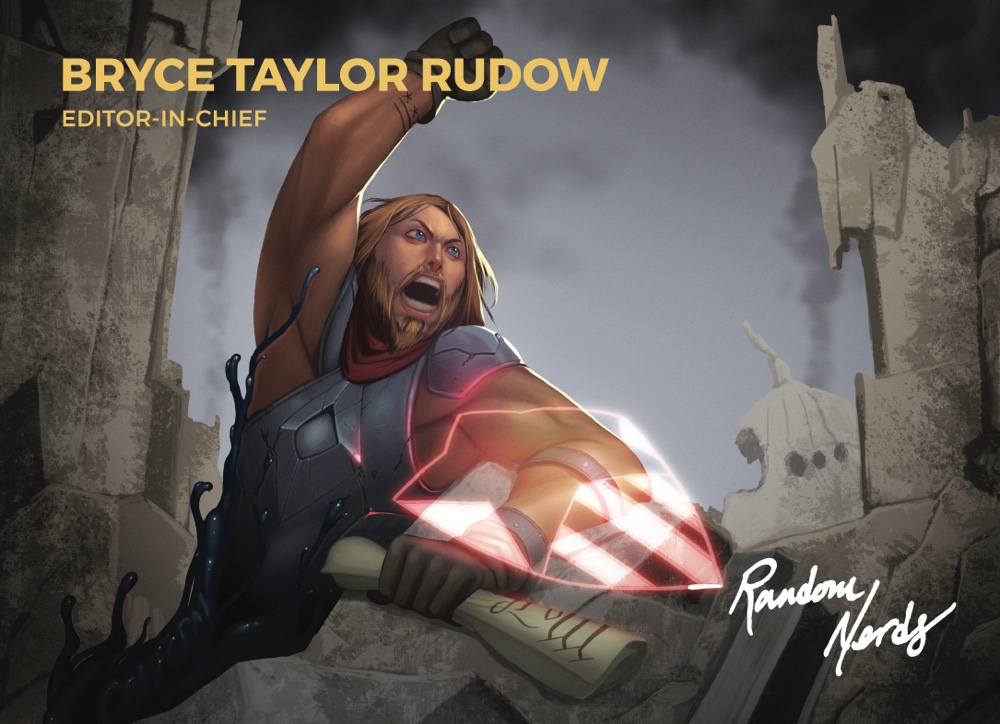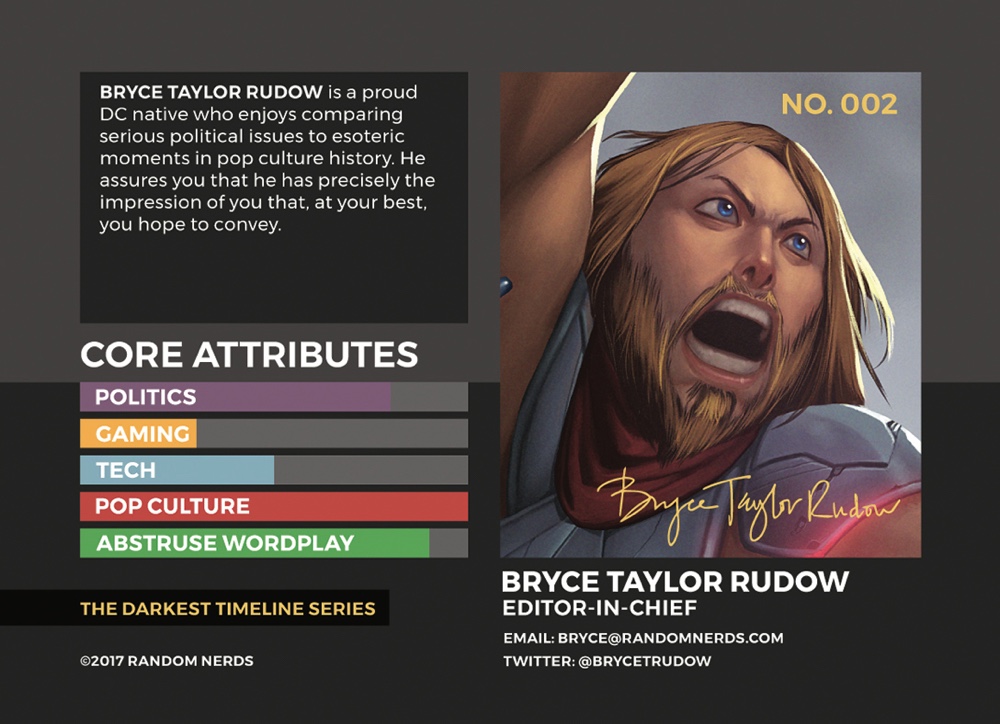 In the episode "Introduction to Finality," when Evil Abed is attempting to woo his more noble Community doppelgänger to the dark side, he keenly chooses the most lethal instrument possible against our gallant yet logical protagonist; the cold, rational truth: "When the world gets bad enough, Abed, the good go crazy. But the smart…they go bad." And I, only semi-informed as I may be, would like to think I am smarter than the average bear.
That's why, for the Darkest Timeline series, Jamie has me struggling against the fiendish, ravenous symbiote that is my ever-present desire to start fighting fire with unrepentant fire, to go as low as more and more outlets/politicians/plutocrats seem willing to plunge, to forget that there's nothing wrong with truth, justice, and the American way.


---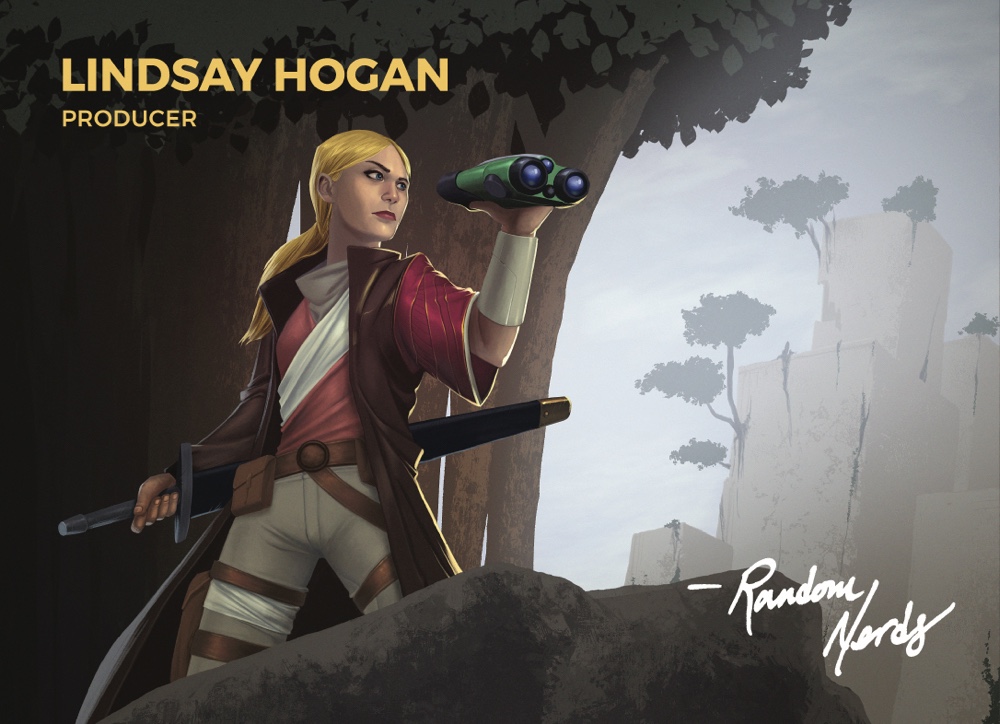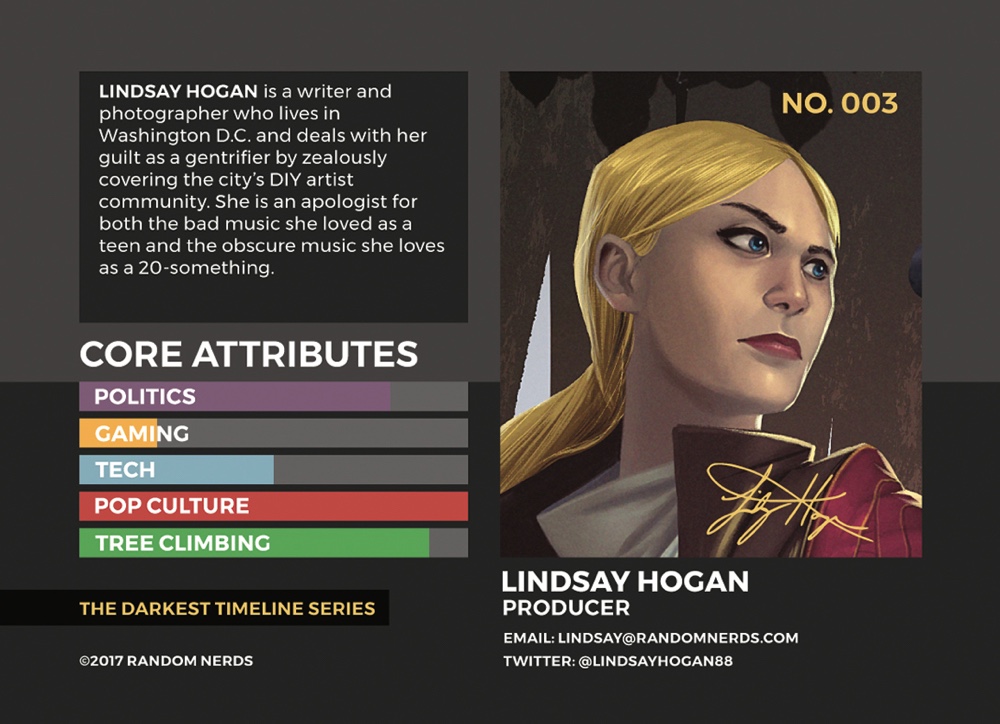 The excess of capitalism, the destruction of the natural world, the loss of truth and objectivity in the internet age are all huge churning wheels too big to fight and too big to be reversed; we have already become too complacent. Not because we actively desired the destruction of everything around us, but because we were just so damn distracted by efficiently marketed, psychologically manipulative minutiae.
We are killing ourselves, and loving every minute of it.
Thus, my card depicts me attempting to survive in the inevitable post-apocalyptic world, without those inutile luxuries that consume and distract us; no internet, no advertising, no high heels, no air conditioning — and most of all, no student loans.


---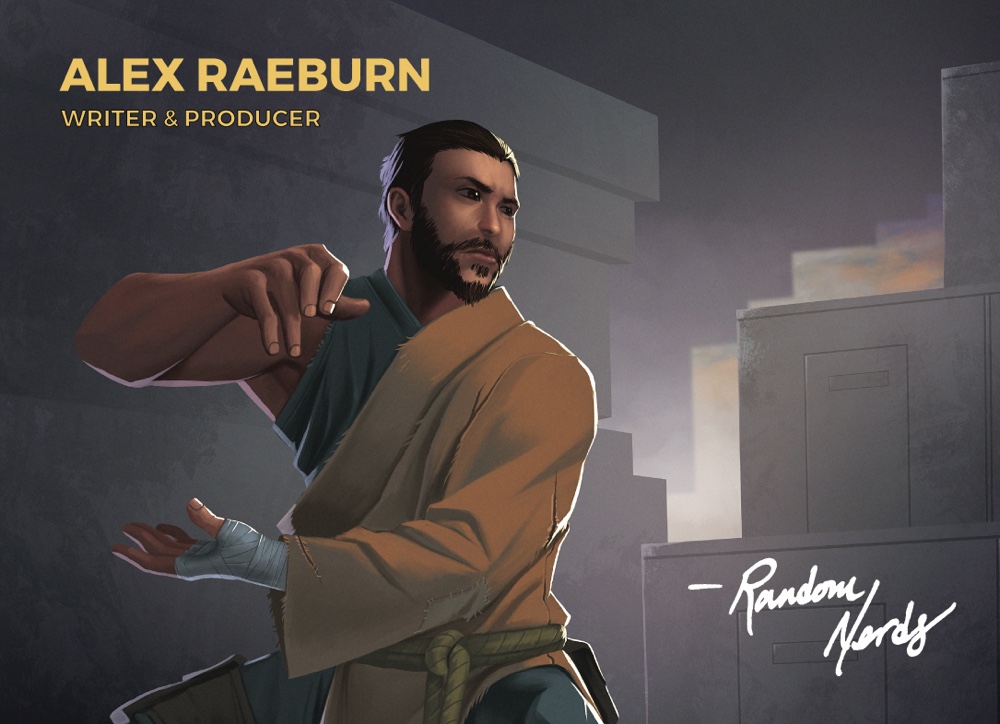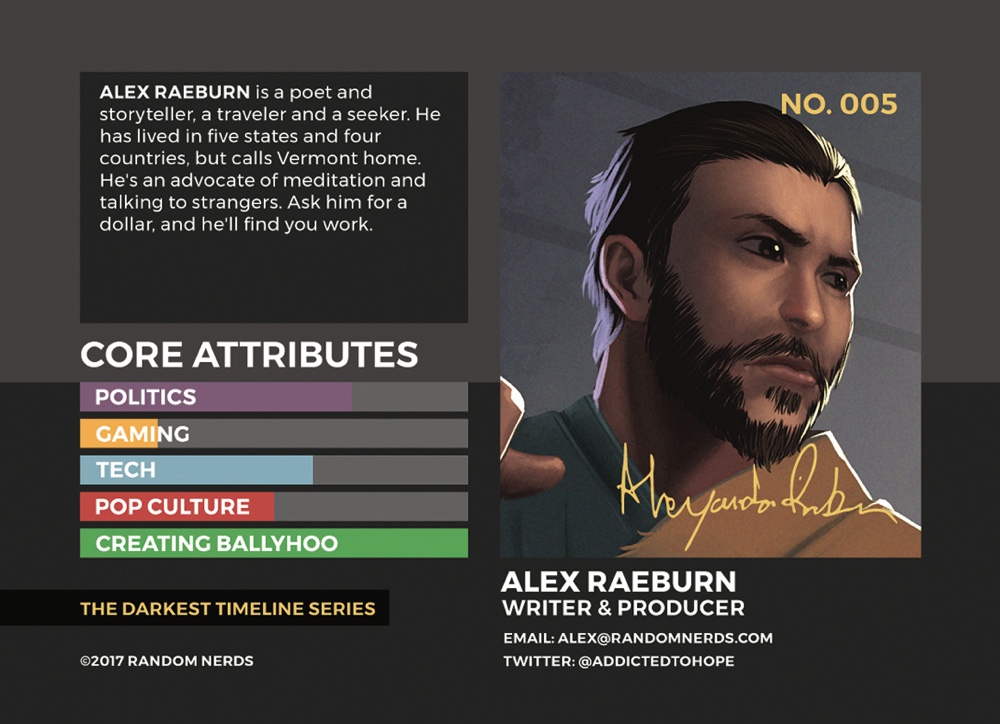 All over everywhere are the sundering echoes of looming, booming bad. But if my years studying Buddhism, working as a mental health professional, living as a professional journalist/poet, and eavesdropping on strangers while shaking their fancy cocktails have taught me anything, it's that dark times like these actually signify a communal desire for more connection. In a world that's never been better technologically connected, we as individuals have lost touch with one another; imprisoned in our own struggles.
This is why my trading card shows me only in rags, with no weapon or sidekick for company, ready to indulge in life. Fighting for the oneness is the only choice.


---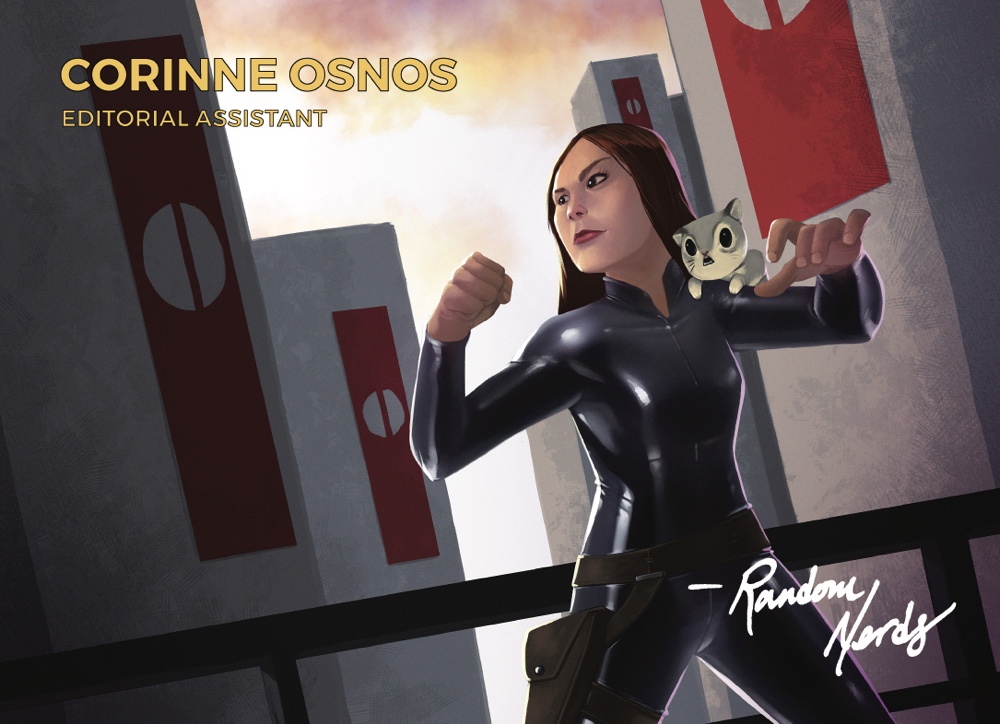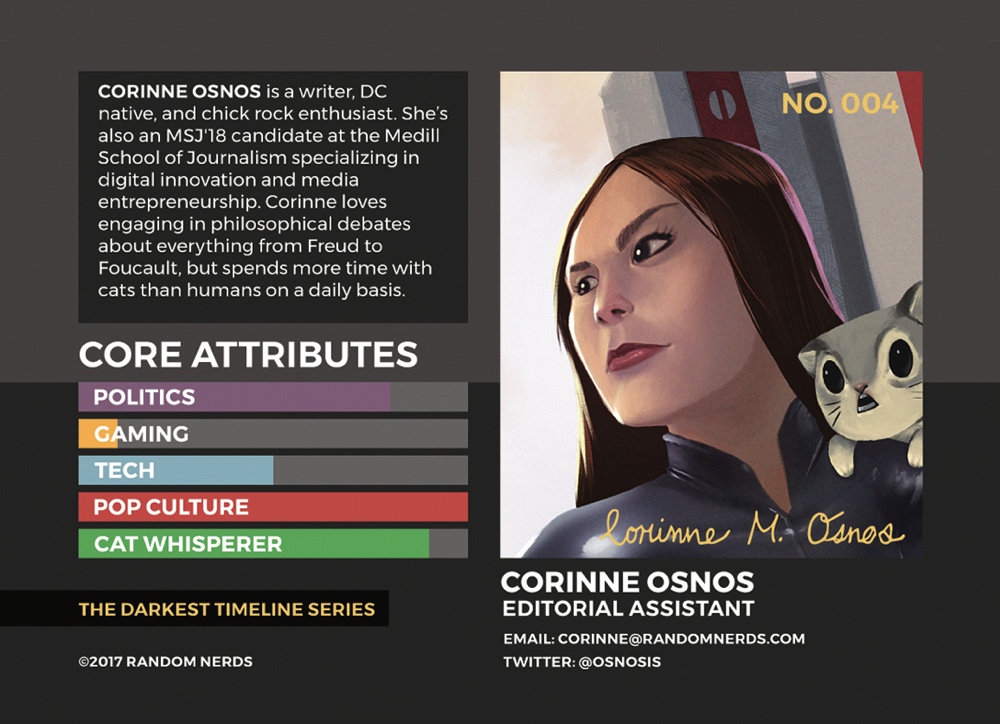 I'm 23 and getting my masters in a "dying field," becoming an adult in a time when the leader of our nation acts like a child. Privacy rights are readily acquiesced for the sake of ease, identity is increasingly defined by social media presence, and according to some of the brightest minds out there, we're all just living in a petri dish.
There is so much uncertainty and injustice, it's tempting to turn off the push-notifications and just curl up under the covers with my sidecat Alba (featured above) until they come to test my fertility. Nevertheless, I persist through these daily existential crises to document the unhinging of our democracy, in hopes of at least leaving a serviceable blueprint for future generations of what not to do.
***


"Of all the timelines, this is clearly the darkest." — Evil Abed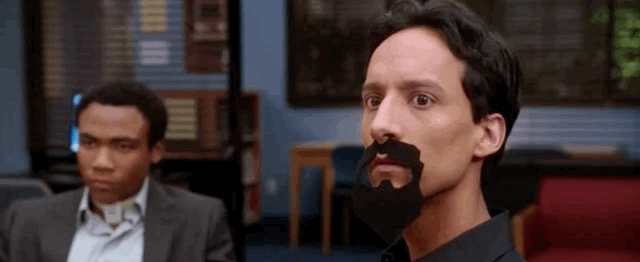 Submitted To Comics, Superheroes, Trading Cards
Like what you read? Share it.
(That helps us.)
Love what you read? Patronize Joe Corbett.
That helps us and the writer.
What is Patronizing? Learn more here.
---