This Year in American Rugby
---
---
Before this year, you'd have been hard-pressed to find a single bit of rugby news in any of these publications. But that all changed in 2016, when rugby finally managed to turn the corner into the American mainstream.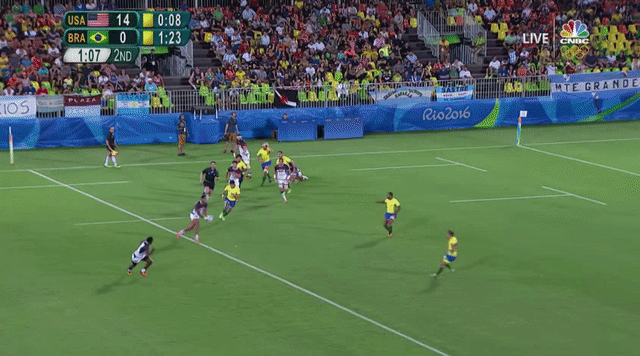 By all definitions, 2016 has been a banner year for rugby in the United States, and it all kicked off with the spring launch of PRO Rugby.
The league's 15-on-15, union version of the sport is the first fully professional endeavor in American rugby history, and its 16-week season wrapped up on July 31st with the Denver Stampede winning the championship by the slimmest of margins over the Ohio Aviators.
The league certainly had (and undoubtedly still has) its doubters, as many questioned whether a league with only five teams could be successful. However, reports from PRO Rugby have been nothing but positive, with league CEO Doug Schoninger telling me via email the league hit or exceeded expectations across the board:  
"In-venue fan attendance [for PRO Rugby] was as planned with very good momentum in the closing weeks. We saw a good uptick in non-rugby (Schoninger's term for fans with little-to-no previous rugby exposure) fan attendance."
The television ratings point to a successful first-year run as well. "Viewership numbers for our Ohio games were in excess of viewership for [Aviva] Premiership regular season games in the UK, and approached regular season viewership for the MLS," said Schoninger. 

When I spoke with Sacramento Express scrum half Chris Saint, he was surprised by the exposure his team received in its inaugural season. "I would get messages from people I didn't even know watched rugby saying they saw me [on TV]. That was pretty cool," he confessed. "Those people would have never even seen me play rugby, unless [PRO Rugby] happened."
And in the true proof of success for any startup, sports or otherwise, expansion plans are underway. According to Schoninger, strategies are currently being discussed, with formal announcements expected this fall.
Regardless of where the league goes from here though, PRO Rugby and its inaugural season will always deserve credit for helping whet Americans' appetite for the sport in advance of the national sevens team's historic inaugural Olympic run…
Deemed by many to be the breakout sport of the Olympics, sevens debuted just days after PRO Rugby's final match, when the French women defeated Spain in a 24-7 blowout. It was the first Olympic rugby match of any kind in 92 years, yet for the next five days sevens proved to be one of NBC's more heavily-covered events.
While both the American men and women fell short of the medal rounds, they both performed strongly, going a combined 6-4-1; a single score or less separating them from victory in all the defeats.
The Eagles even had their first breakout (read: marketable#) star in Carlin Isles, the former sprinter who overcame a childhood marked with bouts of homeless to become what announcers like to call the "Fastest Man in Rugby":
Media favorite – and, not coincidentally, New England Patriots' safety – Nate Ebner impressed in his return to the sport (before the NFL he was the youngest player ever to represent the USA in an international match), scoring key tries and laying out huge hits…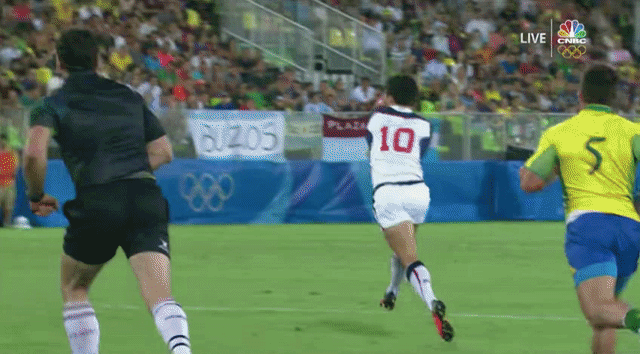 Notoriously prickly Patriots coach Bill Belichick even granted Tom Brady and the rest of the Pats time off from training camp to watch their teammate represent the red, white and blue; making a fan out of superstar tight end Rob Gronkowski in the process, who joked to reporters, "I might try out for the Team USA rugby team in four years."
Still, the mostly-positive performance doesn't ease the pain of coming up short of expectations…
"The goal for both teams — staff, players, and fans — was to medal. You see how slim the margins were between medaling and not, with both the women and the men. So, from that point we're all disappointed," explained USA Rugby CEO Dan Payne via email. "However, everyone is proud of our women's and men's efforts and the way they competed and represented our country."
"I think the women, in particular, captured quite a bit of momentum and attention for their style of play."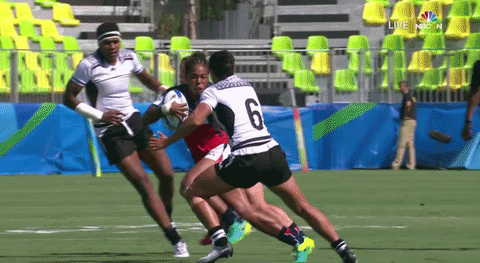 The US women finished fifth, losing just 5-0 to eventual runner-up New Zealand.
The US men finished ninth, a two-point tiebreaker out of the quarterfinals, and gave eventual gold medal winners Fiji their best match of the tournament…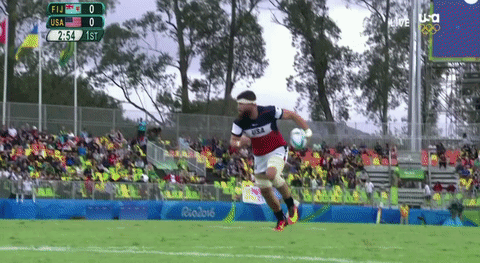 But for USA Rugby, the work toward taking the next step has already started – both on and off the field.
"We play the game on Saturday to get the video to begin our improvement on Saturday night," said Payne. "As an organization it's important we do the same thing. We have to review all aspects of our build up, support, and resources to see where we can improve, to find those few points that would've made the difference for each program."
USA Rugby continues to bring in top talent to create big-time events, as well. In 2014, the USA vs. the New Zealand All Blacks match sold out Soldier Field, home to the Chicago Bears and a maximum capacity of 61,500. And that's being followed up by "The Rugby Weekend," taking place there on November 4th, which will see USA go up against the Maori All Blacks while New Zealand faces Ireland.
Americans will have more time to familiarize themselves with the sport before then too, with NBC (who has already aired the College Rugby Sevens Championships for years) expanding its coverage to the Aviva Premiership – meaning matches from one of the top rugby leagues in the world will be aired Saturday mornings starting this September.
Nevertheless, while NBC is paving the way for major network interest, it's up to USA and PRO Rugby to create an atmosphere of sustained success.
Fortunately, they seem to know that.
"The mainstream media might build the awareness in the short term," said Payne, as sustained success from an Olympic 'darling' sport has been few and far between. "[But] it's up to us as the National Governing Body, rugby community, and stakeholders to continue to push the game forward and use every opportunity we can to grow the awareness and make the game something the mainstream media wants to cover more than just every four years."
It's like an old rugby coach once told me…
A good team focuses on 'the try'; a great team focuses on 'the conversion.'
Submitted To Rugby, Sports, Television
Like what you read? Share it.
(That helps us.)
Love what you read? Patronize Alexander Diegel.
That helps us and the writer.
What is Patronizing? Learn more here.
---