Too Long; Couldn't Tweet: Homeland Security put Rep. Renee Ellmers on blast
---
---
Twitter is wonderful. In fact, you should follow Random Nerds on there. However, we find the 140 character limit a bit, well, limiting sometimes when it comes to our 'Cool thought, but there isn't a whole article here' ideas.
Too Long; Couldn't Tweet is where we share those 141+ character thoughts stuck in limbo between tweet and post.
***
For those of you who have better things to do than stay up to date on the clusterfuck that is the GOP Speaker of the House elections, here's all you need to know for this story to make sense (and then be pretty unbelievable):
On September 25th, John Boehner announced he would be resigning as Speaker of the House.#
Almost immediately, Republican House Majority Leader Kevin McCarthy became the front-runner, despite not being popular with the uber-conservative House Freedom Caucus who had just broken Boehner's spirit so badly he resigned.
After more than a week of campaigning for the job, McCarthy abruptly dropped out of the race, announcing, "I'm not the one to unify the party."#
Rumors have begun to fly that he dropped out in response to allegations that he's been having an affair with North Carolina Congresswoman Renee Ellmers, who prides herself on being a "family values" Republican.#
Now, the GOP is in a situation where, to quote Politico, "Those who want to be speaker can't line up the votes, and the one person who's popular enough to win (Rep. Paul Ryan of Wisconsin) is desperate to avoid the job."
Pretty House of Cardsy right?
However, one of the craziest wrinkles to this already television-worthy drama is something that happened not on the Congressional floor, but on Wikipedia.
On Thursday of last week, Rep. Ellmers' page was anonymously edited to say, "Ellmers is alleged to have been involved in an extra-marital affair with Republican House Majority Leader Kevin McCarthy since 2011," with McCarthy's page respectively changed as well. Citation links on the entry pointed to an irrelevant Breitbart article and, more appropriately, an article from independent website GotNews published in late September that first alleged of the affair.
The edits to the pages were later removed by another Wikipedia editor, who claimed the links were "not reliable sources," but Lachlan Markey of the Washington Free Beacon channeled his inner Bruce Wayne and noticed that the IP address behind the original, anonymous editor was more than a bit noteworthy:
https://twitter.com/lachlan/status/652181982475067397
Yep. An internet address originating from the Department of Homeland Security made those edits on the Wikipedia pages and put Renee Ellmers on blast like whoa.
As of right now, no one's been caught it remains unclear if someone at Homeland Security actually was responsible for the edits, but both pages' edit histories definitively show that a user at the IP address 216.81.81.85 made them, and that IP address definitely points to Homeland Security's office in Springfield, VA.

Now don't worry, the Department of Homeland Security's spokeswoman Marsha Catron assured The Daily Caller that the DHS has already "launched an investigation into this serious matter," promising disciplinary action should anyone at the agency be found responsible. But these kinds of things can get out of hand quickly.
Just ask John Edwards and this 4,000 word Wiki entry…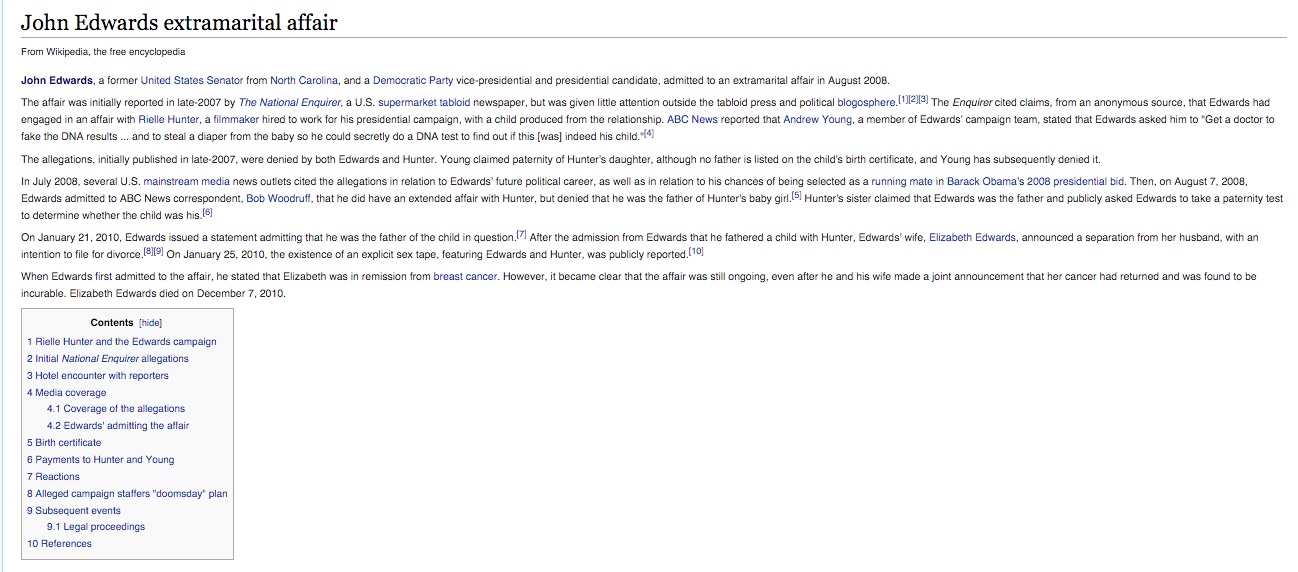 Albert Einstein famously said, "I know not with what weapons World War III will be fought," but one of them just might be Wikipedia.


*If you like reading about politicians having affairs, I highly suggest checking out Nathan Rabin's piece on Rielle Hunter's "In Hindsight: What Really Happened." You'll be glad you did.
Submitted To The 2016 Election, Too Long; Couldn't Tweet
Like what you read? Share it.
(That helps us.)
Love what you read? Patronize Bryce Rudow.
That helps us and the writer.
What is Patronizing? Learn more here.
---