Trillectro 2015: Finding My Way Back Home
---
---
Last month, you got Bryce's take on the fourth annual Trillectro music festival. I was a secondary character in his, and he plays a similar role in mine.
These photographs come courtesy of Wolu Moore. You can find the rest of them here.
***
For most, the 2015 Trillectro music festival will be remembered as noteworthy due to its relocation from the confines of DC to Columbia, MD's Merriweather Post Pavilion. On a personal level, the fourth annual celebration of hip-hop and EDM's intersection stands out for other reasons. Where the inaugural Trillectro took place mere weeks after I left my old job in TV advertising to pursue writing full-time, I went into this year's having found a much better job in the nine-to-five world. Only four years ago, I was like some 21st century black Icarus carried by wings of freedom and ambition#. As I entered the gates this year, I found myself again struggling with the dual consciousness needed when you have one foot in the corporate world and one in outside creative endeavors. And to be blunt, that shit is taxing.
To compensate for the 40 hours of lost free time each week, I had done crazy things like stay in and write on Friday nights when I'd normally be out having a life. In balancing a full-time copywriting job with a full-time passion, I started to feel like I only existed to mass-produce content. The fatigue led to creative blanks. It took me days to finish pieces I would normally write in a matter of hours, and when I was done, I couldn't find any traces of my personality. It was like I was reading someone else's work that I didn't like.# Suffering in silence, I prayed for freedom from the prison I had built.
Trillectro became that escape.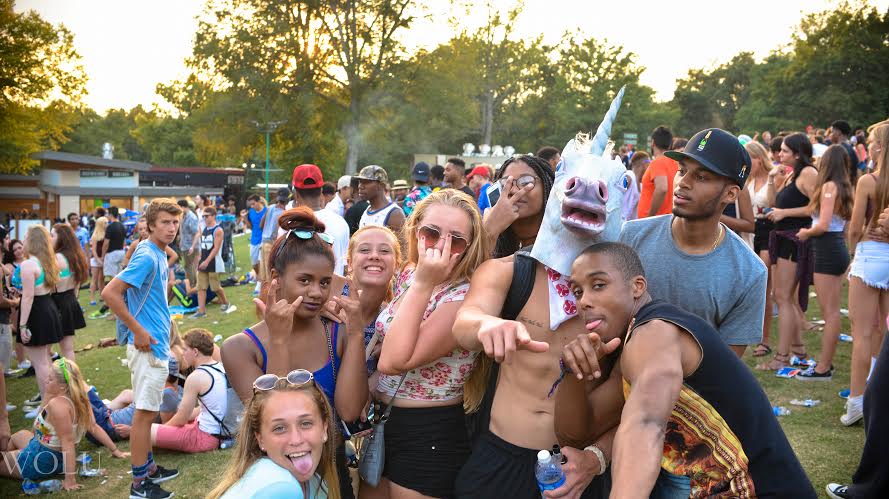 Aside from being a music festival, Trillectro is a social magnet. It's a given that you'll see members of certain scenes — the media, the cool kids, the occasional NBA All-Star — but the same familial environment that made Trillectros one through three so special wasn't left behind in DC.
Talking to my wise-beyond-her-years "little sister"# Paris and watching her play manager for rapper Babeo Baggins reminded me of the time she told me I inspired her. The shit nearly brought tears to my jaded eyes. And it was there, at Trillectro 2015, that I found something that I'd been missing all summer: guidance.
Marcus K. Dowling and Marcus J. Moore are veteran writers, but I look at them like older brothers. They've calmed me down when I've Hulked out over the writing game in the past, and at Trillectro, they gave me the brotherly advice I needed. Moore advised me not to miss Pitchfork Festival again next year because it's a great opportunity to bond with their editorial staff outside of email and Twitter, and Dowling told me I'd eventually have to pick one lane professionally instead of trying to live between two worlds. It's the wisdom you know is true, but don't really digest until you hear it from someone who's been there. Still, another boost from another OG# writer helped frame Trillectro's magnitude in relation to myself.
Chris Richards of the Washington Post reminded me that Trillectro marked the one-year anniversary of our pivotal conversation about me writing for the Post. A little over a year ago, he told me I wasn't quite ready for the challenge — an opinion I disputed in multiple emails. My persistence clearly resonated, because Trillectro is where he told me how much he respected my refusal to accept "no" as an answer. While watching Babeo Baggins' Barf Troop douse the 9:32 stage's audience with water guns, he reminded me of the strides I'd made.
"Look where you're at a year later," he told me as we talked about the piece I had just written about the festival for the Post. "Who knows where you'll be next year."
But as much as Trillectro was about rediscovered zeal, it was also about fun.
There are probably hundreds of stories going on at music festivals — relationships about to officially begin or end; friendships being made; shameless networking — but I can promise you that the backstage antics are always the day's best.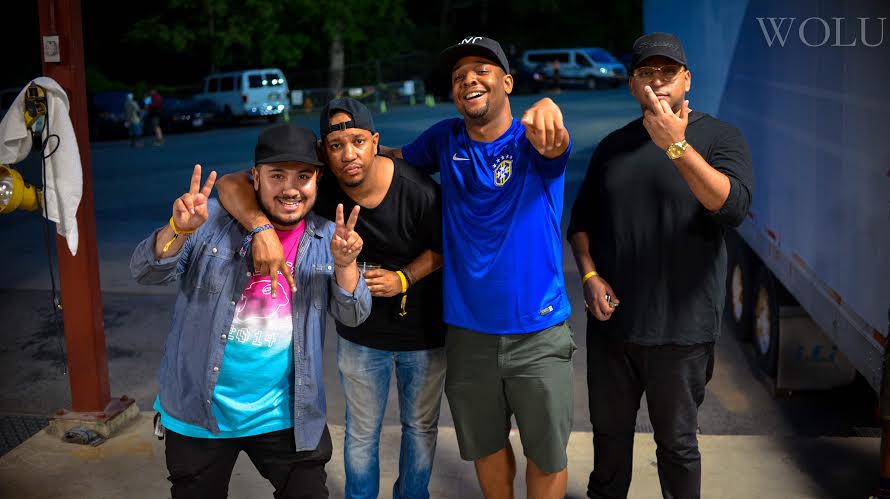 Fifteen years ago, Backstage was released. It was an invasive look at Jay Z's Hard Knock Life Tour, and I wish there were cameras following my friends and I around at Trillectro. We weren't running wild like celebrities at Coachella, but Jamie, Clinton, Rembert and many others joined me in randomly recording a podcast while headliner Chance the Rapper was talking to his carryout food. #
Another downside to my lack of free time was the isolation. When you're damn near in solitary confinement, there's little opportunity to do things like argue about TV shows with your friends on the record. Because this conversation was captured by Jamie's recorder, I'll always be able to relive moments like Rembert's abrupt wardrobe switch and me vanishing from the podcast because our friend, also named Julian, told me to come watch Dom Kennedy's performance.
From the stage.
I've been a Dom supporter for years; he reminds me of the laid-back L.A. dudes I've known since my freshman year of college. Listening to his music is like listening to a friend talk, so being on stage during his set was like watching that friend perform.

The carpe diem overtones of "After School" and mellow hum of fan-favorite "1997" were the moments I had been waiting to experience live since Dom was named as a performer. Finally removed from my mental baggage and in the presence of friends and other like-minded people, I felt like myself for the first time in months.
Music is therapeutic like that, and Trillectro had an abundance of soothing performance highlights.
"Cha Cha" may not have been its apex, but seeing the younger audience react positively to# Bootsy Collins through D.R.A.M.'s take on "I'd Rather Be With You" gave me faith about the next breed of festival attendees. Kehlani's set was an enjoyable struggle to fight the enchantment of her breathy vocals and mesmeric gyrations. I'm hard to impress, and she damn near glamored me like a vampire.
The Connect Four game between Chance and Noname Gypsy was an eccentric touch, but I was more in tune with "Zion". When the song's trumpet-accented slink came to an end, I had an epiphany: Trillectro was my Zion — my utopia away from every responsibility gnawing at my conscience.
As Chance exited the stage, I looked up from the pit at the roaring crowd and was overcome with the feeling you have after returning from a great vacation: "Fuck, I needed that."
***
2015 will be remembered as the year Trillectro "changed," but the lone difference was the location. It was still a reunion/retreat — just one I was in desperate need of. Prior to Trillectro, I felt trapped in a prison of my own design. By the time I left, I felt like Andy Dufresne. I credit Trillectro — the other homecoming I look forward to every year — with helping me free myself. I didn't walk away with a new lease on life#, but I was re-energized.
On the Monday after Trillectro, I did a HuffPostLive segment about social media and the MTV Video Music Awards. My energy was fresh; my wit acerbic and effortless. I was as confident as I was the time I wore a hat that made Waka Flocka jokingly call me a "black Jew." When it was over, I cracked a devilish smile because I knew I was ready to destroy everything in my path during the coming season (fall, my favorite season) and beyond.
I'm back.
Submitted To Music
Like what you read? Share it.
(That helps us.)
Love what you read? Patronize Julian Kimble.
That helps us and the writer.
What is Patronizing? Learn more here.
---