Trillectro 2015: The Good, The Bad, The Beautiful, and the Ugly
---
---
This past Saturday, Julian Kimble and I attended the fourth annual Trillectro Festival, a hip-hop festival created out of nothing by mutual friends of ours who are known collectively as DC to BC.# Because we both have lots of thoughts and opinions, there's no way we could write one, unified review, so you'll get my hot take today and his even hotter take tomorrow/later this week. Cool? Cool.
Huge thanks to Wolu Moore for the exclusive photos. Find more of them here.
***
As Chance the Rapper finished off his electric, hype-fulfilling set at Trillectro 2015, he thanked the crowd and in his signature #blessed tone, he celebrated with what felt like part reminder and part congratulations: "Trillectro 2015! Things were safe! Things were fun!"
And isn't that all one could want out of a festival these days, especially one just hitting its stride as a major annual event?
I don't know. Maybe?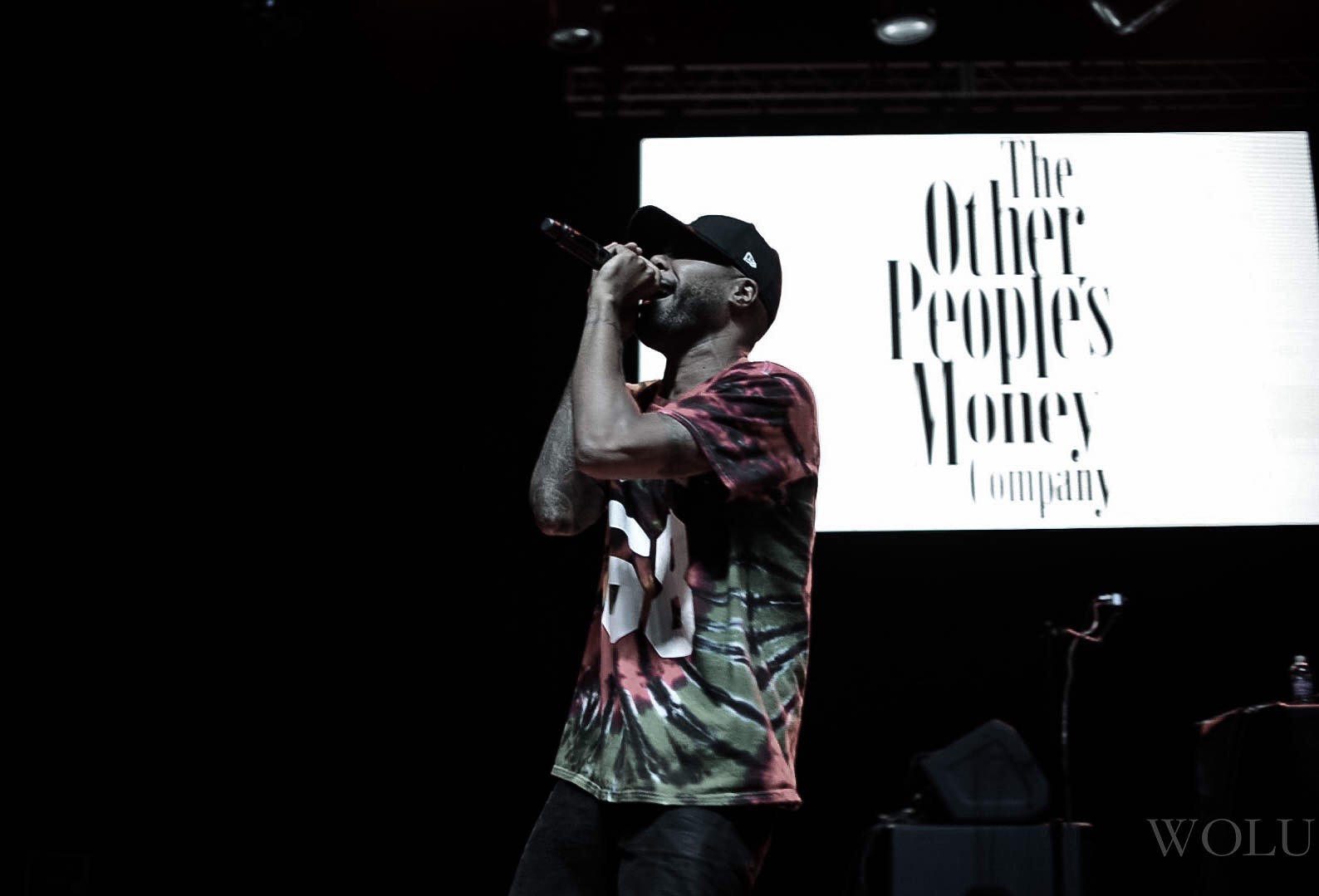 Trillectro's fourth annual festival happened to take place during a very interesting time in mainstream music's evolution. The DC to BC crew who had previously gained notoriety back in 2012 thanks to their foresight in predicting the eventual intersection of hip-hop and EDM now, in 2015, had to deal with the fact that their prediction has come true. But it's not just that the two genres have begun to merge, either; it's that this hybrid offspring has become the new pop, for better and worse.
You couldn't have missed the overwhelmingly white and (very) young crowd that dominated the early hours of a festival that once prided itself on being held in and representative of Chocolate City, but those kids seem to be the staple of any live music event these days; if you build it (and throw on someone playing dubby remixes of Drake), they will come. However, if you squinted your eyes just right, there were some beautiful moments tucked away in the throngs of untrill masses.
Take Babeo Baggins, for example…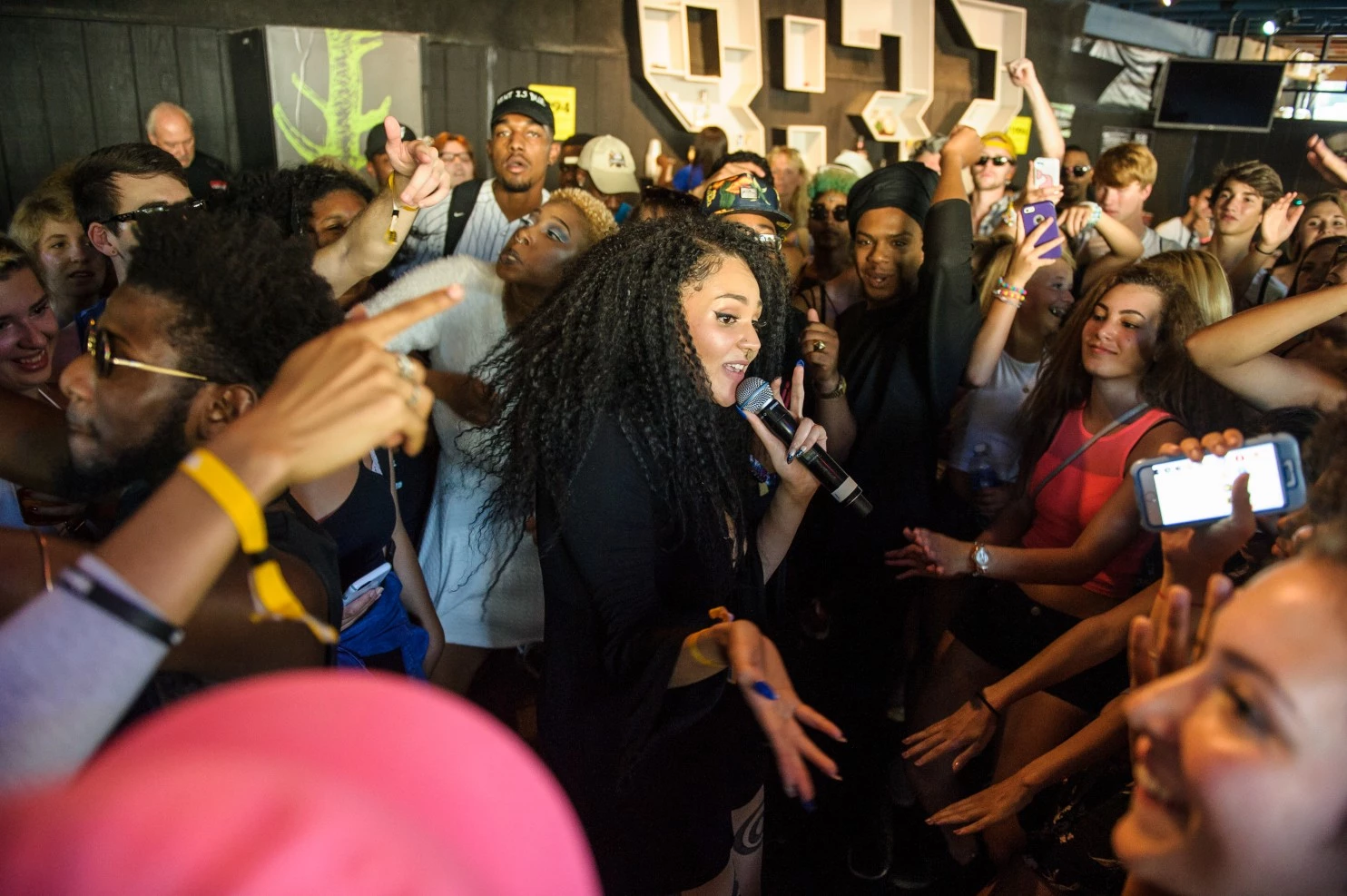 Her and her clique Barf Troop are one of the more fun blog-buzz stories in recent memory. The 22-year-old from Leesburg, Va, who identifies as "a gender-fluid, non-binary person," met the other members of Barf Troop on Tumblr, where they cut their teeth while gaining a nice digital cult following (for more, read WaPo's Chris Richards' piece on her). She seems to be as genuine as one might hope, and to give you a little peak behind the curtain, she couldn't have been nicer when I saw her backstage dealing with everyone from fans to press to fellow artists (there's a great picture of her and D.R.A.M., a personal favorite, out there somewhere in the digital ether).
When she took the stage, she had the crowd locked in from the get-go, letting them know early on that she would be joining them on the dance floor (and following through on that promise in a timely manner). While the cynical music journalist may have then heard what sounded like a talent-show version of Lil Kim-meets-Nikki Minaj, the open-minded one saw a Captain Planet-worthy swath of humanity celebrating hip-hop the way that kind of hip-hop should be celebrated. To hear the doll-faced Baggins and her fellow Barf Troopers throw around the 'feminist' versions of lyrics that explicitly reveal their Odd Future influences was to see empowerment in the making. There may have been someone recording the set with an obtrusive iPad and it may not have been Shakespeare, but it was nothing short of fun to see that many people being so freely themselves in what was most definitively a 'safe space' in every sense of the word. We all don't have to be American Idols, but you can at least grab an iPad and shoot a viral.
Still, to celebrate just the celebrations of the intersection of hip-hop and pop would be doing this festival a disservice. Because hip-hop's conquest of the mainstream hasn't come easily, and the tectonic shifting of the mainstream musical landscape has left mountains and craters that can't go unnoticed.
At one point while killing time during the day, I decided to leave the comfort of the backstage area — which I have to admit was probably the most congenial VIP area you are ever going to find at a music festival, even when you take the Homeless Jesus Factor into account# — so I headed out into the lawn to live among the practice jersey-clad apes to see what I could learn.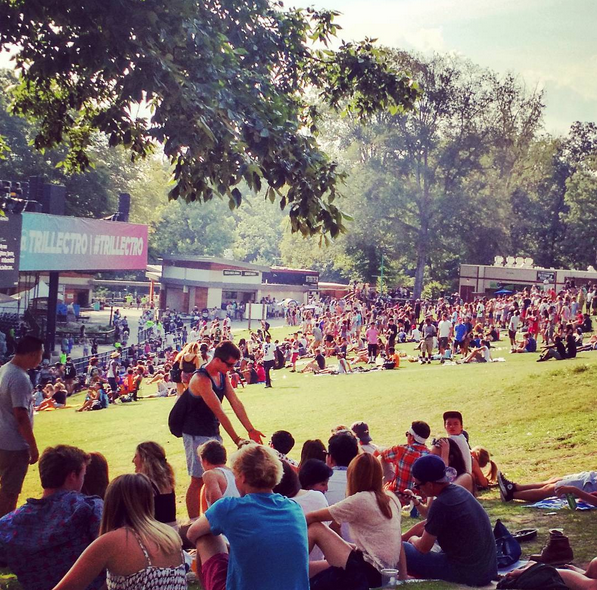 After a few minutes of sociological roaming, I saw a young scamp in a Boston College basketball jersey and figured that name-dropping my alma mater was a good enough way to establish some journalistic trust. However, it turned out that Zack, whose last name I shall withhold even though he spelled it out for me, was apparently still in high school. In fact, he was a junior at T.C. Williams, the school whose Titans some of you may coincidentally remember as being a historical center of racial tension. Nevertheless, I asked him who he was there to see, and with all the indignation that a fifth swig of a whiskey-and-coke will give you, he replied, "RL Grime and Chance the Rapper. No one else here is relevant for shit."
I was ready to ask him eight to nine more follow-ups after that answer, but before I knew it Baltimore DJ Chris McClenney a new Future song, which sent him and his ten closest friends into a frenzied singalong, N-bombs and all. My "good white person" self smelled blood in the water, but as I caught the eye of one of his similarly Polo'ed black friends who was chanting right along with them, I realized it wasn't the time, the place, or the fight for me to have.
As the godfather Marcus Dowling said when I recounted the story later in the night, "We're at Merriweather Post Pavillion! This is what comes with the territory."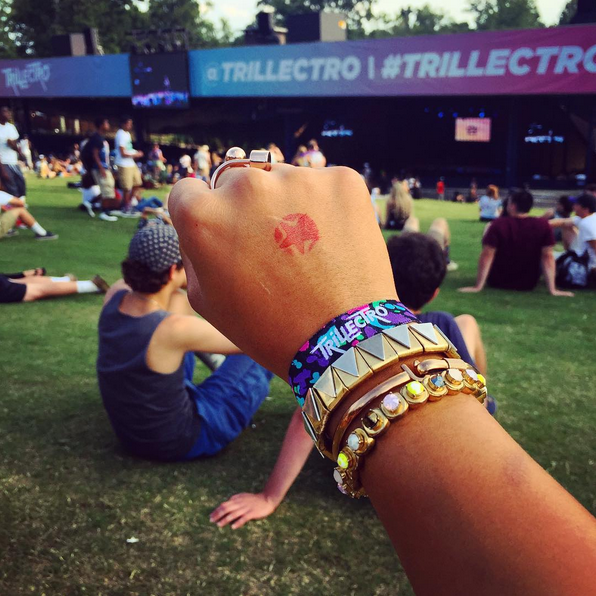 Trillectro has been somewhat infamously known for its slight hiccups over the years, and after changing venues for the third time in three years, having the built-in infrastructure of Merriweather and the uber-pro I.M.P. behind them must have felt like a gift from the gods to the DC to BC guys. No longer did they have to worry about security or ticketing, or even if there were enough bathrooms for everyone. The 9:32 Club at MPP, which acted as their second stage, actually does feel like a baby cousin to the world's best rock venue, and the main stage's light and sound setup are world class.
But there's a trade-off. Semi-local sponsors were dwarfed by Bud Light and Mountain Dew Kickstarter, and where local artists once had tents to hock their wears, only a haphazard 'graffiti wall' and Pop-a-Shot arcade remained. Not to mention, that main stage seems awfully big when its hot and bright and filled with just two turntables and a microphone; the only person I've ever seen truly own a daytime hip-hop set there was Kendrick Lamar at the 2013 Sweetlife.
However, having said all that, there's no denying that once the sun goes down and the lawn becomes only a reflection of the stage lights, Merriweather Post Pavilion is one of the best places to see a headline artist play. When you look at the photos and videos taken once the later crowds packed it in for the more featured acts, you'll see the kind of grandiose, professional show the DC to BC guys probably always dreamt about when they were most likely losing years off their life stressing over every logistical detail that comes with planning an event of this size.
However, while JMSN and Kehlani may have won the most new fans of anyone on the main stage Saturday, the night belonged to the two headliners: RL Grime and Chance the Rapper.
I will fully admit I did zero research on RL Grime before Saturday because he's an EDM-trap DJ and what more did I possibly need to know ahead of time, right? Well, it turns out that RL Grime is Henry Steinway, who I know better as Clockwork and who has a nice little resume as a Wikipedia page. But more importantly, he was the consummate DJ that Saturday night.
What live DJs get paid way too much a lot of money to do is cultivate a vibe, and for over an hour he strung together one of the most fun DJ sets I have ever had the pleasure of being in the middle of a crowd for. Of course there were the necessary tracks thrown in there — I ate it up when he played the entire "Back to Back" verse, just like everybody else — but then he'd throw in an unexpected gem like "A Millie" out of nowhere, only with a lot more electronic bass and trap breaks. After Dom Kennedy's professional but under-appreciated set, it was the fire everyone needed lit under their ass in advance of the real reason why ~80% of the crowd had traveled out to Columbia, MD:
Chance, the Rapper…
In only a few short years, Chance the Rapper has made sure everyone now has to say, "he's not just a rapper anymore!" whenever they talk about him. It's not just his acting pursuits (though everyone should watch Mr. Happy when they get a chance) or his throwback-sounding Donnie Trumpet side project that was in full effect at Trillectro; it's because he's become a full-fledged showman.
With a blaring trumpet as a hype-man, Chance infused his set with an emphatic exuberance that would turn atheists into believers. His command of the crowd, whom he now feels more than comfortable relying on to finish any and every line, and his mastery of his own material has given him the freedom to turn his set into a capital-P performance. His duet with scene-stealer Noname Gypsy included an 'impromptu' game of Connect Four and his ability to know when to hold a silent beat felt Broadway-ready. He was, in the best sense of the word, exhausting.
And isn't that all you could really ask for from a festival in 2015?
I don't know. Maybe?
When Julian and I were driving back, we couldn't help but lament a bit over some of the changes we'd seen in Trillectro over the years. I joked that when I was in the crowd for A$AP Rocky's surprise appearance at the Trillectro festival held in the Half Street Fairgrounds, I feared for my life a little bit (ya know, in a fun way). We wondered if they'd bring it back to DC next year. Could they find a venue that was as hospitable as Merriweather but let the fire of Trillectro burn its brightest?
I think that's got to be what everyone, including the DC to BC crew, is asking themselves right now.
Submitted To Music
Like what you read? Share it.
(That helps us.)
Love what you read? Patronize Bryce Rudow.
That helps us and the writer.
What is Patronizing? Learn more here.
---