We (mostly) correctly predicted everything about Summer 2015
---
---
People act like it was so shocking We Are Your Friends, the movie starring Zach Efron as an EDM DJ, was a flop of historic proportions. But any loyal reader will remember that Random Nerds' very own Charles Bramesco called this months ago in his piece "Hollywood Is Still Trying to Find its Rhythm with EDM":
Goodness gracious, is this ever a calculated reach-around for the molly-addled party monsters that exist solely in Warner Bros. executives' imaginations. The advertisement conveys the vaguest possible understanding of the physics of electronic music, trying to pass off a three-BPM increase as a totally gnarly sick move (, bro). The trailer specifically foregrounds the line "…all you need is a laptop, some talent, and one track."

…Even with an MDMA-lowered brain cell count, EDM devotees can tell when they're being pitched to. All that nonsense at the beginning of the trailer, about how EDM is somehow the answer to the debt crisis and economic meltdown and all of your broken dreams, feels as hollow as a chocolate bunny.
Which got me thinking about all the other stuff Random Nerds has been on the nose about the past few months…
On June 12th, just three days after its release, yours truly had already dubbed The Weeknd's now-inescapable "Can't Feel My Face" the worthiest contender for the Song Of The Summer crown:
…It takes a really hot pop jam to melt my cynical icy heart, but this is it. Abel Tesfaye, crawl out of that sonic niche you've been living in, and welcome to pop superstardom.

And well before Wet Hot American Summer: First Day of Camp was dominating everyone's Netflix streams, Charles Bramesco had birthed an entire subgenre based on its creator, David Wain, which has since become official Hollywood jargon:
@Random_Nerds @michaelianblack I'm with him, he's aware, and he's worked the new catchphrase into 5 different convos in the last hour.

— Krister Johnson (@KristerJohnson) June 24, 2015

Plus let's not forget that on June 9th, back when nobody was even aware there was a presidential election coming up, we were on the #Bernie2016 bandwagon with "Bernie Sanders for the well-intentioned, semi-informed layperson":
Bernie Sanders isn't a longshot because of the things he believes in. He's a longshot because he doesn't play politics the way you have to in order to succeed under our current (broken) system, and he is a longshot because we're experiencing an epidemic of political apathy in this country. In order for Bernie to win this thing, he just needs people to pay attention and give a shit.
Not bad, right?
That's just the tip of the iceberg…#
On April 24, in our very first installment of Some Songs Considered, Julian Kimble declared Kendrick Lamar's "Alright" was going to be the "Dancing in the Street" of our era.
And wouldn't you know it, nine weeks later, on August 3rd, Slate's Aisha Harris asked "Has Kendrick Lamar Recorded the New Black National Anthem?", which we have to assume was a rhetorical question.
But our psychic abilities aren't only limited to the vapid realms of pop-culture and politics…
When our illustrious CEO Joe Corbett wrote "Here's what PS4 Update 3.0 should be," back in July, he said, "Give me something like Nintendo's Miiverse that is dedicated to social content about the PS4." Lo and behold, on September 1st, Playstation announced Communities, a place where PS4 users "will have the ability to create communities based around shared interests, like games, genres, and more."
And when Joe wrote how 1TB isn't enough storage for a PS4 (and showed you how to very easily upgrade it to a 2TB hard drive), it was because he knew it was only a matter of time before a game, which turned out to be Destiny: The Taken King, would require that kind of storage bump.
The private match-making feature they finally added to Splatoon? Suggested by Joe back on June 15th, along with a few other cool potential updates.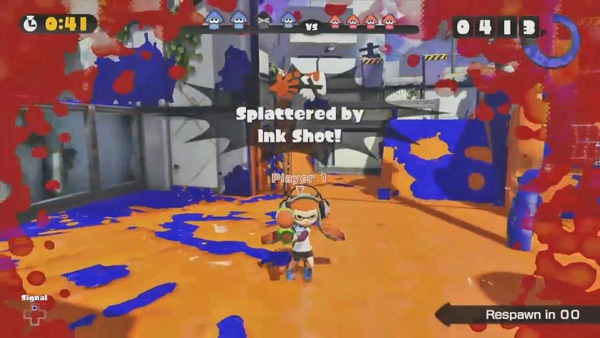 Is that a little egg ink on your face, ye who daren't believe in our cosmic abilities?
Sorry, just a little Splatoon humor…
I'm just saying, the next time we tell you "Mr. Robot is the best show you're not watching" or that "The Winners of Steve Case's Third Wave of the Internet will be decided by User Interface Designers", you might want to write it down on a sticky note or something.
In fact, you can go check out our Game of Thrones Season 6 predictions right now. And I'm still guaranteeing that the leathered-out girl army from Taylor Swift's "Bad Blood" music video will be the #1 Halloween costume this year.
Plus maybe now you'll pay attention when we tell you our Patronizing system is the financial model of the future.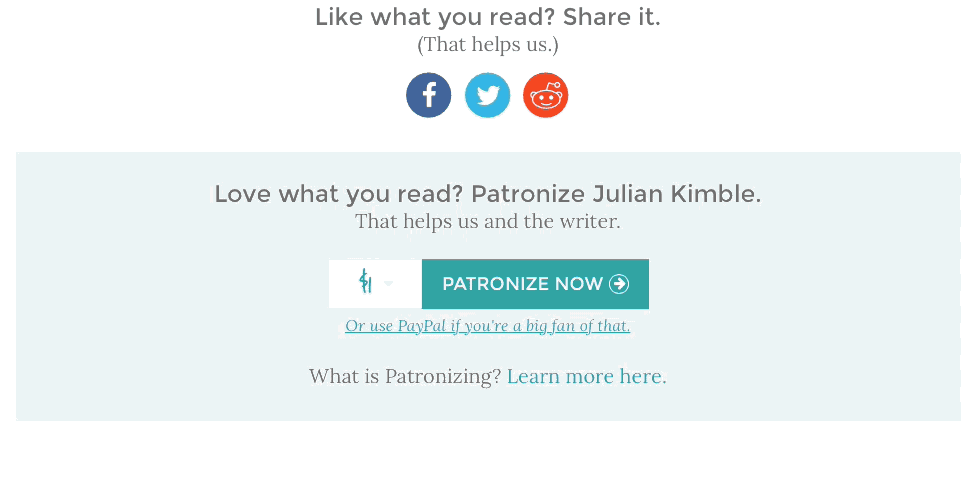 Submitted To Bernie Sanders, Film, Letter from the Editor, Music, PS4, Television, The 2016 Election, The Art of Writing, Wii U
Like what you read? Share it.
(That helps us.)
Love what you read? Patronize Bryce Rudow.
That helps us and the writer.
What is Patronizing? Learn more here.
---