Wild and Peaceful: Remembering Teena Marie
---
---
Introducing a new musician usually involves showing the world not only what they can do musically, but who they are. A face is supposed to accompany the name and the voice in order to leave a deeper impression; that's basic marketing.
However, the absence of Teena Marie's likeness from the cover of her 1979 debut, Wild and Peaceful, was strategically deliberate.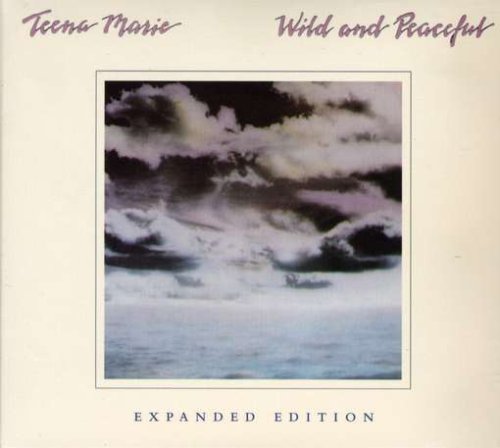 Her record label, Motown's Gordy imprint, marketed the album to black radio under the impression that audiences literally and figuratively wouldn't buy a white girl singing a song called "I'm a Sucker for Your Love"# — even if she was singing her ass off over Rick James' bubbly, sophisticated funk. (In 2006, Marie told NPR that people were still shocked to learn she was white.)
In fact, Teena Marie's whiteness wasn't confirmed until a blistering Soul Train performance with James the same year,# prompting Gordy to say "Fuck it" and emblazon her image on the cover of 1980's Lady T.
Yet race was an unavoidable part of Marie's career narrative as "The Queen of Ivory Soul," a thorned crown she was adorned with by the masses and media that covertly connoted, "Damn, she's good — for a white girl."
However, by the time she died on the day after Christmas in 2010 at the age of 54, that once-backhanded compliment had become a badge of honor. And it never overshadowed her gift.
***
Phrases like "ivory" or "blue-eyed" soul are antiquated in this era because we '80s babies grew up hearing our parents play music from that category: Marie, Bobby Caldwell, Michael McDonald, and even Hall & Oates. We watched Justin Timberlake transition from being a boy band's Steph Curry to making a lead solo single featuring the Clipse and owing his best work to the Neptunes and Timbaland. Another Justin — Bieber — is on a similar path now that he's doing adult music, and both Adele and Sam Smith have voices (and music) that bring tears to people's eyes, race be damned. The kids born into the '90s like Bieber care even less#. Their attitudes are shaped by an atmosphere where almost everything aside from an artist's output is irrelevant.
Marie — who got away with lyrics like "You got a sista fienin', baby please," # — played a large role in rendering external factors like race extraneous. She referred to herself as a "black artist with white skin," proving she was aware that 1. she was making "black" music, and 2. that she was white (and therefore devoid of Rachel Dolezal's delusions). Not only was she that good, she was also respectful — she always paid homage — so nothing Marie did ever felt like appropriation. And because she gave that respect, it was reciprocated enthusiastically.
Paul Mooney, Negrodamus/notoriously (and hilariously) staunch cultural critic, sang her praises with no hesitation:
I used to open for her in Beverly Hills and other places when she was with Rick James. When Motown signed her and released her album they didn't put a picture on it and when they did put her picture on it black people went into shock. We couldn't believe it.

She was tough. I love me some Teena Marie—she was bad. She was badder than all of them.
Ever so often, we're blessed with singers whose voices stick with us after the song's over. Whitney Houston had one, Mariah Carey has one, and so does Adele. But while Mariah's voice is known for its range and Whitney's for its power, Marie's claim to fame was that her voice soared.
Take "Déjà Vu (I've Been Here Before),"# for example. Marie's vocals build to a crescendo on the chorus, and that high-note before the first "I've been here before" sounds like a flock of doves being released into the sky. On "Where's California" #, she sings the hook with pristine clarity before hitting those four notes in the song's final 30 seconds, climbing one level higher each time. "Portugese Love" is a flair exhibition, as she switches tempos and languages at ease before fading away like the intense harbor nights she sang about.
And those vocal capabilities were just as impressive as her versatility.
Marie could do it all. She gave us slow-burners like "Irons in the Fire," # and she made us dance to "Behind the Groove"# and "Square Biz,"# which she actually rapped on, offering better bars than those Debbie Harry rattled off on "Rapture."# She could do stripped-down blues like "Yes Indeed" # or funk/rock fusions like "Lovergirl," # but she was at her absolute best when pairing that gorgeous voice with her songwriting ability.
A lot of amazing singers build careers belting out tunes penned by a stable of talented writers, but Marie was an amazing singer and songwriter.
Many have, or, at some point, will ride the turbulent seesaw of young love. On "Young Love," Marie's writing skillfully animates every crushing blow and heartbreaking turn of the disintegrating relationship between two people too young to know it couldn't last forever:

I remember promises
The way I'd feel when we'd caress
I can't imagine where young love went wrong
You said that you needed me
But where is the sincerity?
I guess that with our love that too has flown

Her "Why you wanna grow old on me?" pleas towards the song's conclusion convey the kind of bewildered pain one can only transfer into their music if they've experienced it firsthand. Marie reportedly experienced it often with James, the assumed subject of "Casanova Brown" and all of its melancholy jazz.
A three-act, heartrending tragedy with lyrics like "He's had more girls than Howard Hughes had money" and "Wasn't I the one who said I'd have my cake and eat it too?/Just couldn't wait any longer, you pushed 'til I was through," it paints the scenery of a stormy relationship built to fizzle out, but not without leaving scars in the process.
The fruit of the passion between she and James was powerful music like "Happy" # and, of course, "Fire and Desire."#
Although their chemistry was electric, Marie's supreme accomplishment was the legacy she eked out apart from James and his glitter-dusted shadow.
Amazingly, Teena Marie's greatest contribution to music didn't involve a microphone, instrument, or studio.
Record labels used to be even worse about abusing the power they held over artists, operating with no regard for their rights. But in 1982, Marie sued Motown for release from her contract after the label accused her of breaching it, a victory that yielded what's known as the "Teena Marie Law": an edict which made it harder for labels to bind artists to their contracts like hostages without releasing their music. "[I]t helped a lot of people, like Luther Vandross and the Mary Jane Girls and a lot of different artists, to be able to get out of their contracts," Marie told the Los Angeles Times in 2004.
Her name may not be the first to come to mind during conversations about the greats, but Teena Marie is a legend. She touched fans and peers, alike: today's adults who danced to "Ooo La La La" # on Sunday nights with their mothers as children like me, to the artists she helped free from music industry prison. Marie was special — special to everyone whose soul she pierced with that beautiful voice and those percipient lyrics, no matter how exuberant or agonizing they were at times.
Teena Marie wasn't a white anomaly who succeeded against the odds, she was merely a unique artist, exceptional and influential until her final days thanks to her catalog and unintentional sway of the industry.
***
Your favorite artists' music adopts a bittersweet layer once they die. It becomes more precious; something you hold closer to your heart. Every year since Teena Marie's death, once radio stations finally stop playing Christmas music, I listen to my favorite songs of hers on loop because they carry new power. I can't hear "Where's California," a ballad about her home state, without thinking about another homecoming: death.
"Déjà Vu," the 1a. of my favorites, is an ode to reincarnation that's only grown more poignant now that she's gone:
If hate is on your mind
And you can't give love the time
If anger is your friend
Don't you know when you die, you'll come back again
And in the master's plan
You'll come back woman or man
If your life is full of sin
Don't you know when you die, you'll come back again

RIP Mary Christine Brockert,
1956-2010
Submitted To Music
Like what you read? Share it.
(That helps us.)
Love what you read? Patronize Julian Kimble.
That helps us and the writer.
What is Patronizing? Learn more here.
---