WWE Is Dead. Long Live WWE.
---
---
Pro wrestling's dead. Hulk Hogan's vitriolic hatred of black men who aren't wealthy and "eight feet tall" having sex with his daughter now being public knowledge didn't just kill his professional career, it also killed pro wrestling dead, too.
But that's okay.
Thankfully, long before Hulk Hogan cut a real life promo that made every '80s wrestling fan remember everything that was deplorable about our guiltiest pop culture treat, World Wrestling Entertainment was aware that "pro wrestling" was on the decline. In response, they've been attempting to push a particularly gripping brand of "pro fighting" (which just happens to occur in wrestling rings) that's a microcosm of this current age where struggle feels like the standard and revolutionary changes are the expectation.
It's not really so much a wrestling show anymore, as much as it's a series of conflicts and confrontations occurring that have nothing to do with professional wrestling in the traditional sense. And it's actually great! There's incredible athleticism, fast-paced action, and performers who aren't just "characters," but rather athletes with skill, passion, and a desire to succeed in their profession. Just look at some of the most recent successful storylines, and you'll be completely convinced that WWE is presenting an evolving product.
While the era of WWE dominating what we knew to be "pro wrestling" is dead, the era of fighting is here, and it's still WWE nonetheless.
Long live WWE.
***
Jorts-wearing, square-jawed, clean cut and All-American white rapper dude John Cena is still being (albeit, divisively) pushed as the Hogan-esque marketing face of the company for 2015. However, in a moment that never happened to Hogan when he was the face of the company, a portly and scruffy Canadian guy with minimal name value as a performer in World Wrestling Entertainment named Kevin Owens beat up and pinned Cena in what could be best described as a "hyper-athletic" fight at May's Elimination Chamber event.
Owens is a product of WWE's talent development experiment NXT, an Orlando, Florida based training center/developmental promotion where a mix of new-to-wrestling performers and established journeymen and women can prove their worth to be elevated to the main touring roster. Owens was so gifted that he spent less than six months in NXT before reaching the main roster. Immediately upon doing so, he unleashed a very "real" feeling speech in his debut, telling John Cena that though Cena was his son's favorite wrestler, Owens didn't care. He was going to beat Cena up anyway because beating Cena allowed Owens to earn more money to make a better life for himself, his aforementioned son, and his wife.
This isn't Jake "The Snake" Roberts allowing his python snake to bite "Macho Man" Randy Savage in the bicep. This is a man fighting another man for a reason that in a time of economic crisis for many is a lot deeper (and more 'authentic') than typical pro wrestling fare. Historically, pro wrestling matches in the modern era never mention the idea that the fight between two opponents involves monetary earnings; a championship is a championship, and everyone is ostensibly a well-enough paid "WWE Superstar" in the "WWE Universe." When Owens says he wants to beat Cena because there's more money involved if he wins the match, that's such a novel idea in how WWE typically discusses wrestling that it creates a reason to set down the remote control and stay engaged.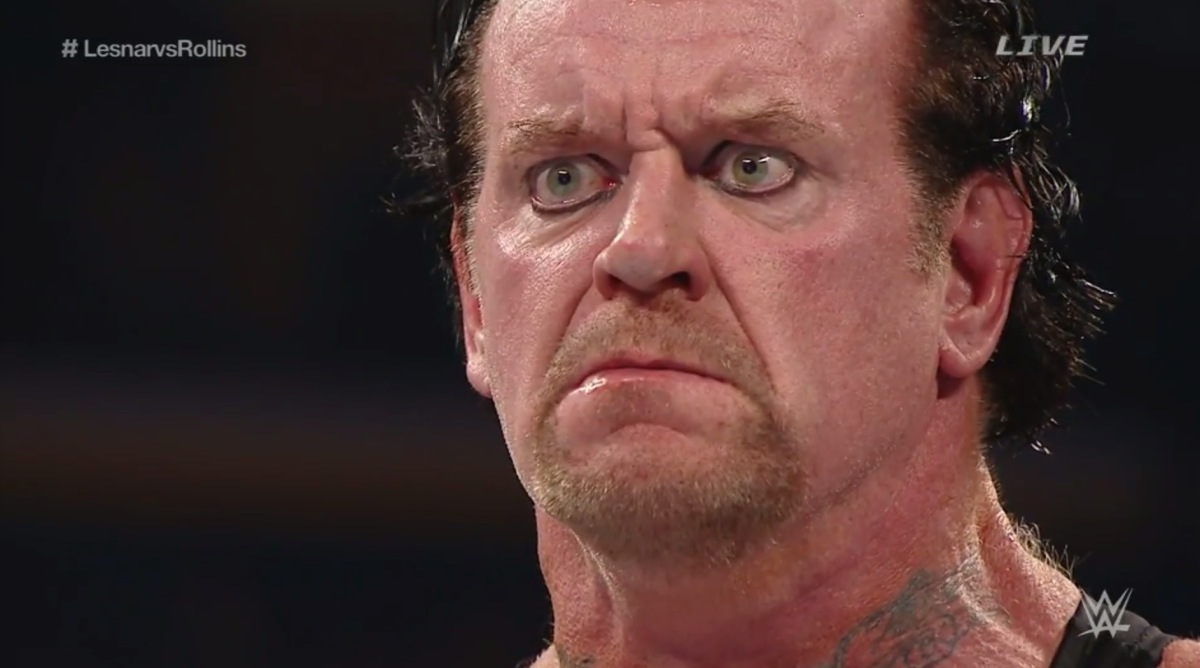 Not to be outdone, The Undertaker has returned (again) to World Wrestling Entertainment. Yes, this is the supernatural "walking Deadman" who for 25 years in pro wrestling controlled the lights in the venue, made lightning appear with the wave of his hand and performed other feats of supernatural magic. More importantly though, in currently being a long-time WWE veteran who wasn't taped calling black men who want to have sex with his daughter "f**king ni**ers," the wrestler born Mark Calaway is the only connection long-time wrestling fans have to an era where it was safe and idyllic fun to suspend one's disbelief.
At the just-completed Battleground event, he 'returned' by kicking hulking behemoth of a wrestler-turned-mixed-martial-artist-turned-wrestler-again Brock Lesnar in the genitals as Lesnar was wrestling WWE Champion Seth Rollins in the main event, and the following Monday's episode of Monday Night Raw saw The Undertaker and Brock Lesnar get into a very real (read, VERY loosely scripted) fight (note, again, NOT a wrestling match) that needed 40 wrestlers and 10 security guards to intervene.
The ratings for Raw increased 15% from the previous week.
Because it was not the "walking undead wrestler" wanting a wrestling match, but rather a tough 50-year old man who the entire crowd thought could beat up an arrogant and unbeatable 38-year old punk who has a habit now of saying that he's taking his opponents to "Suplex City, bitch." Less Hulk Hogan versus Andre the Giant at Wrestlemania III and more 45-year old George Foreman famously fighting 27-year old Michael Moorer for the heavyweight boxing championship of the world in 1994.
It may not be wrestling in the traditional sense, but as the main event at SummerSlam, it may prove to be the huge draw WWE desperately needs.
If you're still thinking that Vince McMahon is at the forefront of all this, think again. The 70-year old McMahon has minimal control (but final say, however) over what happens in his evolving monolithic company, and the past 18 months have seen Vince's daughter Stephanie McMahon-Levesque become the company's Chief Branding Officer, while her husband and 13-time World Heavyweight Champion Paul "Triple H" Levesque is the company's Executive Vice President of Talent, Live Events & Creative. This is basically a long way of saying that Stephanie shapes the public perception of the company by aligning the company with popular and positive causes, while Triple H helps groom new talent, make sure that the matches are entertaining, and plays a huge part in the development of storylines.
Things like Kevin Owens beating John Cena and The Undertaker and Brock Lesnar brawling in an epic, "unscripted" manner are all the purview of Mr. Helmsley, and they've been great additions to the company's on-screen presentation. However, when Stephanie McMahon introduced NXT women's wrestlers Charlotte (the daughter of legendary Ric Flair), Sasha Banks, and Becky Lynch to the main roster on July 13, 2015, she orchestrated a move that did far more than alter an episode of Raw by combining fighting with a strong brand synergy to the third-wave feminist movement. In all actuality, through this debut she changed the perception of what in-ring action involving men or women could do to reflect top-tier athleticism and reflecting social change.
The level of excitement surrounding the trio's debut was comparable to anything Kevin Owens or The Undertaker have done in 2015. When the women were unveiled on live global television, they didn't tousle each other's hair and rip each other's clothes off to expose lingerie as women had done in the ring in prior generations. Instead, the three three very gifted and seasoned performers # executed unique submission holds to the surprise and glee of the crowd.
WWE announcers called it exactly what this, and what 2015's other moves are — a revolution.
***
Tuning into WWE television in 2015 won't find you watching a program that involves having to suspend your disbelief as a steroid-abusing racist stomps his foot on the mat and then cups his ear to the crowd. That's dead. Instead, you'll watch compelling performers telling reality-driven stories and fighting each other in a very believable manner.
We live in an era where the racism, sexism, and ignorance glorified by the age when Hulk Hogan reigned supreme is more real and pervasive than ever before. In killing that era of wrestling dead and letting fighting live, we take a positive step in creating a future where terrible stereotypes no longer exist.
WWE is dead. Long live WWE.
Like what you read? Share it.
(That helps us.)
Love what you read? Patronize Marcus Dowling.
That helps us and the writer.
What is Patronizing? Learn more here.
---