Pebble Time Steel Review: It's a smartwatch, not a wrist computer
---
---
I love my gadgets and I love being an early adopter of new technology — this shouldn't be too surprising coming from a guy that founded a media company called Random Nerds — but despite my insatiable desire for having the latest and greatest technology, I do approach certain purchases with a greater level of scrutiny, especially when the product being purchased is part of a new product category that will be attached to my body. For that very reason, I skipped the original Pebble, mostly because it wasn't clear if the investment was worth it for iPhone users (I'm now told that it was).
Enter the Pebble Time Steel, and that apprehension and uncertainty are out the window.
I've been using my Pebble Time Steel for about two weeks now and I'm finally ready to share my impression of this device with all of you.
***
Pebble Time Steel Unboxing Video Animated GIF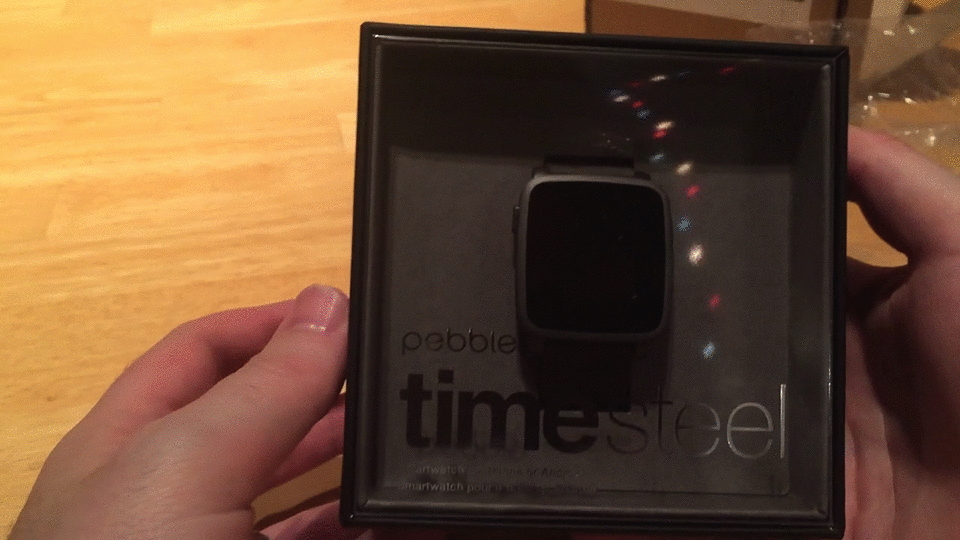 Unboxing the Pebble Time Steel wasn't like the religious experience some of us Apple fans claim to have when we free a new aluminum-and-glass masterpiece from its bleached white paper and plastic monolith. It was, however, clean and effective, but more than anything it allowed me to get at my shiny new gadget quickly and without frustration.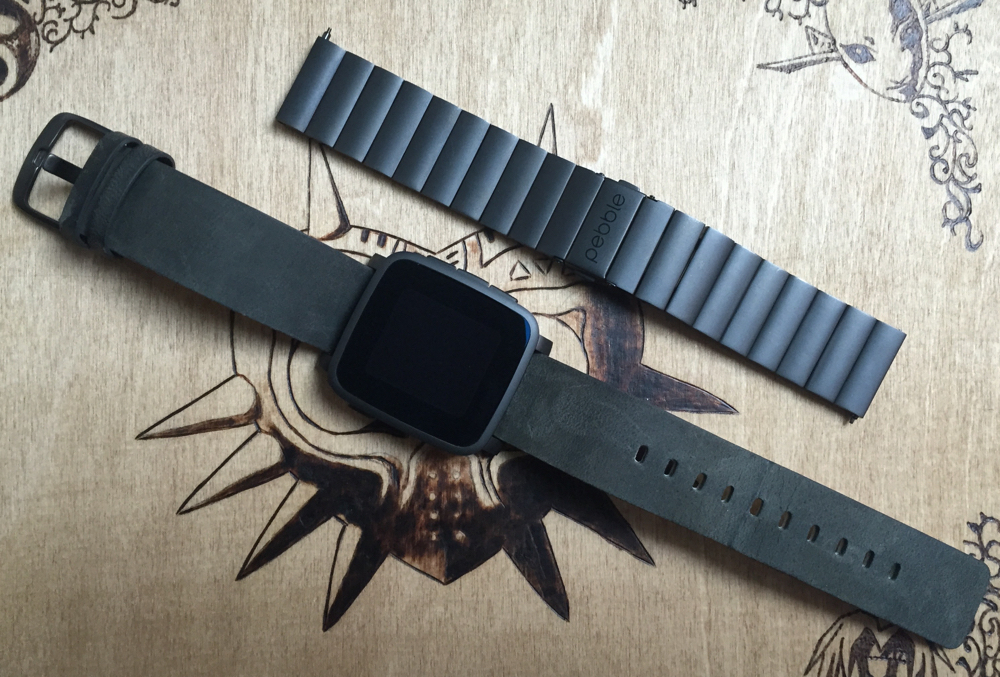 The contents of this unassuming packaging contained my new Pebble Time Steel, a soft leather band already attached, instructions (which I did not read), safety and warranty information (which I also did not read), a USB charging cable, and two Pebble stickers (one of which had the honor of receiving a spot on the lid of my MacBook Pro).#
Timeline Interface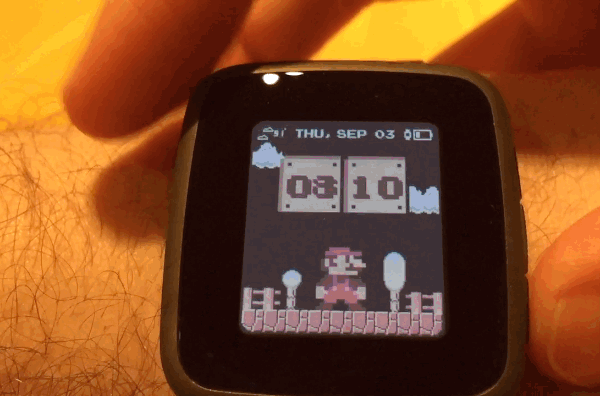 The Pebble Time Steel (and its little brother The Pebble Time) both feature Pebble's new timeline interface, which is essentially your calendar, notifications, missed calls, local weather, and anything else your watch can pull in, all mashed into an easy to navigate chronological list (aka a timeline). To be honest, I don't find it that helpful, and not because it fails as a timeline, but simply because my Pebble Time Steel is always buzzing and flashing me notifications for my upcoming events, messages, and everything else I need to know, so I'm consuming them in real time and personally have little reason to look forwards or backwards.
For people that are a bit more aggressive with time management, I can see the timeline interface being a great way to take a quick peek at the day ahead, but for me, I'm more or less an automaton that only takes action upon receiving notifications (commands) from my smart devices, so autopilot will suffice for now.
Launching an application and using it is simple as well, though it basically has to be, as the Pebble Time Steel only has 4 buttons and lacks a touch interface. That lack of abundant input options forces both Pebble and third party developers to deeply consider how the user will interact with an application running on a device strapped to their wrist, and, so far, this has made for very refined and easy-to-use native and 3rd party applications (see Uber in action above). Simply stated, placing limits on input options has made for a better, more efficient user experience throughout.
Battery Life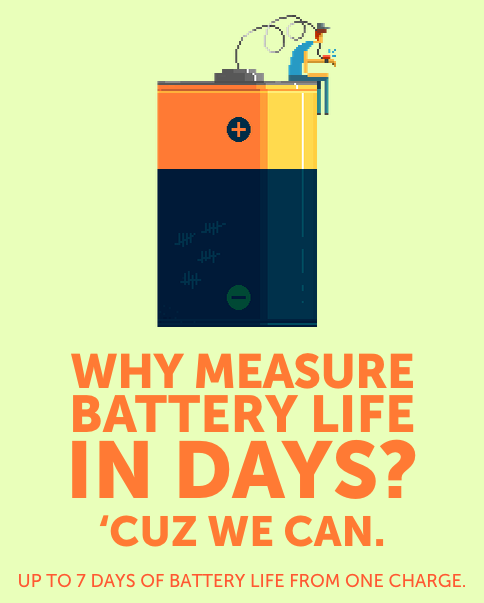 This smartwatch is in a class of its own because it boasts 10 days of battery life. When is the last time you measured the battery life of anything in days?
After the always-on color screen (easily readable in direct sunlight), this was the feature that sold me the most. The decision to build a device with multiple days of battery life, let alone 10, was a brilliant one. Pebble or no Pebble, I was NEVER going to buy an Apple Watch or Moto 360 because 18hrs – 24hrs of battery life is unacceptable, or at least not very smart.
In the two weeks I've had my Pebble Time Steel I've charged it twice, and that was after using it straight out of the box with the battery only charged to 40% and with me endlessly exploring all of its features. Most of us don't actually need to go 10 straight days without charging, but what we do need is to feel like we can actually use our new shiny gadget without the fear that the battery will give up before the day is out.
10 days of battery life means I can use every feature the Pebble Time Steel has to offer with every setting set to "destroy my battery life" and still get nearly a week of usage between charges.
Thousands of Free Watchfaces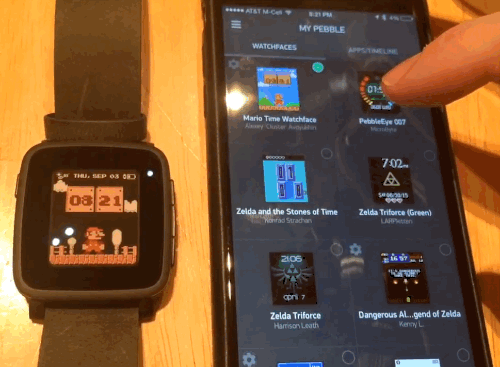 Apple describes the Apple Watch as, "Our most personal device yet," but you'd think the most personal gadget they've made would allow for a bit more customization outside of adding expensive propriety straps and only giving user roughly 11 watchfaces to choose from. In the first hour of owning my Pebble Time steel, I had already downloaded 20+ watchfaces for free, with 14 of them being Nintendo themed. My Pebble Time Steel has already been referred to by several friends and a couple of strangers as "that Nintendo watch," giving me both wonderful fanboy and gadget nerd validation all at once.
As you can see above, changing your watchface happens with a simple tap on your phone (or you can do it directly on your watch), and perhaps the hardest part is making a decision on what watchface represents you the best on a given day. Here's hoping Pebble releases a feature to let your watchfaces update based on a preselected list on an interval that you set.
Italian leather band & stainless steel band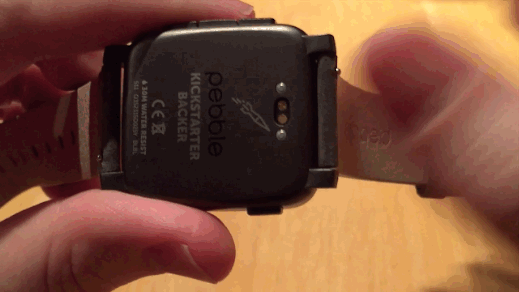 One of the perks of being a Kickstarter backer and selecting the Pebble Time Steel as your reward was the inclusion of a steel band to go along with the leather band that comes with every Pebble Time. Sadly, most of us (including me) will have to wait an extra month or so to receive our steel bands because of some manufacturing delays mentioned in this Pebble Time Kickstarter Update, but this isn't a huge deal; you'll still get your smartwatch as they become available and you'll have a nice accessory to look forward to shortly thereafter.
Luckily I've got this fancy loaner metal band (thank you Pebble team!), so I can tell you a bit about both the bands you'll eventually own.
The metal band is nice and really compliments the overall look of the Pebble Time Steel. When I first held it in my hands, I made an audible "oooooh…" noise of approval; it just felt like a quality piece of gear and made me even happier about my purchase. That being said, like all metal watch bands, it's a bit distracting when it's resting on anything metal and unfortunately for many of us, that means typing on a MacBook Pro would be rather annoying (and possibly dangerous, as one of these objects would most assuredly show signs of wear pretty quickly). Again, this isn't an issue unique to Pebble, but it's worth mentioning.
To combat this nuisance, I made the decision to set my leather strap as my everyday band and use my metal strap for going out and looking fancy. This is fine however, because the leather strap is fantastic; it's incredibly soft and nearly as stylish as the metal band, and I truly like it a lot more than I anticipated.
Both straps feature Pebble's quick-release system, which lets you swap out bands in a matter of seconds, and both the Pebble Time and Pebble Time Steel will work with just about any standard watch strap on the market (though you probably won't feel the need to buy any until third parties start making smartsbands that add to your Pebble Times functionality).
Review Summary
Pebble continues to produce several viable smartwatches to choose from, but as I mentioned in the title of this review, the Pebble Time Steel is a smartwatch not a wrist computer.
My point is, you're not going to completely stop using your smartphone, but you will certainly cut down on the number of times you pull it out of your pocket to find out what all that buzzing is about. Hardcore Pebble enthusiasts might be able to push the utility of this device beyond standard notifications and a handful of native Pebble apps, but the average user will be happy getting what is simply a really smart way to unglue your faces from your smartphone by replacing that action with some quick glances at your wrist throughout the day.
Unsurprisingly, Pebble sums up their approach to making a smartwatch perfectly on the Pebble Time Steel homepage:
Pebble Time Steel keeps you connected to the things that matter most, and look great doing it. Its unparalleled battery lasts up to 10 days between charges, and its bright always-on display never keeps you waiting.
Submitted To Reviews, Wearables
Like what you read? Share it.
(That helps us.)
Love what you read? Patronize Joe Corbett.
That helps us and the writer.
What is Patronizing? Learn more here.
---