Meet the nerd responsible for this Uncharted Nathan Drake pumpkin carving
---
---
Every Halloween I'm reminded how fortunate I am to know Noel Dickover, because every couple of days during the Halloween season he cranks out one or two of the most stunning pumpkin carvings I've ever seen. But these are not your typical pumpkin carvings, however, because Noel is not your typical pumpkin carver. Noel is a random nerd that loves all things sci-fi and fantasy, and that passion shows through in all of his creations.
Though Noel has already been killing it this year on the pumpkin carving front, I couldn't help but reach out and ask him if he'd be interested in being commissioned to create a pumpkin carving specifically for Random Nerds. Thankfully, he was. After a quick discussion, Noel I and decided that since he and I are pretty big Uncharted fans and because Uncharted: The Nathan Drake Collection# recently dropped on the PlayStation 4, it just made sense to make a badass Nathan Drake pumpkin carving.
So without further ado, please enjoy these Nathan Drake pumpkin carving photos, as well as a selection of Noel's favorite carvings and a brief interview with this legendary Pumpkin Carving King.
***
Uncharted: Nathan Drake Pumpkin Carving
---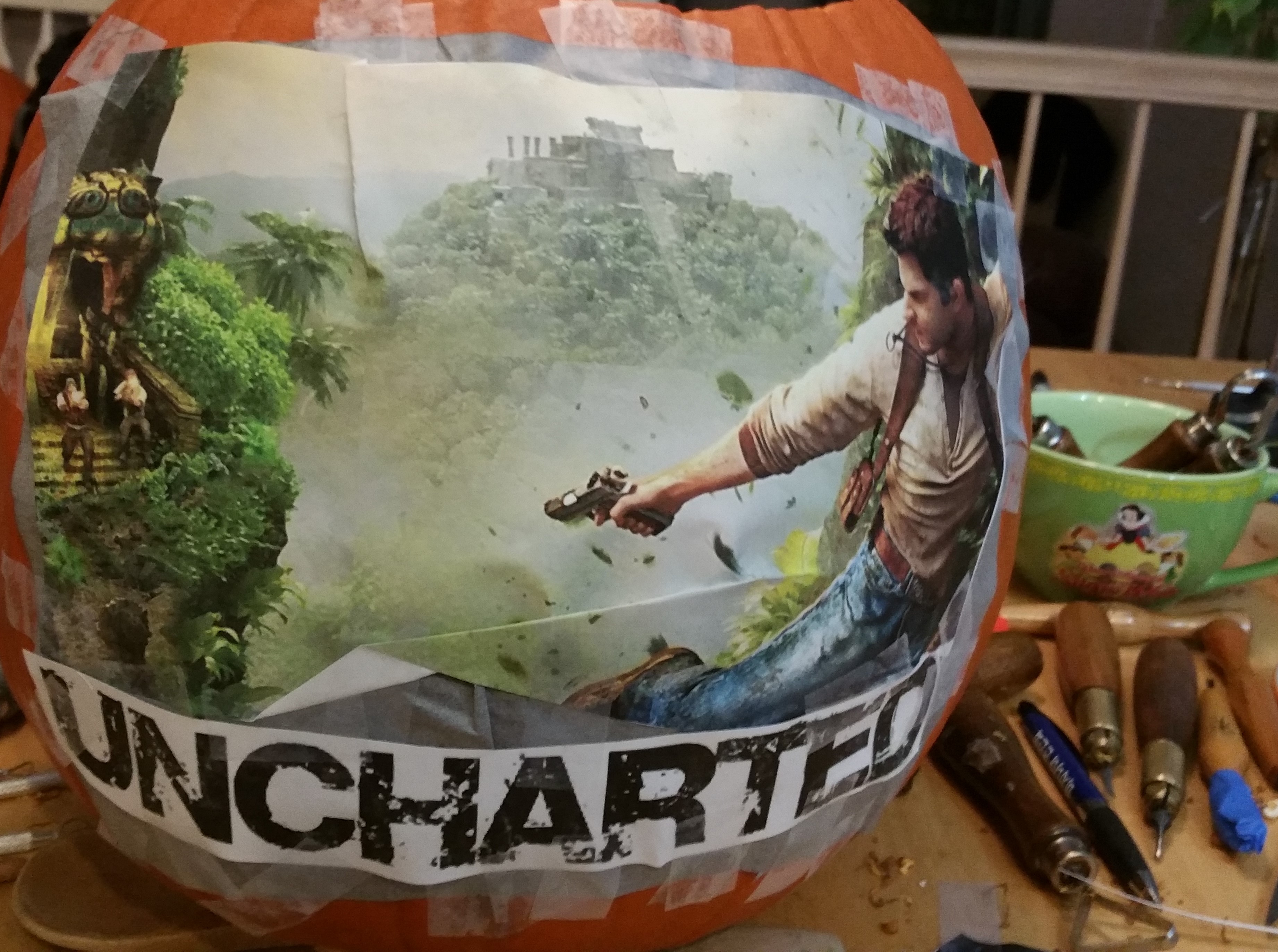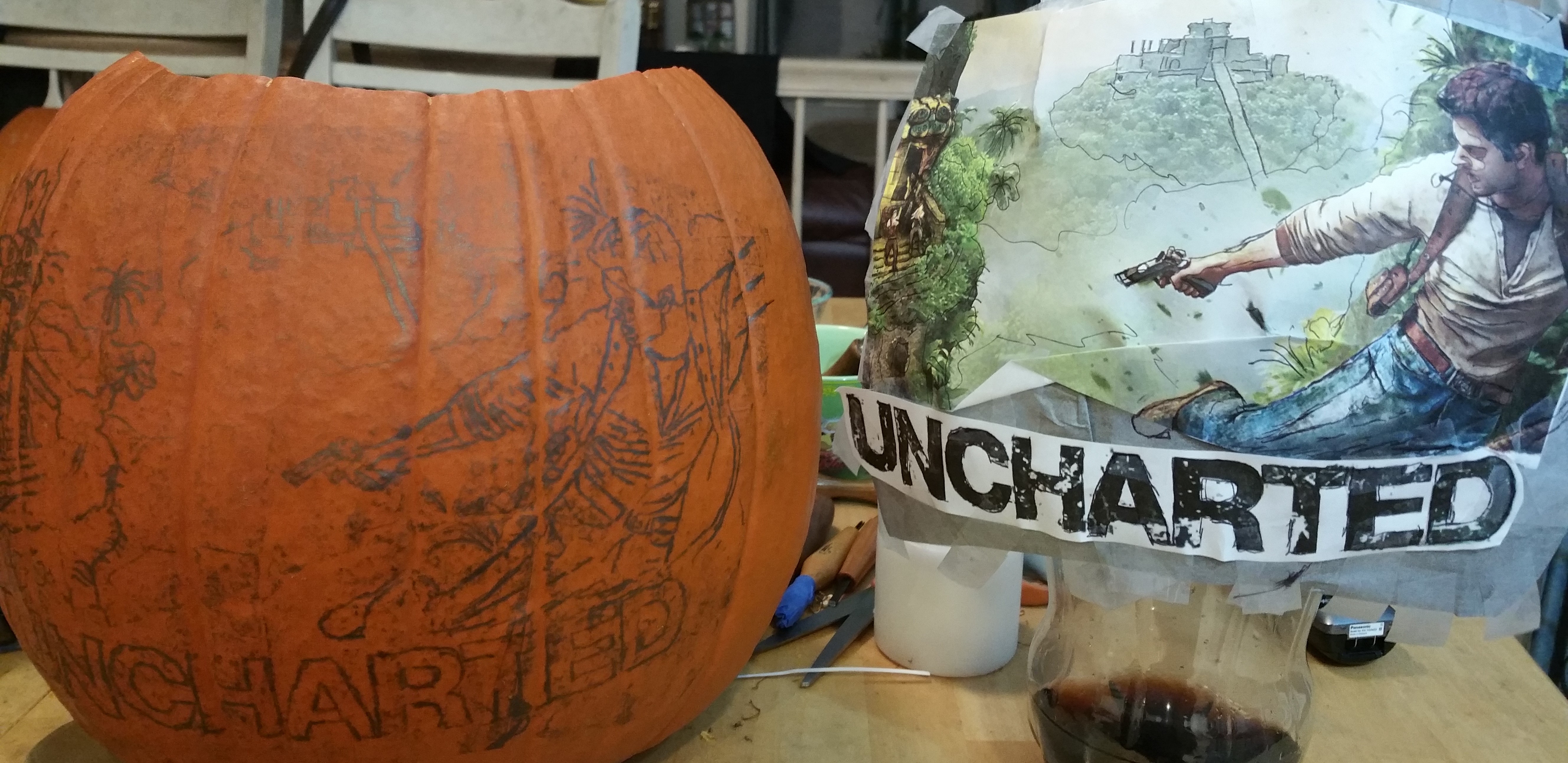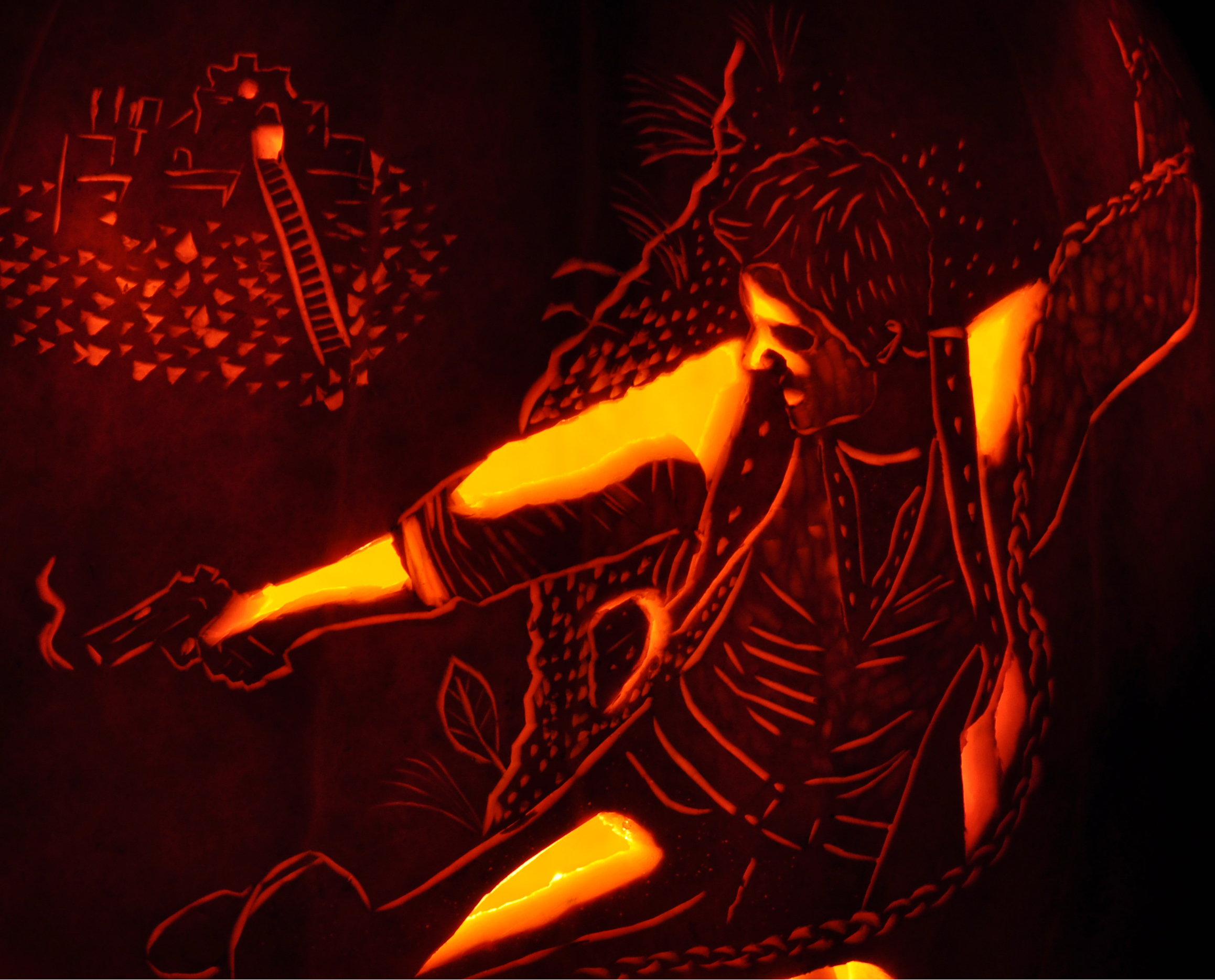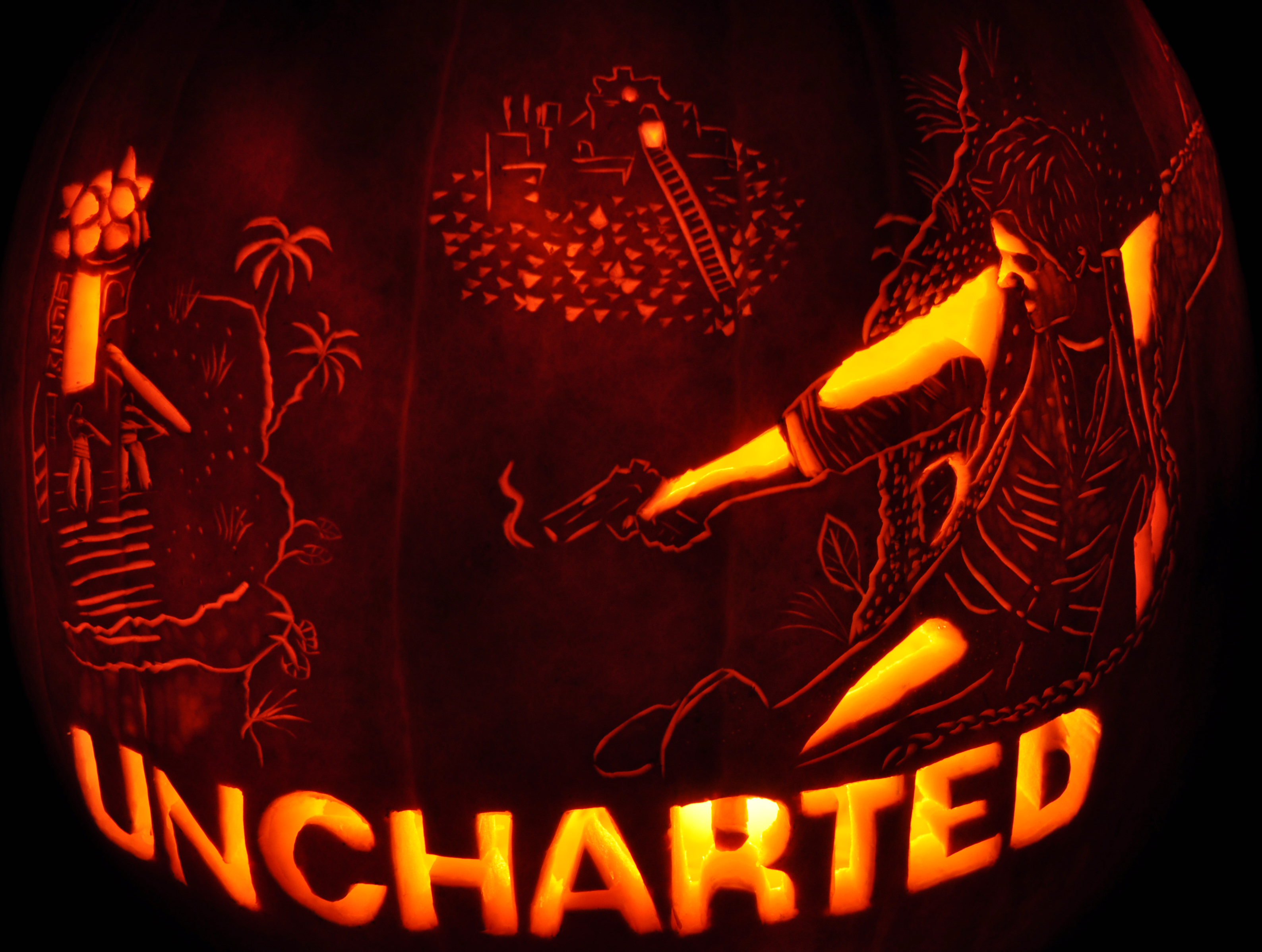 ***
Noel's Personal Favorites
---
***
An Interview with Noel Dickover
---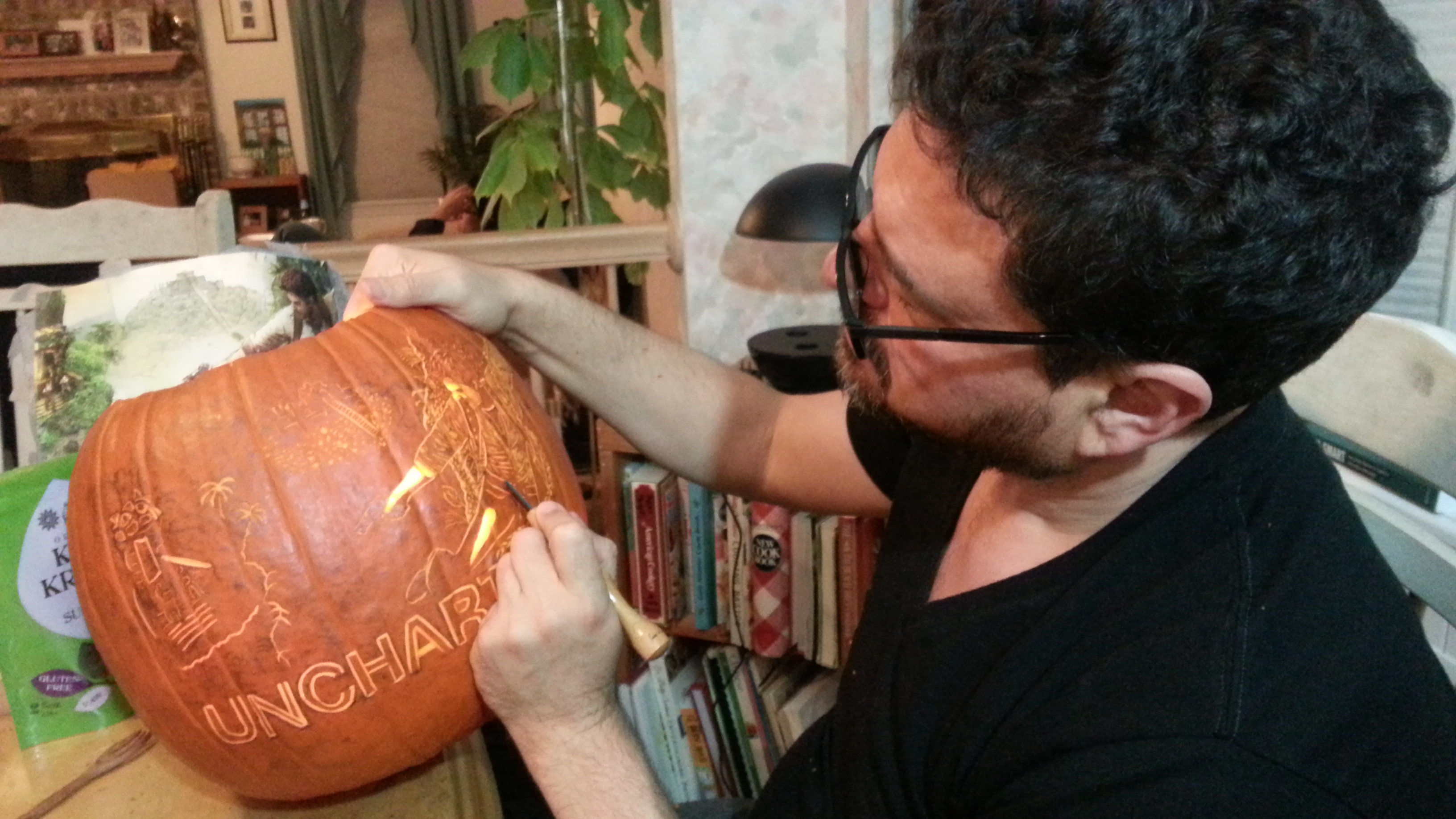 Random Nerds: Tell us a bit about yourself, including what you do when you're not turning pumpkins into art.
Noel Dickover: I work at the PeaceTech lab in DC and definitely like international travel, especially working with technologists and civil society folks around the world.
RN: How did you get into carving pumpkins and how long did it take you to become a 'Super Elite Pumpkin Carving God'?
ND: I started in '98 with like two carvings from patterns I found online – one of Scooby and one of Darth Maul. I eventually got connected with the forums on carvingpumpkins.com, which was a great way to learn. By 2003 I did my first pattern#, Draco, which has now been carved well over 100 times by folks.
By 2008, I started really deviating from the patterns (for instance the Fantasia shot above). Over time, I only really needed visual markers from the picture. Now I use the pictures more as base for what I want to do.
My whole focus is all about playing with textures. I have a good set of tools to make a variety of cuts, but really, the possibilities are dependent on the specific pumpkin I'm using. If it's a drier pumpkin, my choices are limited. Or depending on how easy it is to play with the depth of the skin, I can get some pretty cool looks. Nathan's pumpkin was dry, but the skin was great – it allowed me a lot of flexibility in playing with skin textures (as opposed to digging down in the meat of the pumpkin). I also get lots more interest in scenes more than single figures, unless its a really cool monster or dragon.
RN: Tell us about your process for selecting the right pumpkin and turning it into a orange glowing masterpiece.
In rare cases, you just "know" when you see a pumpkin. Best case of this was my R2D2 carve. I saw it and said, "That's R2D2!"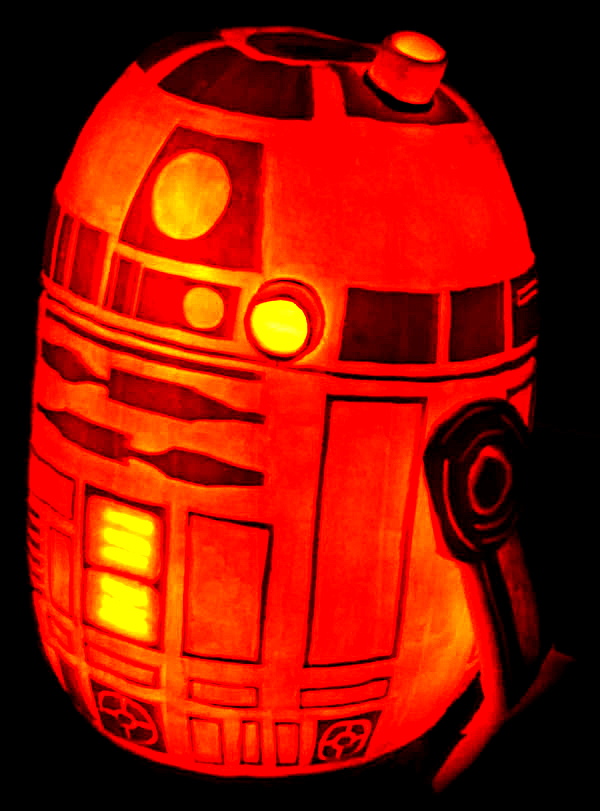 But usually you are looking for either a portrait or landscape type space that doesn't have a lot of deep grooves. This is, of course, dependent on the size of the pattern you are thinking of. If it's a 20+" pattern to get the details, obviously you're talking 80lb+ pumpkins.
RN: How many pumpkins do you carve each Halloween season and what does that translate to in dollars?
ND: This is a major money-losing operation in that sense. We've been carving somewhere between 40-50 the last 3-4 years, with at least 3-4 large, 80-150lb sized pumpkins. It's pretty likely that our number of carvings drops as our kids, both of whom are absolutely fantastic carvers now, go off to college and our nieces and nephews get caught up in life.
RN: What was your most challenging carving and why?
ND: Probably my Predator vs Alien carve from last year because of how crazy hard the carving was. OMG!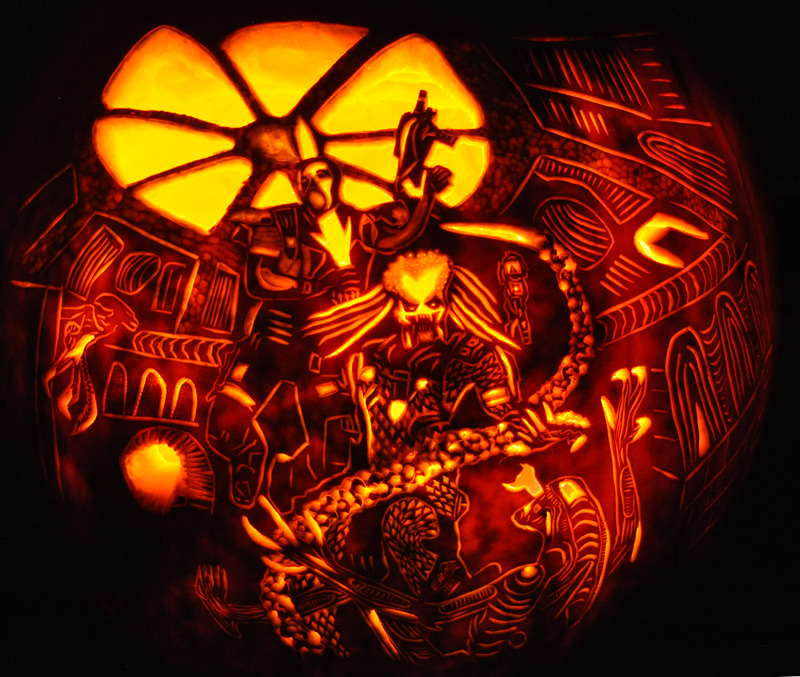 I mashed up a background scene of a space ship with a modified shot of a Predator taking on an alien and human at once. I did this on a huge pumpkin, of course, which had a large curve to it. Because so much is happening in this scene, I had to make really distinct textures to identify the alien from the Predator (look at the alien's tail, for instance, as compared to the Predator's leg) in all that mess. The other huge challenge was to try to make the carve so that the round room "looks" right in the photo.
RN: What one piece of advice would you give to aspiring pumpkin carvers everywhere?
ND: Two pieces of very practical advice:
1. Carve the top (or bottom, depending on what you are doing) at an angle so the top doesn't fall down into the pumpkin.
2. After you do the shaving of the pumpkin skin (meaning before doing the cut outs), shave the inside down really well with whatever you plan to show the pumpkin with (a candle for instance) to make sure the right amount of light is coming through. The best way to ruin a great carving is to not allow enough light to come through. If you try doing it better after the cut-outs, you can ruin the carving (super glue is your friend, BTW!).
***
Sometimes hobbies become more than just "that thing you do to unwind." For people like Noel Dickover, when it comes to pumpkin carving, it's a seasonal ritual and one his fans look forward to as soon as the leaves start changing colors and the thirteen local Starbucks start cranking out pumpkin-spiced whatever.
You can check out all of Noel's work on his site: Fantasy Pumpkins and holler at him on Twitter @noeldickover.
Like what you read? Share it.
(That helps us.)
Love what you read? Patronize Joe Corbett.
That helps us and the writer.
What is Patronizing? Learn more here.
---