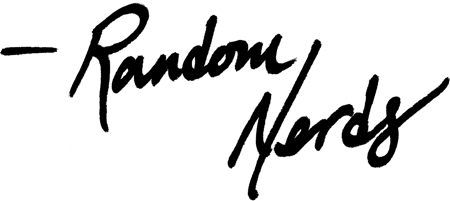 Things are about to change...
Dear Reader,
After more than 2 years in Beta, Random Nerds is finally ready for our Gold Master Release this coming April. Much will change, too much to list here, but know that one thing will remain the same: Random Nerds will always be a sanctuary for nerds to express themselves and learn from each other by publishing content you give a damn about.
There is one major change I can tell you about now… We've added two incredible talents to our roster: Bryce Rudow, who will serve as our Editor-in-Chief, and Charles Bramesco, our first full-time Staff Writer.
We hope you come with us on this journey to celebrate the passions and hobbies that make each of us Random Nerds.
- Joe Corbett, Founder & CEO
We promise to spam you with awesome stuff...